Price based on User Role for WooCommerce plugin lets you display WooCommerce products prices by user roles.
Prices can be set globally or on per product basis.
When setting prices globally, you just need to set price multiplier for each user role.
When setting prices per product basis, you can set exact price for each product. Works with variable products.
You can also hide product prices for selected user roles.
General Options

WooCommerce Price based on User Role

Enabled/disables the plugin.

Default: yes

Search Engine Bots

Enabled/disables price by user role for bots.

Default: no
Roles & Multipliers Options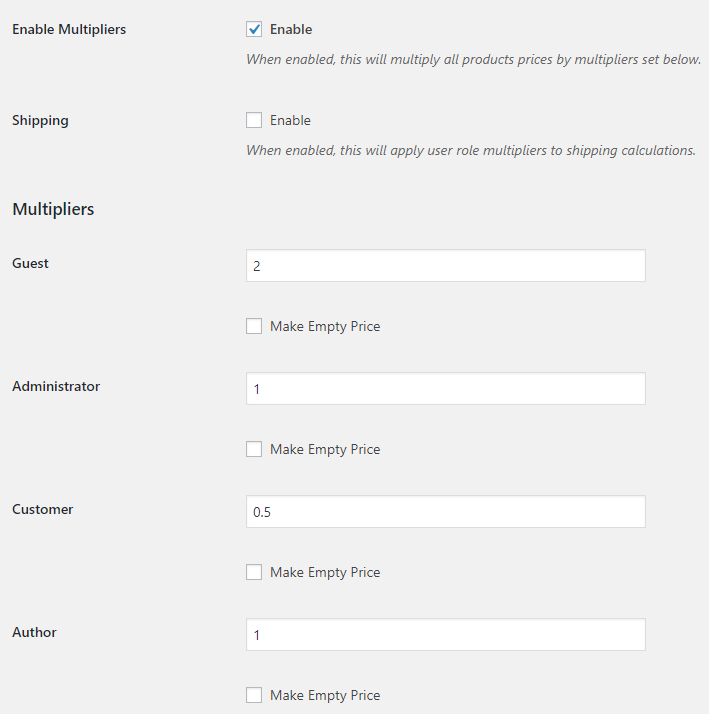 Enable Multipliers

When enabled, this will multiply all products prices by multipliers set below.

Default: yes

Shipping

When enabled, this will apply user role multipliers to shipping calculations.

Default: no
Multipliers
Role Multiplier

Sets multiplier for the role (e.g. Guest or Customer etc.).

Default: 1

Make Empty Price

If checked, will hide the product prices (i.e. will make it empty) for the selected role.

Default: no
Per Product Options

Enable per Product Settings

When enabled, this will add new "Price by User Role: Per Product Settings" meta box to each product's edit page.

Default: yes

Show Roles on per Product Settings

If per product settings is enabled, you can choose which roles to show on product's edit page. Leave blank to show all roles.

Default: None