Top 5 Knowledge Base Plugins for WordPress in 2023 (Compared)
Due to big rivalry, providing high-scaled content, product, or service is not enough to engage more and more visitors to your website.  No matter what kind of company you present, it is absolutely possible that your customer will ask you some questions regarding your product or service. That is to say, they will always wait for great customer support. One of the ways that will ease your operation on your WordPress site is preparing a simple knowledge base full of important documentation, how-to guides, and articles, as well as a frequently asked questions section. In this article, we are going to reveal 2022's list of the top 5 knowledge base plugins for WordPress.
What is a WordPress Knowledge Base?
So, giving an answer to this question, we would like to mention that it is a useful resource providing your site visitors with information. WordPress Knowledge Base may contain different articles and helpful educational guides. Moreover, it serves as a unique library with organized information where customers may search for the needed topic.  The knowledge base can somehow ease the delivery of customer support on your website. As some of the questions and issues can be solved in just a few minutes through the collected documentation available in the knowledge base.
How Can You Benefit From Knowledge Base?
Now, as you know the main functionalities of the knowledge base, it is time to understand how you can benefit from them on your WordPress site. So, the first point is that you will improve the quality of customer support by giving the visitors the opportunity to find and read about the required topics on their own. So, this will save your time in answering customers' messages or calls about the same repeating questions or common topics. Then you can definitely show your care and huge experience by adding frequently asked questions and technical articles, which will definitely prove your credibility. Besides these factors, a knowledge base enhances your website's SEO score due to the internal linking. And when using WordPress, you can definitely have a wide range of knowledge base plugins to choose from. All you need to do is focus on its easy-to-use features and pricing strategy.
Top 5 Knowledge Base Plugins For WordPress
At this point, let us review the top 5 knowledge base plugins for WordPress that will make the user experience absolutely great.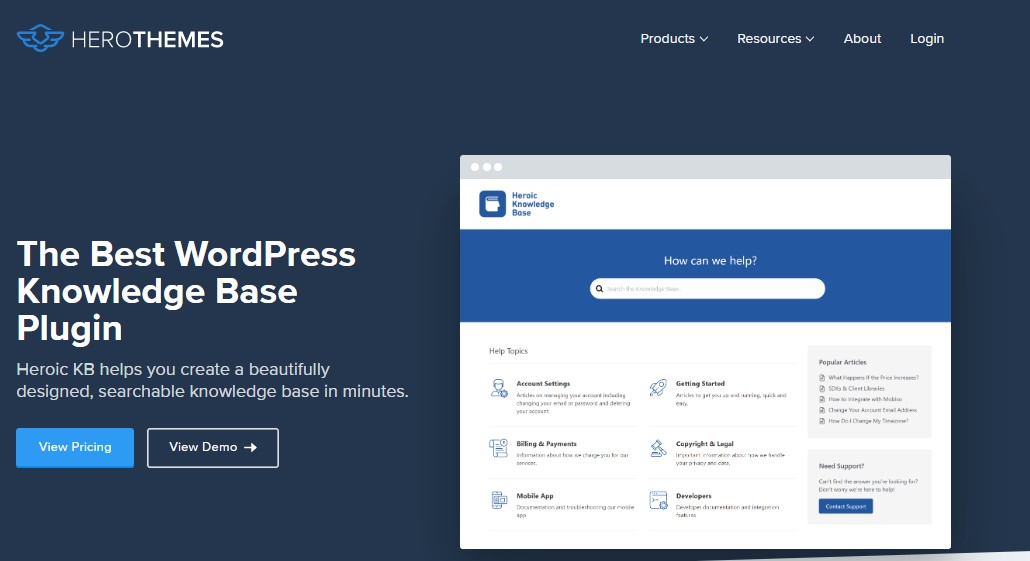 The first plugin from the list is Heroic Knowledge Base. It is a uniquely designed and very feature-rich plugin for the WP site. Due to its functionalities, customers are able to instantly search for the needed topic. As well as it gives an opportunity to view article statistics and user comments, get reports through Email, etc. Here are the main features of the Heroic Knowledge Base plugin:
Good-looking article creation – even if you do not have good design skills you may benefit from the plugin's provided design tools. These options are highly customizable to match your brand perfectly.
Easy searching and browsing – due to the category organization and search options, the plugin enables visitors to search for the needed information very easily without hustles.
Answer your visitors quicker than ever – the plugin makes topic suggestions when your visitors type a few words. This eases the searching process for those who do not correctly imagine what they really need to find in the knowledge base.
Advanced insights – this is a valuable component to knowing what content or guide you need to add to your website and getting familiar with your customers' needs.
Customer Feedback – this will inform you about the content types your customers benefit from most and improve their quality if needed.
So, you will get some tools and functionalities to do so, for example:
Restricting some users
Attaching articles
Automatically added table of content
Assistant in the setup process
Customer support available in multiple languages, etc.
These are only a few tools provided by the Heroic Knowledge Base plugin. There are three paid licenses to choose from while using this plugin:
Pro – $399 per year
Plus – $199 (the most popular plan)
Essential – $149 per year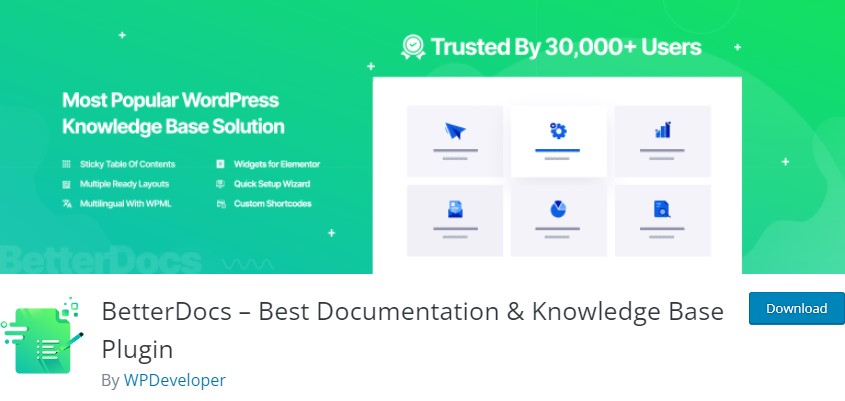 Another great knowledge base plugin is BetterDocs developed by WPDeveloper. It rates 5-stars on the WordPress Repository based on the satisfied customers' reviews.
Through the BetterDocs plugin, you may beautifully design and organize your knowledge base or documentation page. It is very user-friendly and helps your site visitors find the needed details and solutions very easily without hustles.
Here are some of the best features of the BetterDocs plugin:
Pre-designed templates to build single documentation and archive pages
Documentation page customization with shortcodes or page builder widgets
Available table of contents
Sticky TOC for better user experience
Live search opportunity
List and Grid views
Elementor Page Builder compatibility
Analytics integration
Multiple knowledgebase creation, etc.
There are many other valuable features available in both the free and pro versions of this plugin. You may activate the BetterDocs plugin's paid features with this pricing:
WPDeveloper Agency Bundle Lifetime – $799
Agency – $499
Small Business – $299
Individual – $149
Knowledge Base for Documentation and FAQs is one of the top 5 knowledge base plugins for WordPress. It also scores a 5-star rating which speaks about the WP users' trust and positive feedback.
The main benefits of this plugin are its ease of use and the provided pre-made professional design for your choice. You are not required to have programming skills to use the plugin. Moreover, it matches your website theme with a simple editor. Furthermore, you are allowed to organize your content and its categories into a hierarchy containing 5 levels.
Overall, the Knowledge Base for Documentation and FAQs is a very user-friendly plugin. Moreover, its main and most used features are available in the free version. But if you want to access more professional tools and functions then you will highly benefit from its Pro paid version available with the following pricing for 1 site:
Basic Add-Ons – $105
Professional – $200
Access Control – $380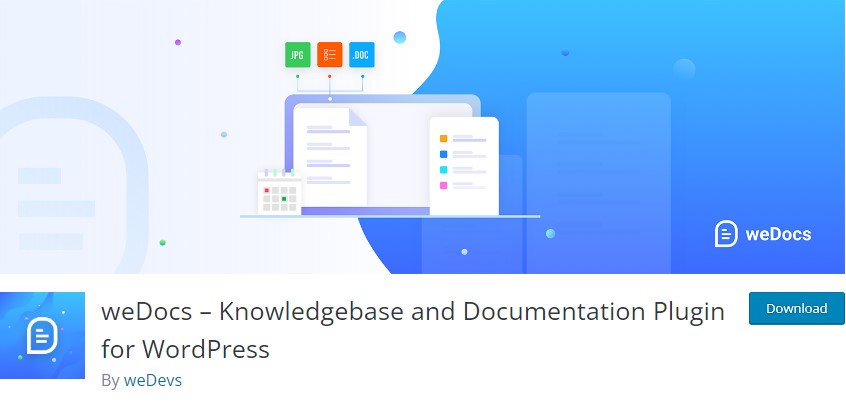 Next comes the weDocs plugin to help you design your product documentation to fully match your website. Here are the things you can complete with the weDocs plugin:
Host docs on your WP site
Create new documentation
Organize your tags, ordering
Deliver long and thoroughly written documentation
The plugin is very easy to use. It is highly compatible with WP search. This means that visitors may search for a topic with an appropriate keyword in the search box and find the needed results. Also, the weDocs plugin is highly compatible with Weglot. This is the WordPress language plugin. Having this compatibility the plugin enables users to add multilingual documentation. Or else, translate them into more than a hundred languages. The plugin provides its highly functioned free version directly on WordPress Plugin Directory.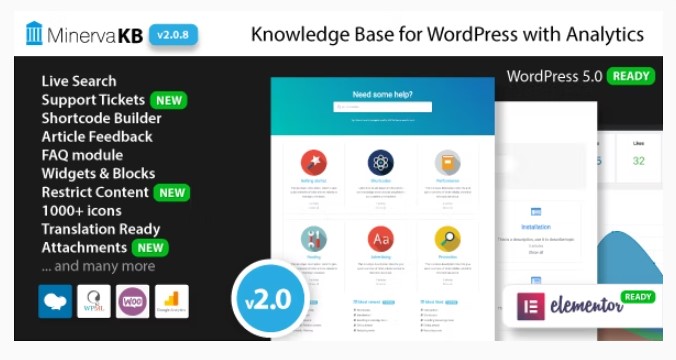 The last, but not least product from our top 5 knowledge base plugins list is MinervaKB. It is available on CodeCanyon and provides great features to implement a knowledge base on your WordPress site with analytics. This means that you are able to add documentation and view its performance through analytics. Due to this plugin, you will approve your customers' best experience on your site by letting them find answers to all their questions instantly while searching for them. The plugin is very easy to use and does not require any programming skills. Furthermore, MinervaKB supports such tools as:
Elementor
Google Analytics
WordPress Multisite
WPML
WPBakery
So, you do not need to activate or purchase more add-ons to get these integrations. Also, if you do not want to show a certain type of content, you may simply restrict it per article or topic. Along with the mentioned functionalities, the MinervaKB plugin also provides a powerful FAQ module. This has categories and a live filter. Besides, you have limitless design options and solutions in your hand to get an absolutely amazing outcome. What refers to the table of contents, then MinervaKB enables you to create them instantly without using shortcodes. You can reveal some other features in the list below:
Ajax Live Search
Like or Dislike buttons
Beautifully designed search themes, color, and unique typography
Feedback for articles
More than 600 icons for articles and topics
Topics and articles widgets, etc.
Surely, the list is not limited to the mentioned functions. So, you may utilize all of them by activating one of the available pricing plans:
Regular License – $69
Extended License – $99
Summary
When presenting a product or a service, you should also consider providing fast-responding and helpful customer support. And in some cases, helping the support team by covering the answers to some frequently asked questions or requests is vital. As we learned in this article, a knowledge base is a perfect solution for this issue. It will definitely improve your service quality. Also, customers will be able to find the needed answers instantly rather than wait for the support team's response. When speaking about WordPress, you may find an easy way to implement a knowledge base, FAQs, or documentation on your website without even having coding skills. And all this is thanks to many knowledge base plugins available both on Envato Market and in the WordPress Plugins Directory. In this article, we have discovered the most powerful top 5 knowledge base plugins for WordPress. Each of them provides crucial features to make the documentation and knowledge base adding process easier than ever.