Best Web Hosting for WooCommerce in 2023 (Compared)
WordPress and WooCommerce have grown to become one of the most popular solutions for building an eCommerce website. One of the reasons for this huge popularity is the simplicity of both, you can easily run a WooCommerce store without much technical knowledge. When creating a WooCommerce store one of the biggest decisions you will take is where to host your website. Your web hosting can be a cause for both success and failure of your WooCommerce store. To make your life easier, we have put together this stellar guide on the best web hosting for WooCommerce. But before we get started, it is important to understand what is WooCommerce hosting and how it's different from hosting another website.
What is WooCommerce Hosting?
WooCommerce hosting is web hosting made specifically for the WooCommerce stores, with necessary eCommerce features in place e.g. SSL Certificate, uptime, good support, etc. This provides a hassle-free way to grow your online store, as it takes care of website setup, maintenance, and security for you.
There are some features that you need from a web host in order to run a WooCommerce store successfully. Here are a few examples.
Hosting Essentials for a WooCommerce Website
Uptime: This is the amount of time that your website is up and running. You need a hosting provider that guarantees more uptime, as clients won't buy from you when your store is down or inaccessible.
Speed: The faster the browsing and shopping experience for your users, the better. A slow website will result in a poor user experience. You will end up with issues such as cart abandonment, high bounce rates, etc.
PCI compliance: Payment Card Industry Security Standards Council (PCI SSC) was established in 2006, it ensures transactions are safe and there is no stealing of credit card data. It applies to any organization that accepts, transmits, or stores any cardholder data, no matter the size or number of transactions. That means if you wish to use your customers' credit card data, then you have to ensure your web server is PCI compliant.
Dedicated IP addresses: Various WooCommerce hosting providers offer a dynamic IP address that is shared with other people. Generally, when starting out most WooCommerce store owners will start with a shared IP address from their web host.
However, as your business grows, you may want to start thinking about a dedicated IP address. A shared IP can have detrimental effects on your email reputation among other things, and this can mean your emails end up in users' spam boxes. This is usually because the IP might be shared among potentially hundreds of users.
SSL certificate: SSL (Secure Sockets Layer) is a global standard security technology that facilitates encrypted communication between a client's web browser and a web server. To ensure the safety of your customers' data, you need an SSL Certificate. SSL certificates help prevent attacks such as "man in the middle attacks" and other similar vulnerabilities.
Good backup solution: Your website hosting should have frequent automatic backups and an easier way to restore your online store in case anything happens, to ensure maximum operation time. In case anything goes wrong, your first resort should always be your backups. You can easily restore a recent working backup of your website.
Good security measures: You need web hosting that has more security measures that keep your WooCommerce website and customers safe.
Reliable support: You need a host whom you can easily contact in case anything happens and who can respond as fast as possible and fix your problem.
Now you know some of the essential features required for hosting a WooCommerce website. Having the features above in mind, most shared web hosting providers might not be the best option, as we need more resources that can be guaranteed by WooCommerce specific hosting providers.
Advantages and Disadvantages of WooCommerce Hosting
Advantages
Robust security: With an SSL certificate pre-installed, it ensures the safety of your website and customers' data.
Fast speed: WooCommerce hosting provides faster loading times, which boosts user browsing and shopping experience and also search engine optimization.
WooCommerce ready: WooCommerce hosting provides a ready design with WooCommerce pre-installed, hence easier to get started.
Reliable support: With WooCommerce hosting, you enjoy good support from WooCommerce professionals via email, phone, or live chat.
Other features: Apart from the WooCommerce specific features, you also enjoy other features like unlimited bandwidth, email accounts, large disk space, etc.
Disadvantages
Relatively expensive: The prices for the WooCommerce hosting plans may be higher than the shared hosting plans, probably due to tons of features that come with it.
Manual maintenance: Not all WooCommerce hosting providers guarantee automated updates and backups. You may still need to do them manually.
Software pre-installation: Some customers need to set up the store for themselves and may not like the idea of having pre-installed design and extensions.
Best WooCommerce Hosting Providers
1. SiteGround (from $6.99/mo)

Recommended by WordPress, WooCommerce, and Yoast, SiteGround is definitely on top of our list. It has various hosting plans with features that make it easier to manage your WooCommerce website.
Essential WooCommerce features
Pre-installed WordPress, WooCommerce, and Storefront theme.
Free SSL certificate.
PCI compliance.
Free automatic daily backups and website, hence very low downtime.
WordPress auto-updates that keep your website secure.
Free CDN (Content Delivery Network) service for faster website loading time for users from various geographical locations.
Free unlimited professional domain emails with a friendly webmail interface.
Instant 24/7 phone, live chat, and ticket-based email support. Emails get their first response within less than 10 minutes.
Faster loading speed boosts user experience and is good for search engine optimization.
Pricing
It costs from $6.99 per month for the lowest package, up to $14.99 for the highest package, feel free to check their various plans from here.
2. Nexcess (from $15/mo)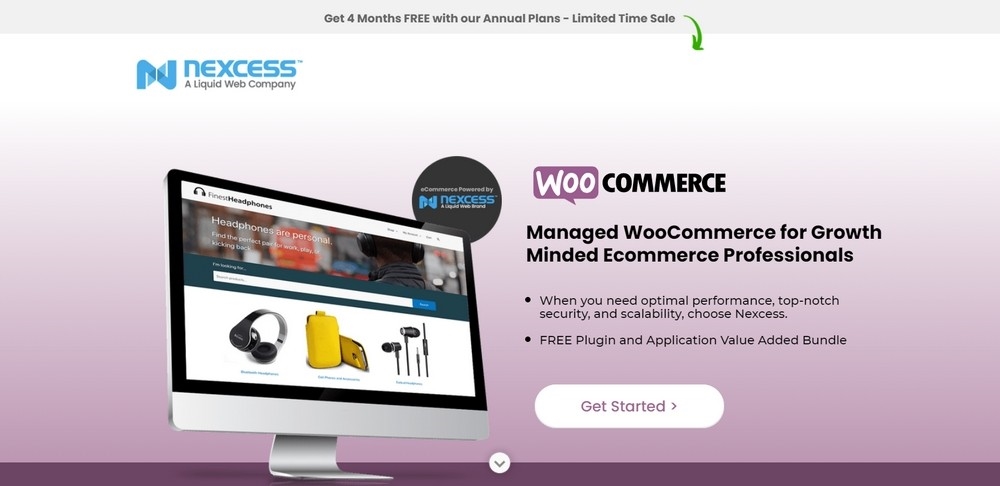 Nexcess is a very fast, scalable, and high performance managed eCommerce hosting, they are known for being specialized in hosting eCommerce solution, whether its WooCommerce, Magento, BigCommerce, you name it.
A managed WooCommerce hosting is whereby everything is taken care of e.g. automatic daily backups, WordPress updates, plugin updates, visual testing for the updates, malware monitoring, automatic image optimization, auto-scaling, etc.
Essential WooCommerce features
Free SSL certificates to boost security.
24/7 WooCommerce support for your servers, WordPress installation, WooCommerce installation, etc.
Caching is optimized for WooCommerce hence can handle high traffic and orders and load fast.
Malware monitoring for various attacks.
End-to-End store management.
It is PCI compliant.
Pricing
Costs range between $15 to $832 per month, find full details for Nexcess hosting plans here.
3. BlueHost (from $15.95/mo)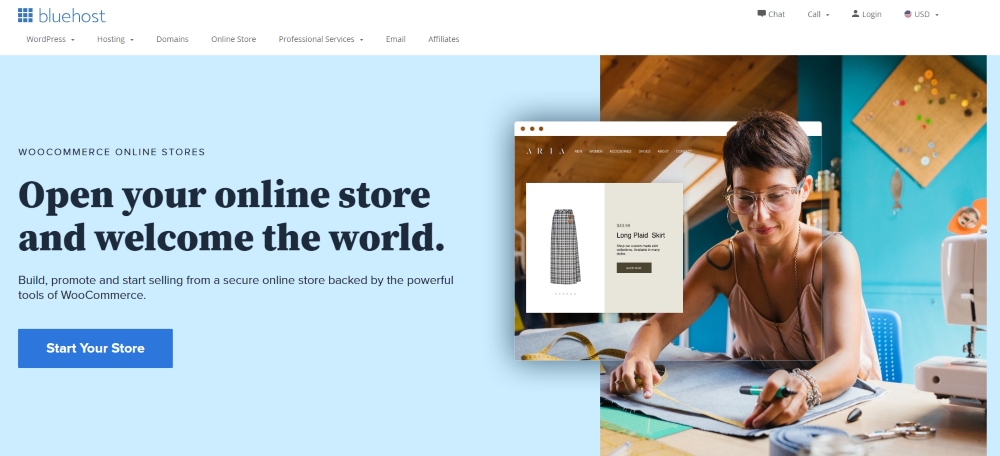 It is officially recommended by WordPress and WooCommerce and comes up with tons of features ideal for a WooCommerce website.
Crucial WooCommerce features
Online store (website and blog).
Pre-installation of WordPress, WooCommerce, and Storefront theme.
Free Jetpack installation.
Unlimited products.
One-click install payment processing.
24/7 customer support.
Custom discount code creation for special promotions.
Manual order creation.
Real-time website analytics.
Scheduling of online bookings and appointments.
Customer product reviews.
Pricing
Pricing ranges from $15.95 to $24.95 per month, you can get more details on their official page here.
4. GoDaddy eCommerce Hosting (from $15.99/mo)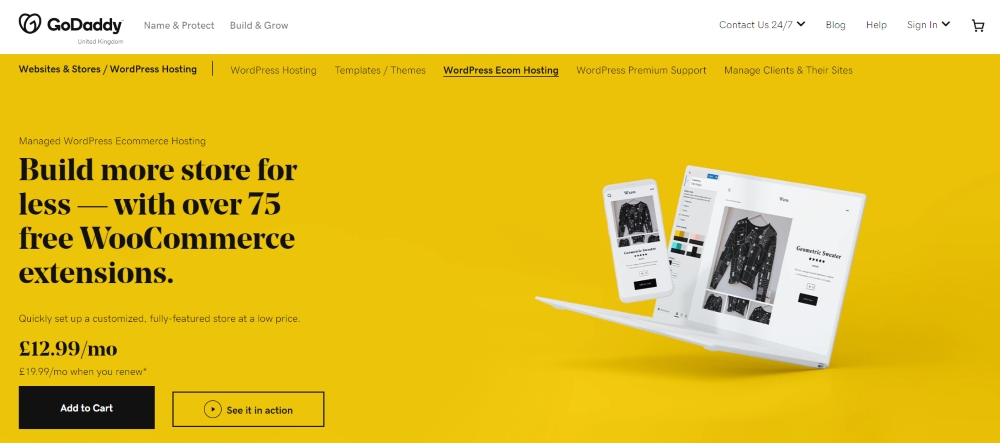 It provides a hassle-free way of starting your eCommerce store, as it comes with pre-installation of WordPress, WooCommerce, and necessary extensions.
WooCommerce specific features
WordPress, WooCommerce, and extensions auto-installations.
Free SSL installation and configuration.
Daily backups (on-demand and downloadable).
Malware scans and removal.
Unlimited visitors and storage for 1 online store.
Speed boosting CDN for fast loading speeds.
SEO optimizer for more traffic.
Free access to over 40 premium extensions that boost the clients' experience on your store e.g. shipment tracking, bookings, subscriptions, and UPS shipping methods.
Daily malware scans, removal, and hack repair.
Unlimited product listings with no transaction fees.
Automatic WordPress core updates and security patching.
Free business email for the 1st year.
Pricing
It costs $15.99 per month and $24.99 when you renew, more details are here.
5. WP Engine (from $25/mo)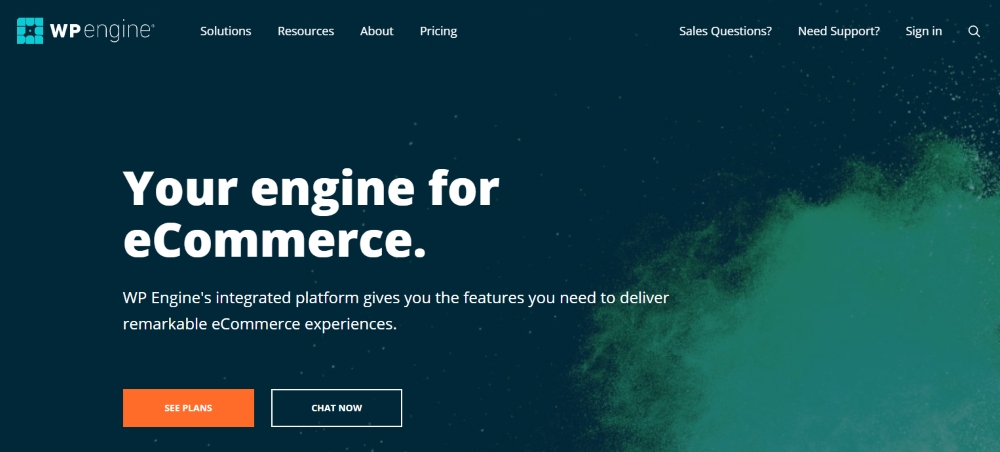 Powering 100 plus online businesses, the WP Engine is built on robust cloud hosting and is optimized to make WooCommerce fast, scalable, and secure.
WooCommerce Features
All plans include SSL certificates and annual renewal.
Bypassing caching on certain WooCommerce pages e.g. cart, my account, and checkout.
99.95% uptime guarantee hence you won't miss any high traffic or major promotion.
Deep-level scanning and cleaning of your website in case of any malware.
WooCommerce-optimized StudioPress themes for beautiful eCommerce experiences.
CDN is included in all plans, for fast loading.
24/7/365 support by 4 times award-winning support team.
Scale flawlessly without being affected by traffic spikes.
Pricing
From $25 per month up to $241 per month depending on your needs (that's a bit too much actually), find all details for WP Engine hosting for eCommerce here.
6. Hostgator (from $2.75/mo)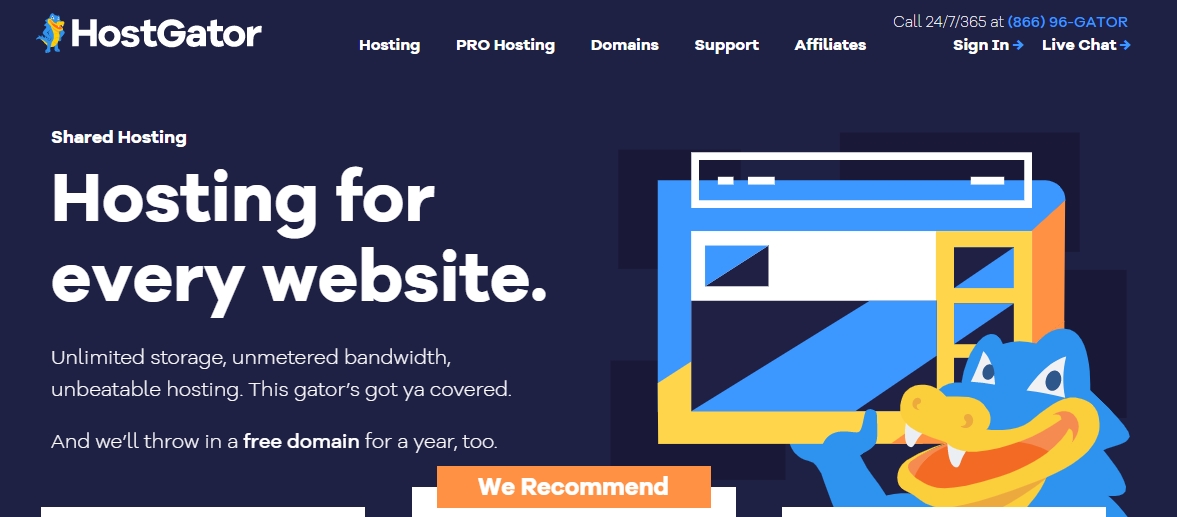 HostGator is one of the best web hosting companies and has hosted over 2,000,000 domains. It has various website hosting plans that fit every business's budget.
They don't have a specific plan for WooCommerce or eCommerce hosting in general, and these features are part of their regular hosting packages.
WooCommerce related features
Free SSL certificate for maximum website security.
99% uptime guarantee so your site always stays up.
Unmetered bandwidth is hence not affected by traffic increase.
Unlimited storage hence can accommodate large website files.
One-click WordPress installs.
Free professional emails.
Pricing
It ranges from $2.75 up to $5.95 per month, you can find more here.
Conclusion
These are some but not all of the best WooCommerce hosting providers. You need to audit your WooCommerce store needs and your budget as well to come up with the best WooCommerce hosting provider for your business. If you want to keep reading about the subject, please take a look at this other web hosting provider guide.