How to Bulk Edit WooCommerce Products
WooCommerce is a great tool for building any kind of eCommerce store. However, one of the functionalities that it dearly lacks is the ability to bulk edit products, by default. In this article, we will look at various solutions that you can use to bulk edit WooCommerce products.
There is a bulk edit feature built into WooCommerce, however, it is limited in functionality and limited to the number of products you can edit using it. With the built-in bulk editor, you cannot edit several product properties. If you have a large store with many products it can be very tiresome to edit each individual product. The only solution then is plugins.
Here are 2 plugins that we will review in this article:
1. Elex WooCommerce Advanced Bulk Edit
ELEX WooCommerce Advanced Bulk Edit Products, Prices & Attributes
You will need to download and install the plugin. If you are unsure about installing a plugin you can refer to our tutorial.
Step 1: Filter products
Once the plugin has been activated you will be redirected to the filter products screen as shown below.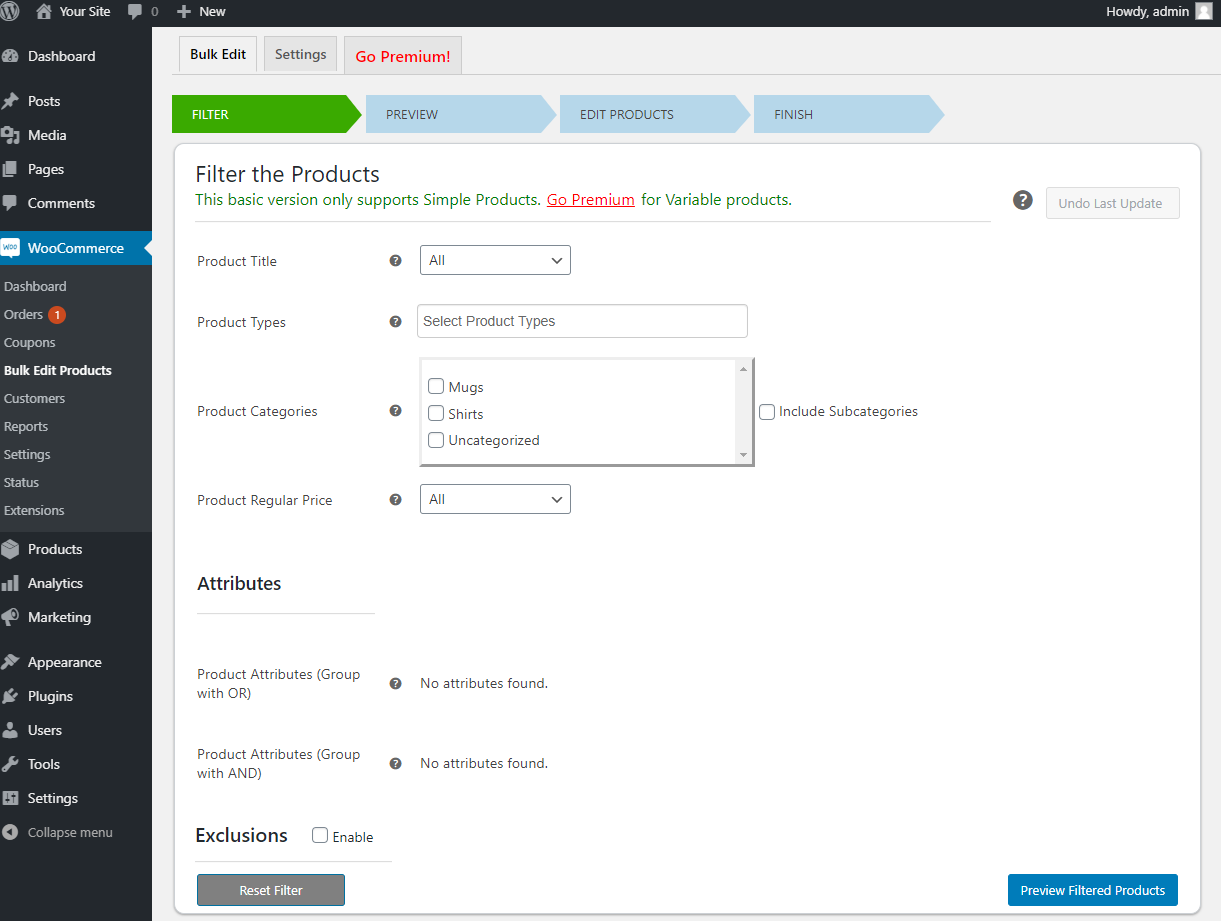 Here there are several product properties that you can use to filter products that you want to edit. For example, you can filter by title, product type, categories, price, and attributes. You can also add exclusions, by product ID and categories to remove unnecessary products from the filtered list.
For variable products, you will have the option to filter by global or custom attributes.
Once you choose the relevant filters click on Preview Filtered Products.

Step 2: Previewing filtered products
When you get the preview of the products you had filtered, you can now make necessary changes to the filters. You can go back to the filters screen if you find unnecessary products that you don't need to edit by clicking on the back button.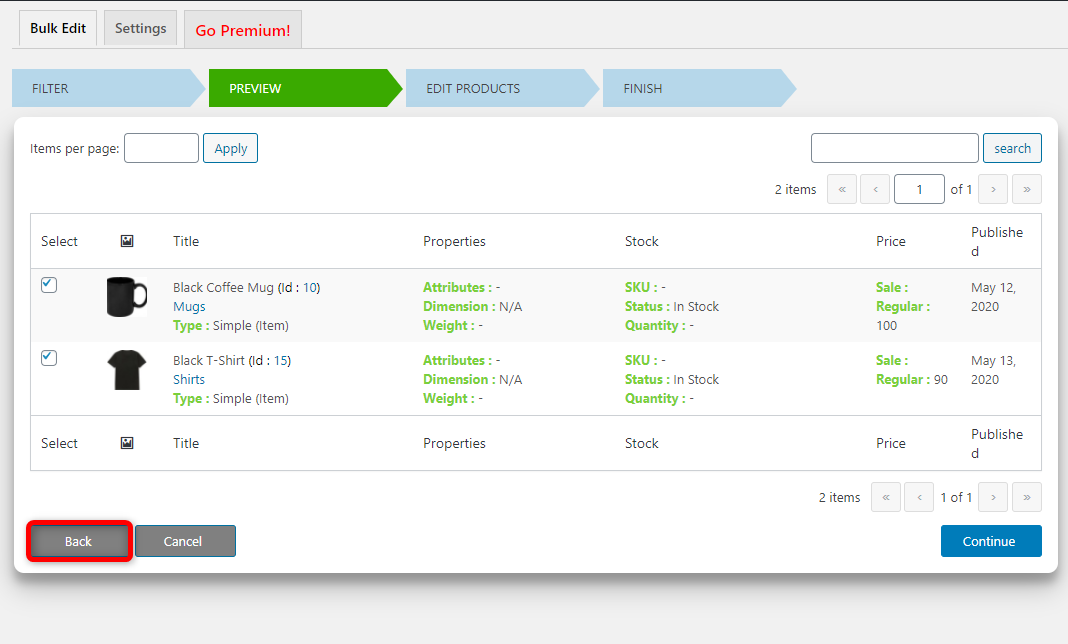 If you would like to exclude certain products, you can simply uncheck them.
Once you are satisfied with the list of products that you want to edit, click on Continue.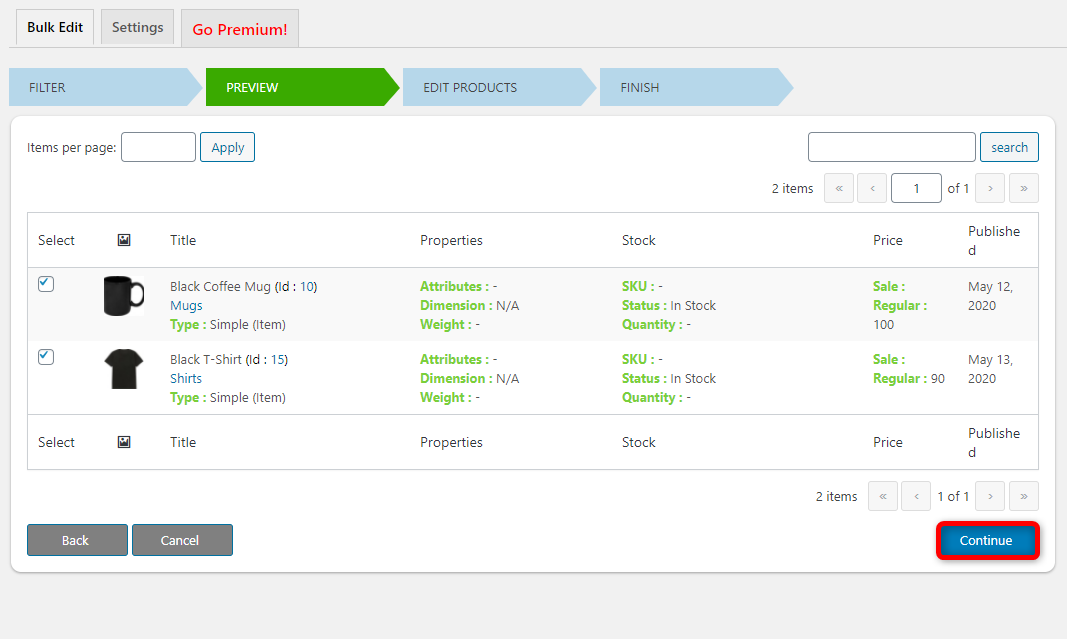 Step 3: Start a bulk edit
On the edit products tab, there are several product attributes that you can edit. A full list is shown below.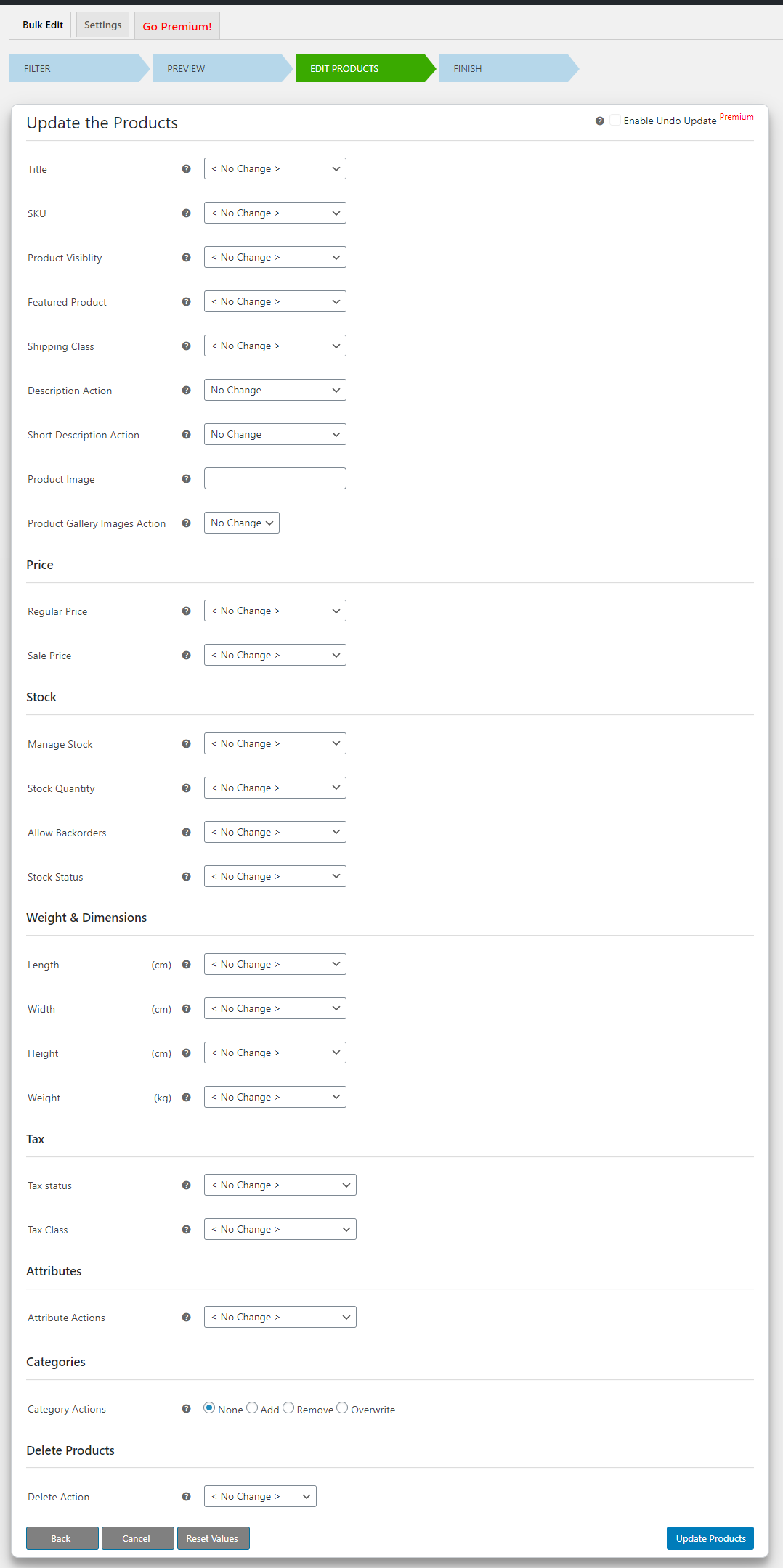 There are several different options in each attribute as well. For example, in the title, you can set a new one, append text, prepend text, and replace.

Similarly, you can easily change the shipping class and all other product attributes that you can see.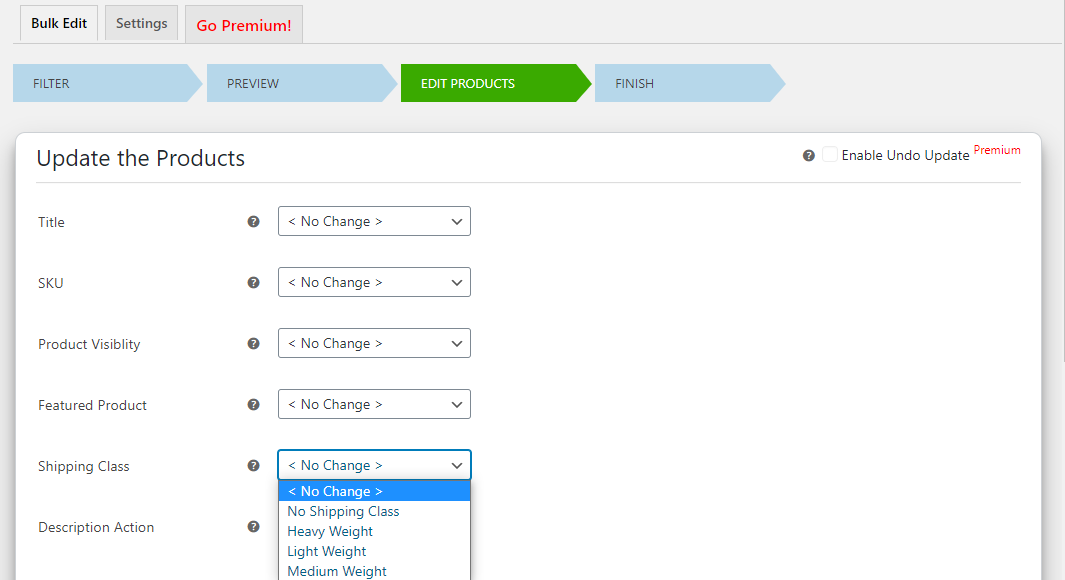 You can manage the price, stock, weight and dimensions, tax, attributes, categories, and several other product options easily from this tab.
For illustration purposes, we will prepend the words "White and" to the titles of the product.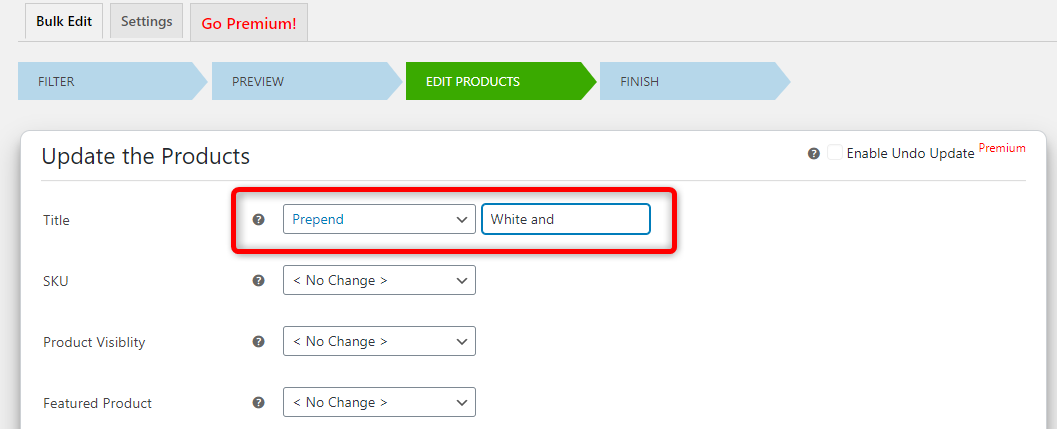 Once you are done making your changes, click on Update Products at the bottom of the page.
You will be prompted to confirm the changes. Click on Yes, Update.

Once the changes are complete you will get a notification as shown below.

Click on Continue.
If we now check the products in WooCommerce you will see that the product titles have been updated. An example is shown below.
Although we updated only 2 products in the example above you can use the plugin to update thousands of products at one go. We used the free version of the plugin, however, there is a premium version that is available. The premium version has several additional features that make it a complete all in one solution for anyone looking to bulk update WooCommerce products. Some of the premium features include:
Support for variable product updates
Support for bulk editing individual variations
Support for bulk editing of WooCommerce External products
Scheduling of bulk updates
Revert back options
Scheduling of revert back option
Premium support and updates
The premium version of the plugin costs $79 for a single site, $119 for up to 5 sites, and $199 for up to 25 sites.
2. Bulk Price Converter for WooCommerce
As the name suggests this plugin allows you to bulk update WooCommerce product prices. The plugin is a simple and easy to use solution for anyone looking to change product prices to a fixed price, add & subtract a fixed amount, or multiply & divide product prices.
Step 1: Access the plugin settings
Once you activate the plugin you will find a new menu item in your WordPress dashboard under the WooCommerce menu called Bulk Price Converter. Click on it to open the plugin's settings.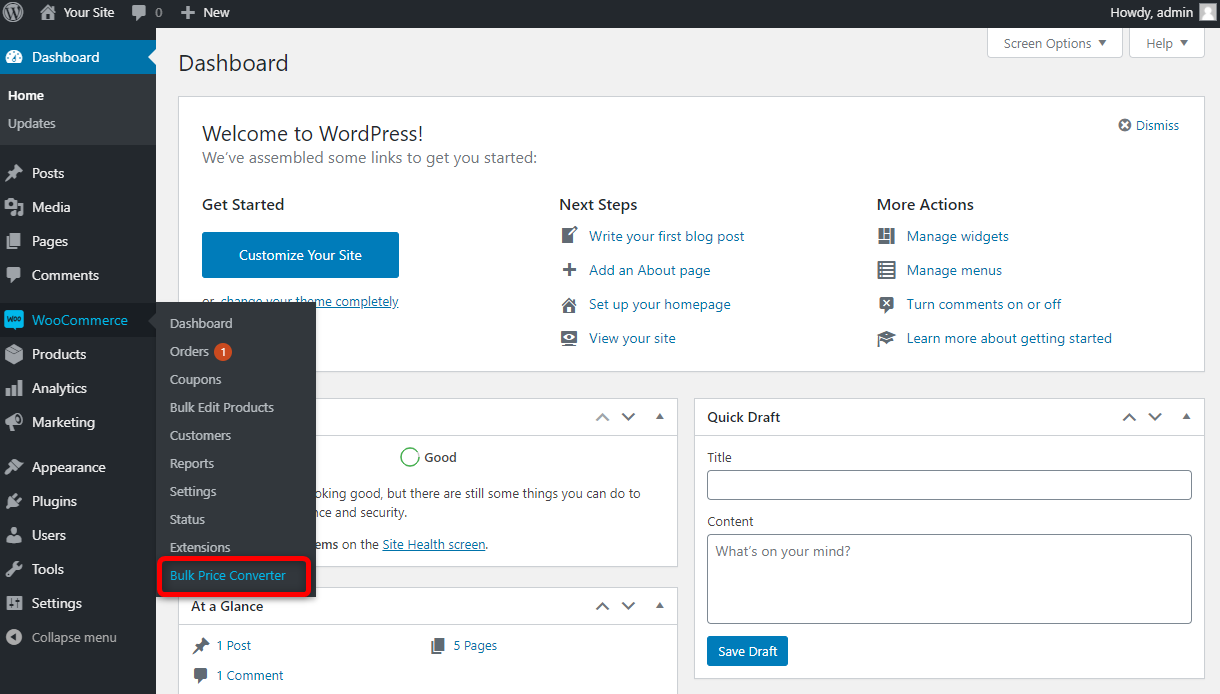 Step 2: Configuring a price update
On the next screen, you will find all the options that you can configure related to pricing of your WooCommerce products.
Under the general options, there are 4 fields.
Direct price – this will change all the product prices to the amount you set here. For example, if you set it at $20 all products will be priced at $20.
Multiply all products by – this will change the product prices by the multiple you set here. For example, if you set it as 2 it will double all the product prices.
Add to all products – this will add the amount you set here to all products. For example, if you set it at $5 the prices for all the products will be raised by $5.
Price type to modify – Allows you to select if you want to modify the sale prices or regular prices of products.
Under the product options, you can narrow down the products that you want to update the prices for by category and by tags. This is a feature of the premium version of the plugin.
Under the final price correction section, you can set the rounding off of prices.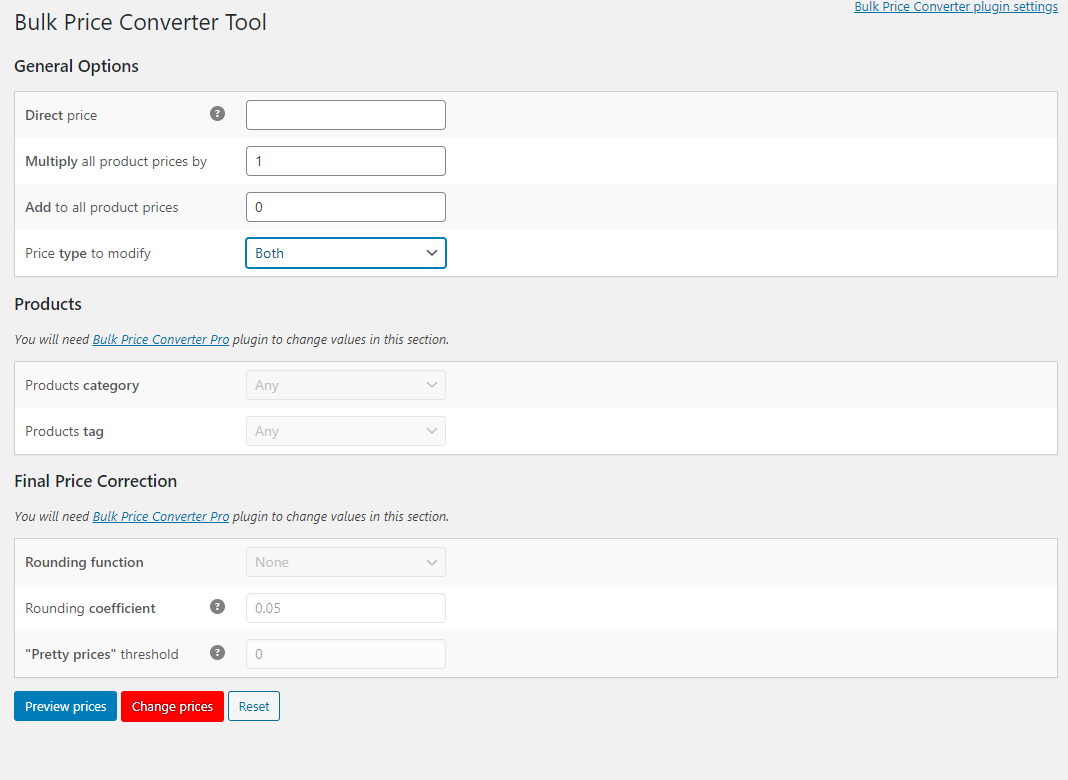 Once you configure the prices that you want to change, you can either proceed with changing the prices or preview the prices. It is recommended to review the prices first. Click on Preview prices.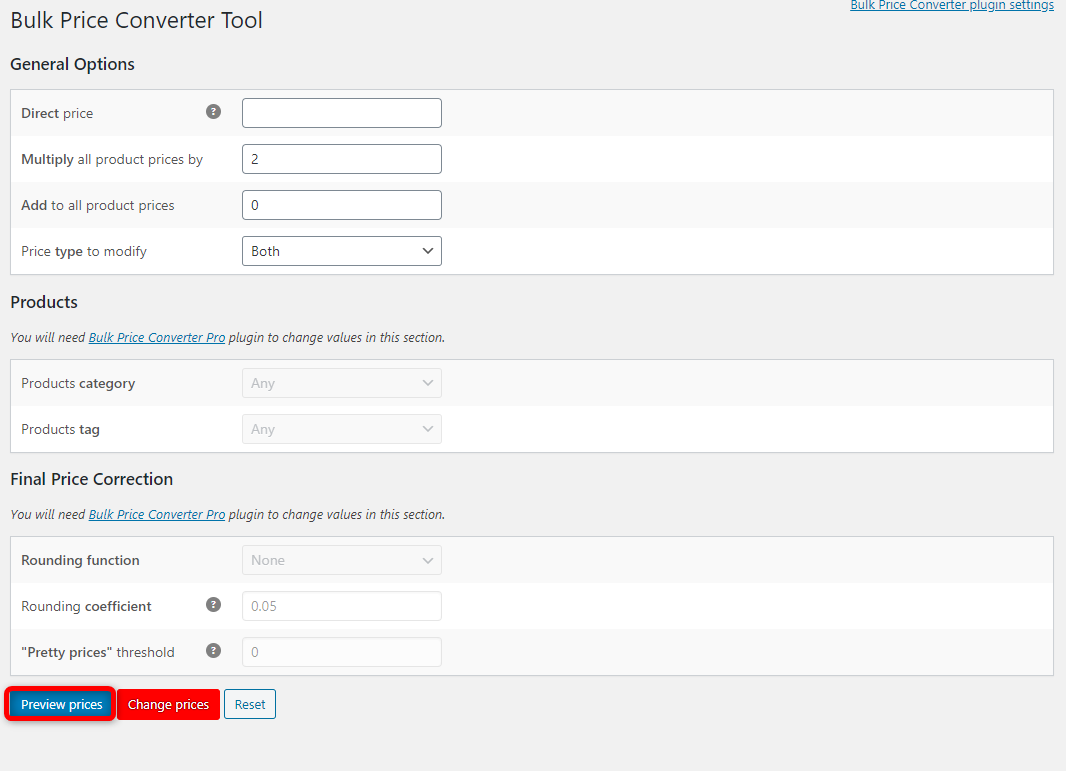 You will then be able to see the prices that you are changing.

If you are satisfied with the prices you can then proceed and change the prices. Click on Change prices.

Once completed you should get a notification as shown below.

The premium version of the plugin costs $19.99 for a 1-year, single site license. A lifetime license costs $39.99 for 1 site and $59.99 for unlimited sites.
Conclusion
Well, we have gone through 2 plugins that allow you to bulk edit WooCommerce products. There are many similar plugins available. Some focus on a single attribute as we have seen above, for example, the price. Others have more advanced features and can edit several product attributes.
You will need to choose a plugin that fits your purpose and budget.