Description
With Payment Gateways Min Max Amounts for WooCommerce Pro plugin you can add min/max cart amounts for WooCommerce payment gateways to show up.
Main Features
Set minimum and/or maximum order amounts for each payment gateway (WooCommerce standard or any other custom payment gateway).
Choose how do you want cart (i.e. order) total to be calculated when comparing with min/max amounts: include/exclude taxes, shipping and discounts.
Add customizable notices to your checkout page.
Options
Settings are located in "WooCommerce > Settings > Payment Gateways Min Max Amounts".
General Options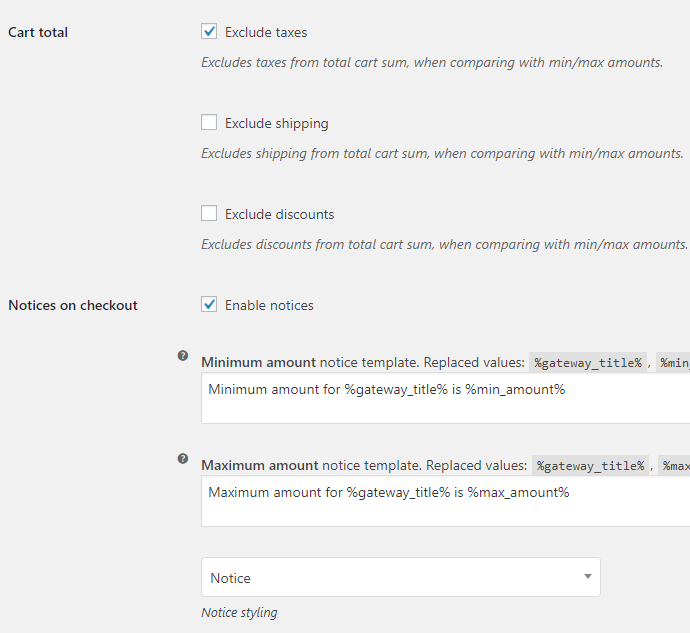 Cart total: Exclude taxes

Excludes taxes from total cart sum, when comparing with min/max amounts.

Default: yes

Cart total: Exclude shipping

Excludes shipping from total cart sum, when comparing with min/max amounts.

Default: no

Cart total: Exclude discounts

Excludes discounts from total cart sum, when comparing with min/max amounts.

Default: no

Notices on checkout

Enables/disables notices on the checkout page.

Default: yes

Notices on checkout: Minimum amount

Minimum amount notice template. Replaced values: %gateway_title%, %min_amount%. You can use HTML and/or shortcodes here.

Default:

Minimum amount for %gateway_title% is %min_amount%

Notices on checkout: Maximum amount

Maximum amount notice template. Replaced values: %gateway_title%, %max_amount%. You can use HTML and/or shortcodes here.

Default:

Maximum amount for %gateway_title% is %max_amount%

Notices on checkout: Notice styling

Possible values: Notice; Error; Success.

Default: Notice
Min/Max Amounts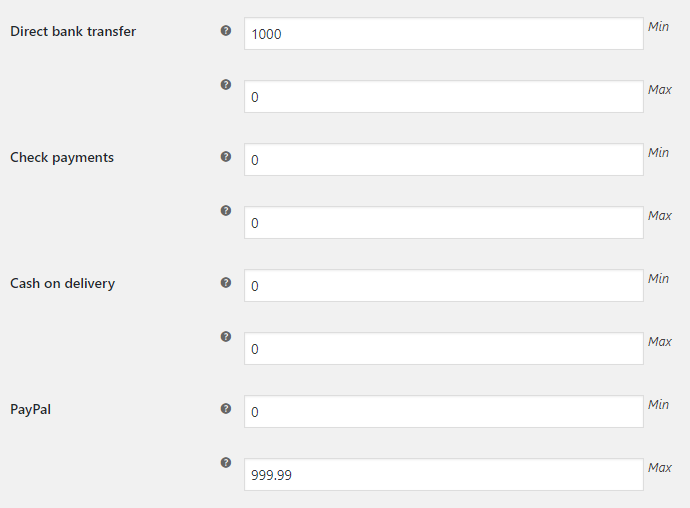 Payment Gateway X: Min Amount

Payment gateway will NOT be available if cart amount is below this amount. If set to zero – option is ignored.

Default: 0

Payment Gateway X: Max Amount

Payment gateway will NOT be available if cart amount exceeds this amount. If set to zero – option is ignored.

Default: 0