Do's and Don'ts for WooCommerce Performance
Website speed is one of the most important aspects of a website. A slow WooCommerce store can have detrimental effects on your user experience and SEO efforts. Poor user experience can easily lead to a high bounce rate and lost sales. Lower search engine rankings mean your organic traffic is going to be low. Organic traffic is one of the best and cheapest sources of high-quality traffic. When people search for an item in search engines, they already have a buying intent. You need to be able to direct them to your store and convert them to paying customers.
WooCommerce performance needs to be constantly monitored. It is not a one-off optimization affair. Most stores tend to keep updating inventory by adding new items and removing older ones. With the constant need for updates, comes the constant need for performance monitoring. In this article, we will guide you on do's and don'ts for WooCommerce performance.
Do's for WooCommerce Performance
1. Get a reliable host
Web hosting is the most important factor affecting the speed of your WooCommerce store. All other factors can be tweaked by you. While other factors also play a major role in improving your store's speed, none of them contribute as much as your hosting does. The resources allocated to you by your web host affect your store's performance. A shared host is suitable for small businesses that are just starting out or don't have lots of visitors. Once your store starts getting traffic it would be advisable to consider a VPS. If there are a large number of visitors and many products on your store then a dedicated server may be best suited. It is also important to read reviews and research about web hosts before choosing one. Not all dedicated servers are the same. Given the technicalities involved it may be best to discuss this with your web designer or developer.
2. Set up caching
Each time a visitor accesses your WooCommerce store, there are queries to your website's database and several scripts are loaded. When there are many visitors this creates an unnecessary load on your database and results in slowing down your store. To overcome this you can set up caching. A cache is static HTML copies of your webpages that are served to visitors. The database is only queried when required and scripts are also only run when needed. This reduces the load on your server, resulting in a better user experience for your visitors. In WordPress caching can easily be set up via caching plugins. It is also important to ensure your web host supports caching. Many managed WordPress hosts do not support caching.
3. Use optimized images
Images are a significant part of any WooCommerce store. Search engines are going to hate your store if you don't use optimized images. Avoid resizing images via HTML and CSS. It is better to crop and resize images using image editing software before uploading them. Images should be a few kilobytes and their dimensions should be exactly for the area required. There are numerous ways to resize and reduce the size of images without losing quality. Many WordPress plugins are also available to help you optimize existing images for your WooCommerce store.
Having unnecessary large images on your store will also slow it down, resulting in a poor user experience. Have you ever been in a situation, where the page has loaded and then images load slowly after that? You don't want your visitors to end up in such a situation.
Don'ts for WooCommerce Performance
1. Overusing plugins
Plugins are a great way to extend the functionality of your website. However, having too many of them will slow down your website. Often there are compatibility issues between plugins and this can easily result in a broken website. For example, if you have 10 different payment gateways setup using plugins on your store, some of them will compete to display on top of others. This can result in your checkout page not functioning properly.
It is best to avoid using unnecessary plugins. Many times functionality can be achieved without the use of plugins by coding. For example, if you want to create a top bar on your website, you can do that via a plugin or you can also code this in your header.
Sometimes you will only need plugins temporarily, or when you want to perform a specific task. For example, when you want to optimize existing images. In such cases, you should delete the plugin after using it.
2. Improperly configuring cache plugins
Using caching plugins will significantly improve the speed of your website. However, in WooCommerce some pages should not be cached – such as My Account, Cart and the Checkout page. The content for these pages is unique for each customer and using caching for these can result in lost business.
Sometimes cache plugins tend to overdo their job. Most will try to combine scripts to one file. They will also minify the HTML and CSS of your store. Often this can affect your user interface. It is important to test what works and what does not work for your store.
3. Using an older version of PHP
It is extremely important to always use the latest version of PHP. Often this will not require any work and will be an instant performance boost. Older versions of PHP are gradually getting phased out. Older versions have security vulnerabilities as well. The chart below shows the difference in performance for various PHP versions. Clearly having the latest version of PHP boosts performance.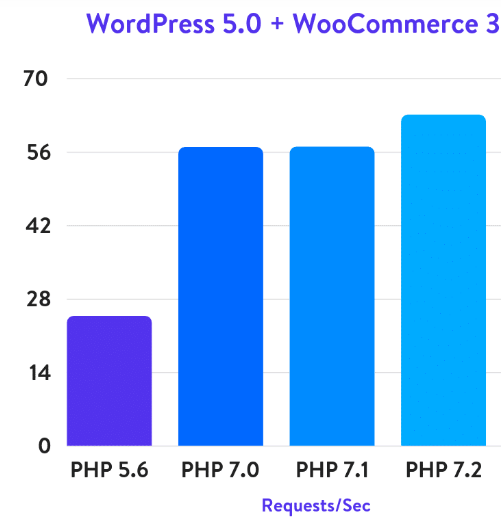 Conclusion
There are many other tweaks that you can still do – for example using optimized WooCommerce themes and keeping WordPress, WooCommerce and your plugins up to date. We have listed the most important do's and don'ts for WooCommerce. Generally, people tend to have short attention spans and if your website performance and speed are not optimized, you will end up with a low conversion rate.