Description
With Maximum Products per User for WooCommerce Pro plugin you can limit number of items your WooCommerce customers (logged) can buy. Item quantity for user is limited on lifetime basis or in selected date range (i.e. not per order).
Quantity limits can be set for all products at once, on per product basis, per product category or per product tag.
Please note that there is no maximum quantity set for guest (i.e. not-logged) users. Possible solution would be to disable guest checkout via "Allow customers to place orders without an account" option in WooCommerce > Settings > Accounts & Privacy > Guest checkout.
Product quantities are updated, when order status is changed to Completed.
While data is recalculated automatically (but only after the plugin was enabled), you can also force manual recalculation by running Recalculate sales data tool. This is useful on initial plugin install (i.e. to calculate sales data from before the plugin was enabled).
Options
Plugin settings are located in "WooCommerce > Settings > Maximum Products per User".
All Products

All products

Enables "All products" section.

Default: no

Maximum quantity per user

Maximum allowed each product's quantity per user.

Default: 1
Per Product Taxonomy

Per product tag

This will add new meta box to each product tag term's edit page.

Default: no

Per product category

This will add new meta box to each product category term's edit page.

Default: no
When section is enabled, you will see new "Maximum quantity per user" option in "Products > Categories > Your category > Edit" and/or "Products > Tags > Your tag > Edit":

Per Product

Per product

Enables "Per product" section. This will add new meta box to each product's edit page.

Default: no
Per product meta box for variable product with "Use variations" option enabled:
Per product meta box for simple product or for variable product with "Use variations" option disabled:

General Options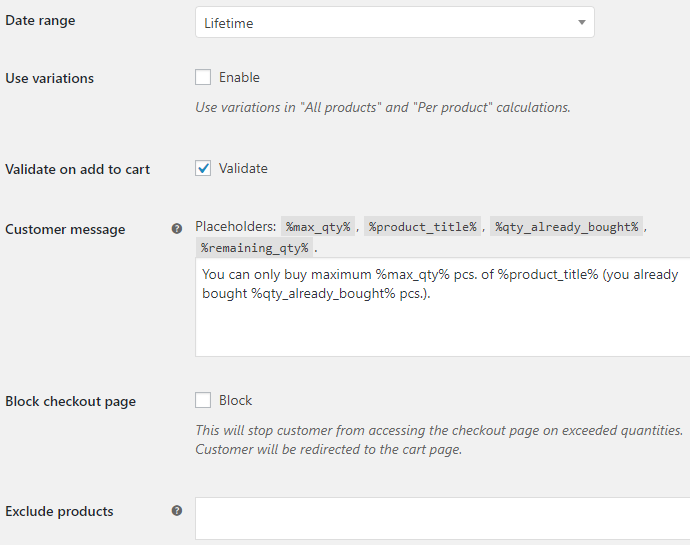 Date range

Possible values: Lifetime; This hour; This day; This week; This month; This year; Last hour; Last 24 hours; Last 7 days; Last 30 days; Last 365 days.

Default: Lifetime

Time function

Possible values: Server time; WordPress time.

Default: Server time

Use variations

Use variations in "All products" and "Per product" calculations.

Default: no

Validate on add to cart

Enable this if you want to check user quantities right away, on add to cart button click, instead of notice on cart and checkout pages only.

Default: yes

Customer message

Placeholders: %max_qty%, %product_title%, %qty_already_bought%, %remaining_qty%. You can also use HTML and/or shortcode here. E.g.: [alg_wc_mppu_translate] for WPML/Polylang translations.

Default:

You can only buy maximum %max_qty% pcs. of %product_title% (you already bought %qty_already_bought% pcs.).

Block checkout page

This will stop customer from accessing the checkout page on exceeded quantities. Customer will be redirected to the cart page.

Default: no

Exclude products

You will need to "Recalculate sales data" for products to be excluded from sales data.

Default: None
Tools

Recalculate sales data

Check the box and save settings to run the tool. Please note that there is no undo for this action.

Default: no

Delete & recalculate sales data

Check the box and save settings to run the tool. Please note that there is no undo for this action.

Default: no
Sales Data
You can check saved sales data for each product, by opening admin product's edit page. For variable products you will see data for each variation as well. Similar "Sales Data" tables can be found on each category/tag edit pages: