Payment Gateways per Products for WooCommerce plugin lets you show WooCommerce payment gateway only if there are selected products in cart. Alternatively you can hide gateway by selected products.
Products can be selected by:
Product category
Product tag
Individual products
Plugin is compatible with all WooCommerce payment gateways (standard and/or custom).
General Options
Plugin options are located in "WooCommerce > Settings > Payment Gateways per Products".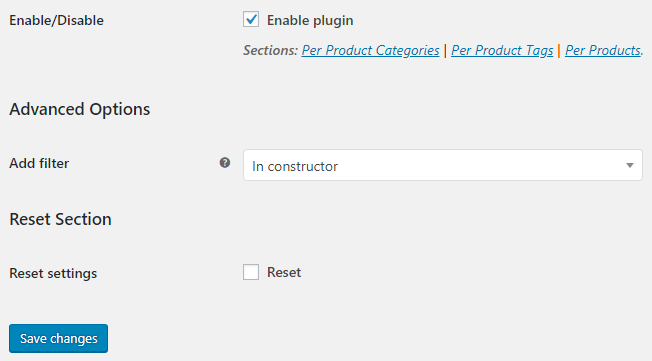 Enable plugin

Enables/disables the plugin.

Default: yes

Advanced Options: Add filter

Change this if you are having compatibility issues with other plugins. Possible values: In constructor; On init action.

Default: On init action
Per Product Categories Options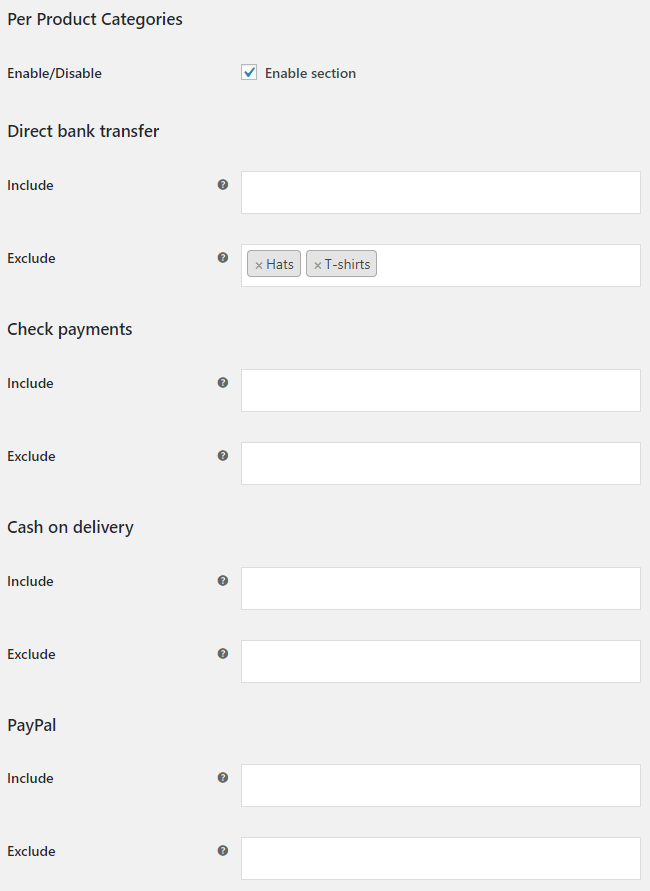 Enable section

Enables/disables "Per Product Categories" section.

Default: yes
Payment Gateway Options (e.g.: Direct bank transfer, Check payments, Cash on delivery, PayPal etc.)
Include

Show gateway only if there are product of selected categories in cart. Ignored if empty. Possible values: your shop's product categories.

Default: None

Exclude

Hide gateway if there are product of selected categories in cart. Ignored if empty. Possible values: your shop's product categories.

Default: None
Per Product Tags Options
Enable section

Enables/disables "Per Product Tags" section.

Default: yes
Payment Gateway Options (e.g.: Direct bank transfer, Check payments, Cash on delivery, PayPal etc.)
Include

Show gateway only if there are product of selected tags in cart. Ignored if empty. Possible values: your shop's product tags.

Default: None

Exclude

Hide gateway if there are product of selected tags in cart. Ignored if empty. Possible values: your shop's product tags.

Default: None
Per Products Options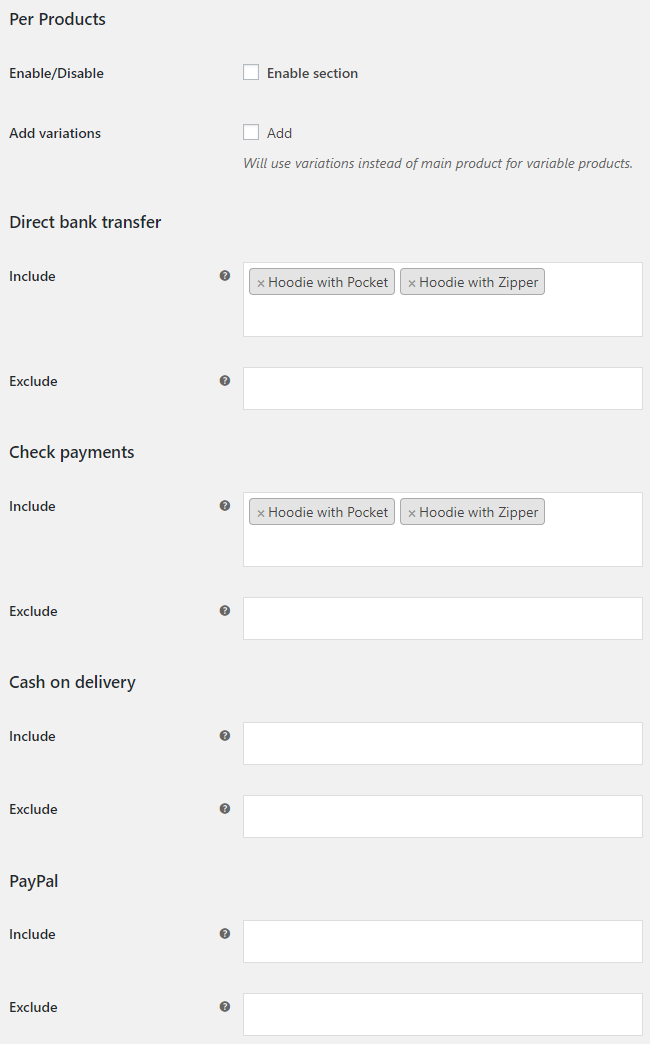 Enable section

Enables/disables "Per Products" section.

Default: yes

Add variations

Will use variations instead of main product for variable products.

Default: no
Payment Gateway Options (e.g.: Direct bank transfer, Check payments, Cash on delivery, PayPal etc.)
Include

Show gateway only if there are selected products in cart. Ignored if empty. Possible values: your shop's products.

Default: None

Exclude

Hide gateway if there are selected products in cart. Ignored if empty. Possible values: your shop's products.

Default: None
Plugin checks if gateway needs to be disabled in this order:
Categories to include
Categories to exclude
Tags to include
Tags to exclude
Products to include
Products to exclude