Best Product Feed Plugins for WooCommerce in 2023 (Compared)
Businesses often have a goal of creating an online store to reach a wider audience. Creating a WooCommerce store is usually the easy part. Driving traffic to your store and marketing the products to the right audience is usually the harder part. In this highly competitive eCommerce market, you cannot rely on your store only to market your products and make sales. You will have to eventually use other channels as well. For example, Google shopping ads.
In addition to having an online store you can increase your sales channels by simply implementing product feeds. In straightforward terms, product feeds (or shopping feeds) are CSV, TXT or XML files holding product information. Products feeds allow you to submit your products to several websites such as Google Shopping, eBay, Amazon etc. This allows you to reach a wider audience and drive more traffic to your store.
Why do you need product feeds for your eCommerce store?
If you want to submit your product data to shopping channels you can easily do this using product feeds.
Selling on multiple channels will help you present your brand and products to a wider audience. eCommerce store owners often tend to overlook price comparison search engines and shopping sites such as Amazon, Google Shopping and eBay.
If a customer is looking up a product on a website and sees your product next to your competitor's, it will pay to have as much information about your product as possible. This in-depth information can easily convince the customer to buy from you, rather than your competitor.
If implemented correctly, product feeds can easily boost your traffic, improve brand recognition and ultimately boost sales.
Your product feed deliver product data from your store to sales channels so relevant customers can find your products easily.
Here are some advantages of using product feeds:
All vital information about your products can easily be found in one place.
Data about your products is consistent across various selling channels.
Wider reach and visibility of your products allowing you to gain traction with new and existing customers.
Easy to implement and a cheap way of multi-channel marketing.
Now that you know the importance of product feeds, we can look at how you can implement them for your WooCommerce store.
One of the reasons why WordPress and WooCommerce are popular is the number of plugins available. Product feeds can easily be created by using several WooCommerce plugins. Here is a collection of some of the best product feed plugins for WooCommerce.
WooCommerce Product Feed Manager
Product Feed Manager – WooCommerce to Google Shopping, Facebook, Yandex, Etsy & More
This plugin is suitable for anyone looking to create a product feed. It's a time saver and has several advantages over its competition. The plugin ensures your products gain the traction they need by allowing you to generate product feeds for over 104 websites. These include price comparison sites, affiliate networks, product aggregators and popular sales channels.
The plugin also ensures the right data of your products is displayed. The price, variations, images, titles, descriptions, etc are all taken care of. In addition to that the plugin has highly customizable features such as schedules, advanced filter options, advanced category mapping, easy channel management, channel templates and automatic updates. These remarkable features make It one of the best product feed plugins for WooCommerce.
Optimizing your product feeds is vital to increase the visibility of your products across several marketing and selling platforms. The plugin allows you to customize product titles, descriptions, changing prices and quantities, etc.
There is a free version of the plugin available that has all the essential features required to generate a product feed. The paid version of the plugin has some additional features and costs $59.99 per year for a single site.
Here are some additional features of the paid version of the plugin:
A filter that allows you to hide products that you want to exclude from feeds.
Category mapping that makes your products visible when a customer searches for a category of products.
Dynamic attributes allow you to configure different attributes for different sites. For example, use different prices on different sites.
Premium support.
Generate multi-language product feeds.
Often when starting out with product feeds you may not need any of the premium features. However, should you require any of these features you should consider upgrading to the paid version of the plugin.
There are not many downsides of the plugin that we found. It is a very robust plugin with excellent features. The best part of the plugin is it does most of the work automatically. Once you configure the main set up, the plugin will handle the rest.
Product Feed for WooCommerce: Google, Bing & More
This plugin is best suited for generating product feeds for Google shopping ads, Bing ads and any other website that uses XML feeds.
The plugin has over 45 shortcodes that you can use to insert product data in XML. You will have full control over the XML feeds that are generated.
The plugin generates feeds automatically on a weekly basis, using cron jobs. This takes care of keeping your products up to date. You can also filter your feeds based on specific products, categories and tags. You can also exclude products from the feeds, for example, products that are on sale.
The product feeds generated by this plugin are accurate. There is also no limit on the number of products to include. Here are some stand out features of this plugin.
Include or exclude products easily using tags and categories.
Include or exclude variable products and individual variations.
Include or exclude products based on minimum and maximum prices.
WPML compatible – Allowing you to generate feeds in multiple languages.
Product attributes are one of the most important components of product feeds. The more attributes you have for your products, the greater the chance of your products being listed on various marketing channels and websites. With this plugin you can easily control the inclusion or exclusion of product attributes. It supports custom attributes, dynamic attributes and product attributes also.
The plugin also has a premium version that costs $19.99 per year. The premium version allows you to create unlimited feeds with custom settings for each feed.
In summary the plugin has all the required features to generate a product feed. Inserting product information is a breeze. The plugin comes with well documented shortcodes to help you.
WooCommerce Product Feed Pro
This plugin is another great option for creating WooCommerce product feeds. It supports price comparison sites, Google shopping, Facebook dynamic product ads, eBay, Bing, Amazon, Nextag and many more websites.
Just like the other 2 plugins mentioned above, this plugin also generates product feeds automatically. You can schedule the time for feed generation and save yourself the hassle of manually generating feeds. You can also sync your products to shopping engines, thereby reaching a wider audience. This can be done via HTTP or FTP.
Smart filters help you avoid creating non-profitable feeds. You can easily exclude non-profitable, out of stock, draft products, on sale products etc. In addition to that you can also filter products based on titles, reviews and total sales as well. Excluding non-profitable products from your feed can easily help lower your advertisement costs.
The product feeds generated by this plugin can be customized according to various search engine requirements. This can easily be done without changing products attributes on your store. You can easily set dynamic attributes for products, according to your needs.
Some of the plugins stand out features include:
Usage of custom taxonomy.
Feed generation in batches.
Categories mapping.
Multilingual feeds.
Support for multi-vendor plugins.
Pre-defined templates for popular sites such as Pinterest, Bing, Idealo etc.
The paid version of the plugin costs $119 per year for a single website. This is slightly on the higher side when compared to what is available on the market.
ELEX WooCommerce Google Shopping (Google Product Feed)
Whilst there are many shopping feeds that you can list your product on, one of the most popular ones is Google Shopping. Listing your product on Google shopping has many advantages, it is one of the best sources of high-quality traffic and can be a good source of additional revenue for your website. Being the most popular search engine, if your products are optimized you are likely to get a good amount of high quality traffic.
The plugin, ELEX WooCommerce Google Shopping, focuses on generating product feeds from WooCommerce specifically for Google Shopping. It takes care of all the basic requirements of listing on Google Shopping, such as extracting, titles, images, price, availability, colour, and much more!
The plugin stands out due to its 5-step easy-to-follow process of generating google shopping feeds. Once the plugin is installed and activated, it takes you through the super easy-to-follow 5-step process to get you started, as shown below. The steps involved are:
Start – Involves setting up basic information such as the Project name, description, country of sale, variation settings, category, and the file format.
Map Category – Here you can map your WooCommerce Categories to Google Shopping Categories.
Map Attributes – This section allows you to map product details such as Product ID, title, description, image, etc. to Google Shopping attributes.
Filtering Options – This section allows you to filter products on your feed based on stock quantity, sold quantity, featured products and you can also exclude specific products from the feed.
Feed Generation – Once you have defined all the above, you can now go ahead and generate your feed.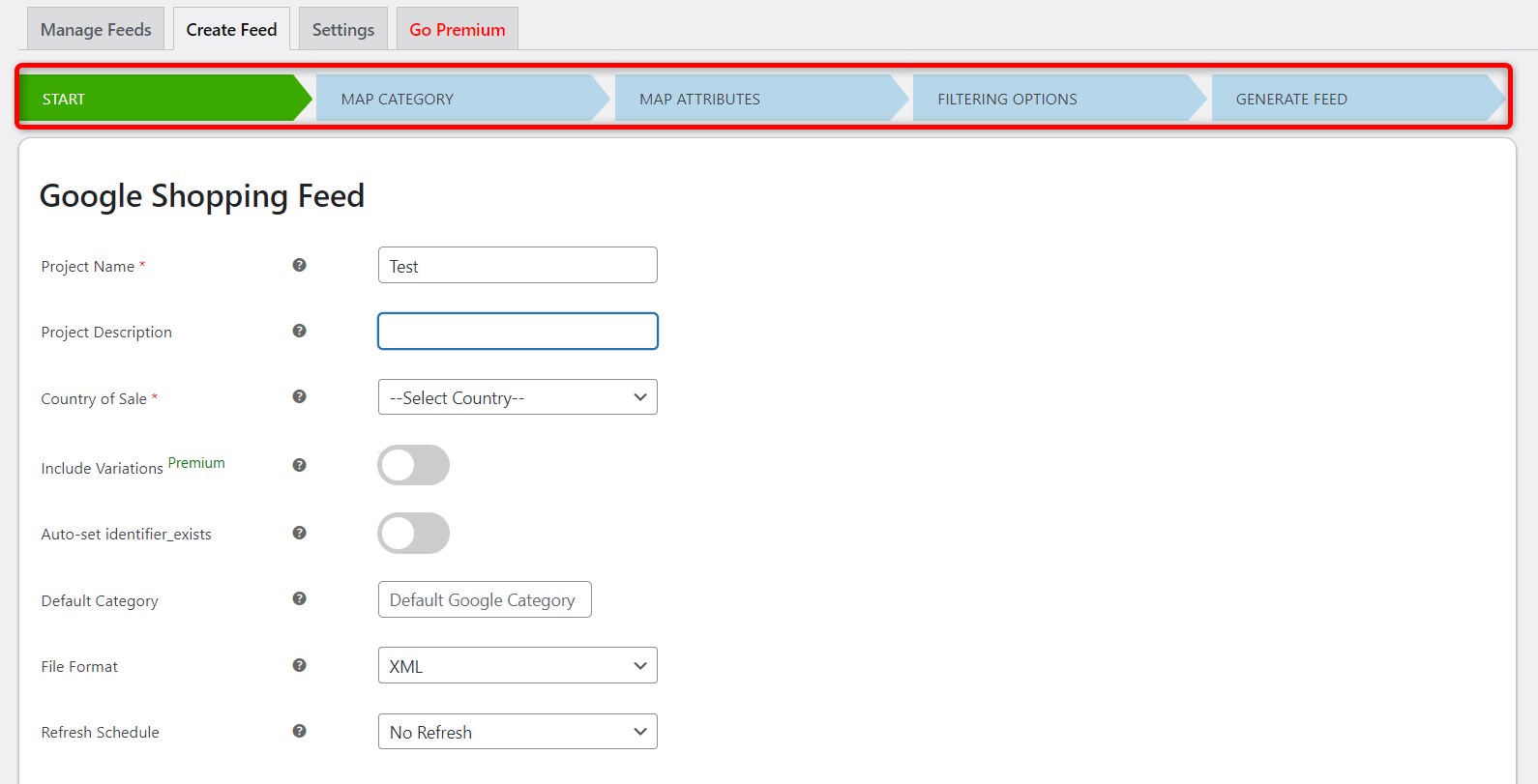 The feed generation process is fast and efficient and depending on the number of products that you have, it may take a few seconds to a few minutes. The feed can be generated in various formats such as XML, CSV, or TSV.
Another distinctive feature of the plugin is the extremely powerful attribute mapping. It can be based on Rules and Conditions. This can be extremely helpful in various situations. For example, if you are low on stock for a certain product, you can set a rule, e.g. If the stock quantity is less than 5, then show the product as out of stock on Google Shopping Feeds. An example of this rule-based attribution mapping is shown below.

Here are some more stand out features of the plugin:
Support for multiple currencies.
Scheduled automatic feed updates.
Dashboard for managing multiple feeds.
Support for product variations (Premium feature).
Support for multiple languages for Google product categories (Premium feature).
The free version of the plugin works in most cases, however, if you are looking at the 2 premium features mentioned above, you will need to upgrade to the Pro version. The license for the Pro version starts from $69 for a single site license.
How to optimize your product feeds
When you create product feeds several other competitors are also doing it. Here are some tips for creating product feeds to help you stand out from your competition.
Make sure the product title is informative and use easy to understand terms. Use terms that your target audience is familiar with.
Include special offers for example, free delivery, discounts, etc.
Include reviews in your product feeds. Product ratings are a great way to achieve this.
Use a clear and attractive picture. This is probable the most important point. A diagonal and horizontal view is recommended.
Conclusion
Creating a product feed for your WooCommerce store is one of the best decisions you will make to improve your store's visibility. Generating product feeds is your path to gaining brand popularity and traction.
The above plugins make it easy for you to generate product feeds and optimize your products for Google Shopping, Bing, Amazon, eBay and many other popular websites. We hope this article helps you pick the right plugin for your store.