Best WooCommerce Affiliate Plugins in 2023 (Compared)
Are you looking for an effective way to expand your online business? Or are you simply looking to monetize your website and earn some extra income? Then, this article will help you take a step forward and get on the right track. If you are running a WordPress-based online store, using a WooCommerce Affiliate plugin is the best way to achieve that. They allow users to register as affiliates and promote your products or services on their platforms by creating an affiliate program. Those affiliates will earn a commission for each purchase made, while you will get a chance to grow your business. So, let's go over five of the best WooCommerce Affiliate plugins, as well as their key features, that are trusted by thousands of users.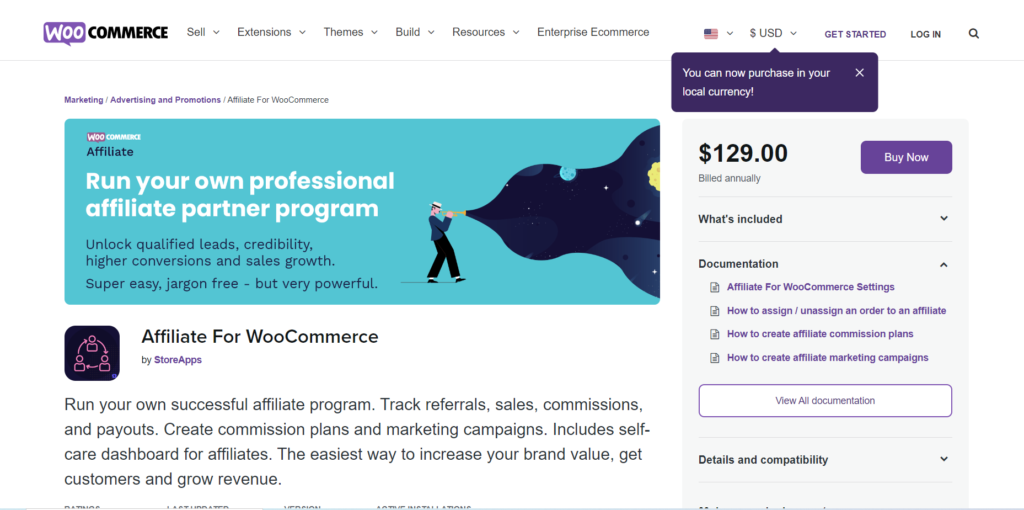 Affiliate for WooCommerce is a simple plugin that offers a straightforward process to set up your affiliate program. It enables users to track affiliate sales, commissions, and referrals easily while managing payouts. Moreover, this plugin features a great, user-friendly UI. This plugin is also well-known for its flexible commission system. For instance, you can apply different commission rates based on the product category and offer higher commissions to well-performing affiliates.
Yet, this plugin doesn't provide much customizability and lacks some advanced features users might seek. However, it is a good choice for those who are looking for a simple affiliate solution based on Woocommerce.
Key Features
The ability to easily set up and manage
The ability to apply different commission rates for different affiliates or products
The ability to run promotional campaigns
The ability to earn commissions through the sales of other affiliates they introduced to the program
Real-time and accurate report generation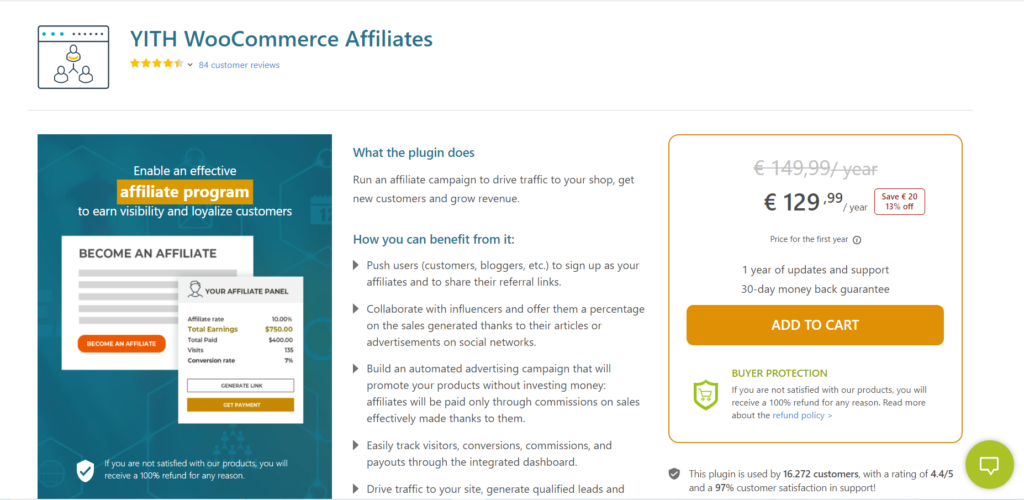 This is another popular affiliate plugin dedicated to WooCommerce. It allows easy registration of affiliates, while site administrators can easily access and manage the registered affiliates through the backend. This plugin facilitates using shortcodes for various functionalities, such as affiliate registration. Thus, the merchants can easily publish an affiliate registration form on the website using this plugin. As new members sign up as affiliates, the site admin can auto-approve them or approve them after manual review. Once the affiliate account is approved, that affiliate will get a dashboard where they can refer to their commissions and payouts and create referral links.
YITH Woocommerce Affiliates comes with a free version that includes a bunch of basic features, as well as a paid version that provides more sophisticated features. One impressive feature of this plugin is sending automatic payouts to affiliates as they reach a specific amount of earnings. There is also an option to send affiliates email notifications on each sale.
Key Features
The ability to generate affiliate links conveniently
Automated payouts for affiliates
The ability to use shortcodes for affiliate registration
Customizable cookies and shortcodes
The ability to use shortcodes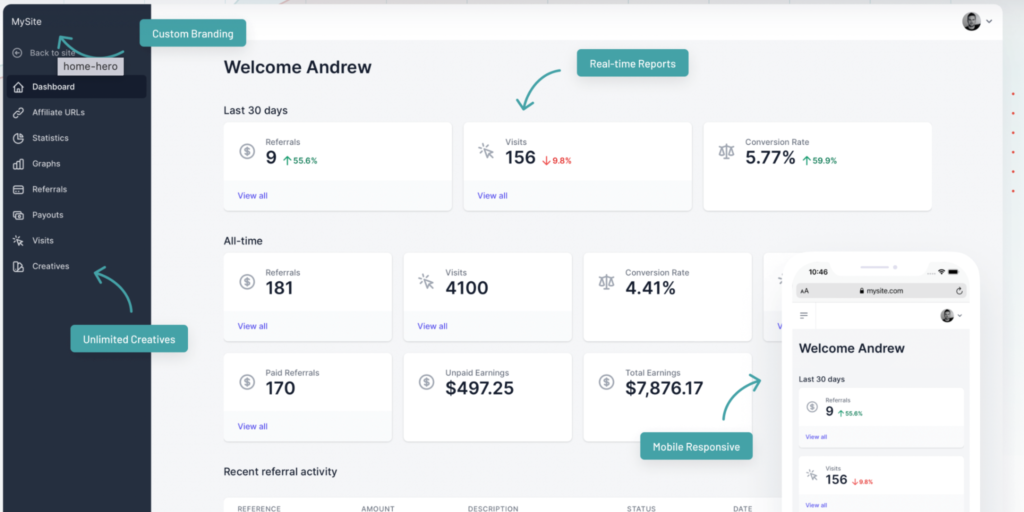 This is another excellent affiliate plugin that allows you to run an affiliate program off WordPress and WooCommerce. It's self-hosted, so you have more control, and you can create as many creatives as you like for your affiliates.
This plugin comes with a reporting module to facilitate reporting and help monitor and analyze your affiliate efforts. It generates a dashboard for your affiliates on number of referrals, paid referrals, conversion rates, and much more. The dashboard is also mobile responsive, which will help your affiliates that like their reports when they're out and about.
Key Features
There are no middleman fees ensuring that you and your affiliates are sharing all of the income
You can upload as many different banners/links as you need for your affiliates
Built in fraud detection
You can brand it to your company
There are detailed reports on your affiliates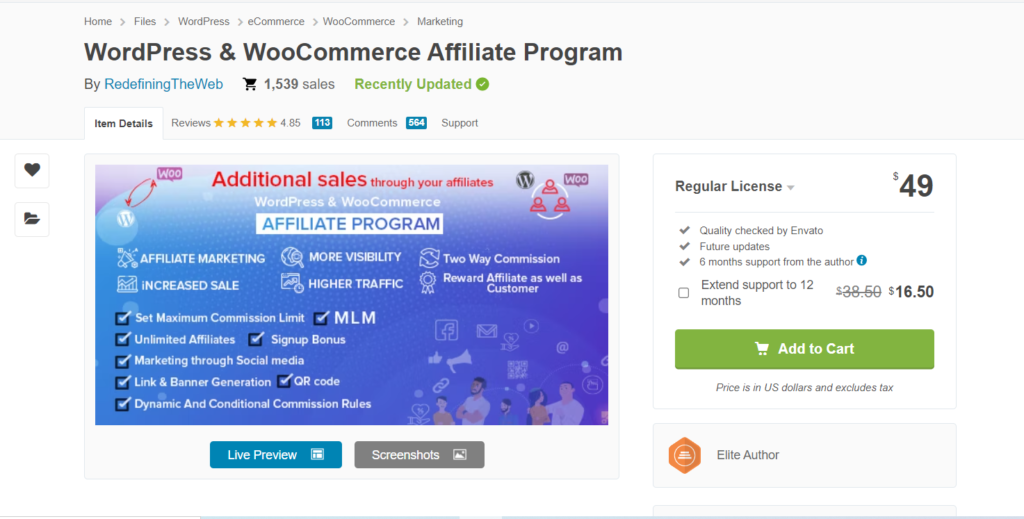 This is another robust plugin for managing an affiliate program on your WordPress website. It supports an unlimited number of affiliate registrations. The admin can easily specify the commission rate through the backend. The dashboard overview page offers a comprehensive view of various statistics, such as the total number of affiliates, referrals, and approved and pending commissions.
This plugin even allows affiliates to create coupons from their earnings, which they can use later to buy products on your website. The tiered marketing option is another outstanding feature of this plugin. This feature allows affiliates to refer other affiliates to the program and earn commissions based on their sales. The dashboard for affiliates shows a visual representation of their performance using charts. This plugin is the best option for affiliates seeking a WooCommerce affiliate plugin with a sophisticated dashboard and multi-level marketing support.
Key Features
Unlimited affiliates
Prominent admin dashboard
The ability to offer a sign-up bonus for affiliates when someone registers through their referral link
The ability to set a maximum commission limit
Powerful affiliate tools to promote your products effectively
This is a simple plugin with a straightforward setup process. The configuration is limited to adding the commission rate from the backend, selecting a URL (like "ref"), and specifying the user roles eligible for participating in the affiliate program. Then you are good to go.
The affiliate merchants will have a dashboard that displays the affiliates, their total earnings, and the remaining balance. On the other hand, affiliates will be able to view their sales information on the "My Account" page.
Key Features
The ability to enable/disable the affiliate program with one click
Convenient configuration and management of the affiliate program
Comprehensive report generation for administrators to monitor the affiliate program
The ability to select between a percentage or flat commission rate based on the business type
Front-end report generation for affiliate customers
Conclusion
WooCommerce affiliate plugins allow you to set up and run your own affiliate program without any hassle. All the plugins discussed above facilitate a simple setup and easy integration with your WooCommerce products. However, you should also carefully study their other features and choose the plugin that best suits your affiliate program. The right plugin should be able to facilitate convenient affiliate management while offering robust affiliate marketing tools to boost your business.