Best WooCommerce Themes to Maximize Conversions in 2023 (Compared)
WordPress is the most popular CMS powering over 40% of all websites on the Internet, and out of these, WooCommerce is being used in over 5% of all WordPress websites! We're talking about millions of websites out there!
As a matter of fact, the WooCommerce plugin has 5+ million active installations with tens of thousands joining the club every day!
The success of WooCommerce is attributed to many things: it has awesome features, it is very flexible, and, being open-sourced, allowed thousands of developers to extend the functionalities with WooCommerce free & premium plugins.
In short, using WooCommerce you can easily turn your WordPress website into a full-fledged, profitable eCommerce store, and with the right theme & plugins, your WooCommerce store can be scaled to a 7 or 8 figures revenue business.
In a separate post, we've covered some best practices to make outstanding product pages in WooCommerce, but what about the general "look & feel" of the website? Here comes the theme itself!
Why Do You Need a Simple & Easy-to-use Theme?
The most important factor that will influence the success of your WooCommerce store is the theme – what's the benefit of getting a countless number of visits if the users can't find their way throughout the whole journey?
Some store owners see the customer journey on their websites as very straightforward, while actually, it's not! They think so because they use the website every single day, while their customers don't!
In a typical customer funnel, a new visitor lands on your store homepage, they need to navigate through the menu/categories, then find the product they want, understand its options, select what they want, add it to the cart, fill out all shipping & billing info, then complete the checkout payment processing.
Does your website theme/design make this process easy & smooth, or a nightmare for a new customer?
That's why if you choose the right one, you may end up with a money-making machine. Choose the wrong one and you end up with a store that could have been an asset but instead, it ends up as a failure regardless of how many visitors you bring to it.
In the end, what would be the benefit of thousands of dollars being spent on ads to get customers, while they can't figure out how the checkout page works?
As web design trends continue to evolve, so do WooCommerce themes. The number of themes out there is increasing day after day, and it is becoming more difficult nowadays to pick the best one for your needs.
Bearing in mind that a theme will be responsible for the look and feel of your website. It will also affect the user experience of your website.
So how do you choose a good WooCommerce theme?
Things to Consider in Your WooCommerce Store Theme
Don't just count on reviews for themes you see online, you have to check the theme yourself (through a demo, or at least a free version of it), and make sure it meets your needs, and also it has some "must-have" features of any WooCommerce theme.
More often than not, you will find themes lacking "basic" features, and WooCommerce store owners then end up flooding their site with plugins. It is not recommended to use plugins for things that could be achieved without them.
You should avoid overloading your site with plugins. Themes should have built-in features and be ready to go.
For example, any theme should allow you to easily set up a nice & user-friendly navigation menu, why there should be a need for a plugin that loads on every single page to do this basic feature?
With fewer plugins, you improve your website's speed and performance. Which is great for your user experience. You also don't have to worry about constantly updating your plugins.
Here are a few things that you should keep in mind when selecting a WooCommerce theme:
Pre-made Templates
Creating a WooCommerce website from scratch can be a hectic and time-consuming process. That is why you need to pick a WooCommerce theme that comes with pre-made templates that you can import and customize to make it yours. Apart from achieving a professional design, you save your time for more important tasks.
A note here to consider, don't take the template as it is, or your website will end like thousands of other stores that used the same template without much change. Modify the template design (colors, layout, homepage elements) to reflect your brand & store identity.
Social Media Tools
Social share and follow buttons help "slightly" generate more traffic of potential clients to your store. Social share buttons will make it easy for users to share the products or content across social media while social follow buttons enable the users or customers to easily catch up with your brand on social media platforms.
This will help grow your client base. Although you can use a plugin for this, having a WooCommerce theme that comes with social buttons will be much better and it integrates well.
Branded Customization
Any WooCommerce theme will come with a shopping cart design and a simple checkout process, but what's important here is to make sure your theme gives you full control over this process (adding to cart >> cart page >> checkout), so you can offer your customers the best shopping experience and reduce cart abandonment cases.
To achieve this, you may need to pick a WooCommerce theme that comes with already a well-designed shopping cart and checkout process (with customization options as well) and is also integrated with features related to carts, e.g. timely cart abandonment emails that boost your sales and leads.
Theme Reviews
Almost every theme has a section for its reviews, where it shows how good or bad is it.
If the theme is sold on a third-party marketplace like the WPFactory Themes section, it would be great to check if the theme has genuine reviews from users, what they feel about it, does it meet their needs, etc.
If the theme is free, you will find its reviews on the WordPress theme directory website, as you can see here on the OceanWP theme page: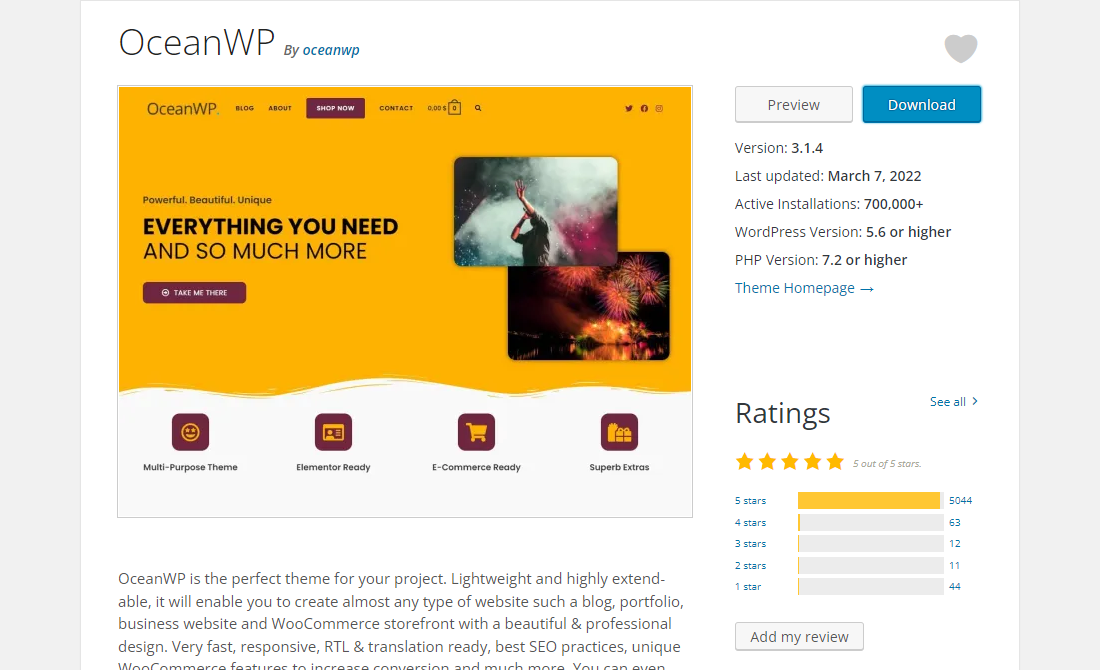 You can click on the See all button to read the reviews and know what real clients who have tried it say about it. Every theme may have some bad reviews, but if you find that the number of bad reviews is very high, you might consider checking other themes.
Now if the theme is hosted on its own author website, the reviews section won't be much counted on, the author in this case has full control of which reviews to show/hide, so you will be seeing what the author wants you to see!
But in many cases, the theme will have a free version on WordPress.org, check the reviews section there.
Product Reviews Section
What is a product without a reviews section? People now always look for social proof, what other people think of that product, is it good? Does it meet their needs? Any particular thing they have to be aware of?
How many times have you seen a product, and the reviews section made you confident with your decision to buy it? This shows how important it is to have a great reviews section for your products.
So when you're searching for a theme for your WooCommerce store, make sure it allows you to show & customize the reviews section for your products, the number of reviews, designs, content, etc.
Email Opt-in Forms
Email marketing is not reaching its death any time soon! And in terms of bringing more sales to your store, it comes side-by-side (in terms of visits quality) with visits you get organically from search engines.
That's why you should never leave this task on the side, as soon as you launch your store, you have to start collecting your customers' emails, and here comes the email opt-in forms handy.
Opt-in forms help you grow your email list, i.e., potential clients. To collect email leads, you may need to add an email form on say blog posts, widgets, homepage, etc.
Although there are various email opt-in plugins available, having a theme that comes with an email form will save you lots of hustle on styling the form and also ensures a consistent and professional design.
10 Awesome WooCommerce Themes in 2022
Now that you know what to look for before choosing a WooCommerce theme, here are a few fantastic options.
There cannot be a one-size-fits-all solution, however, our collection here is of a few that do stand out.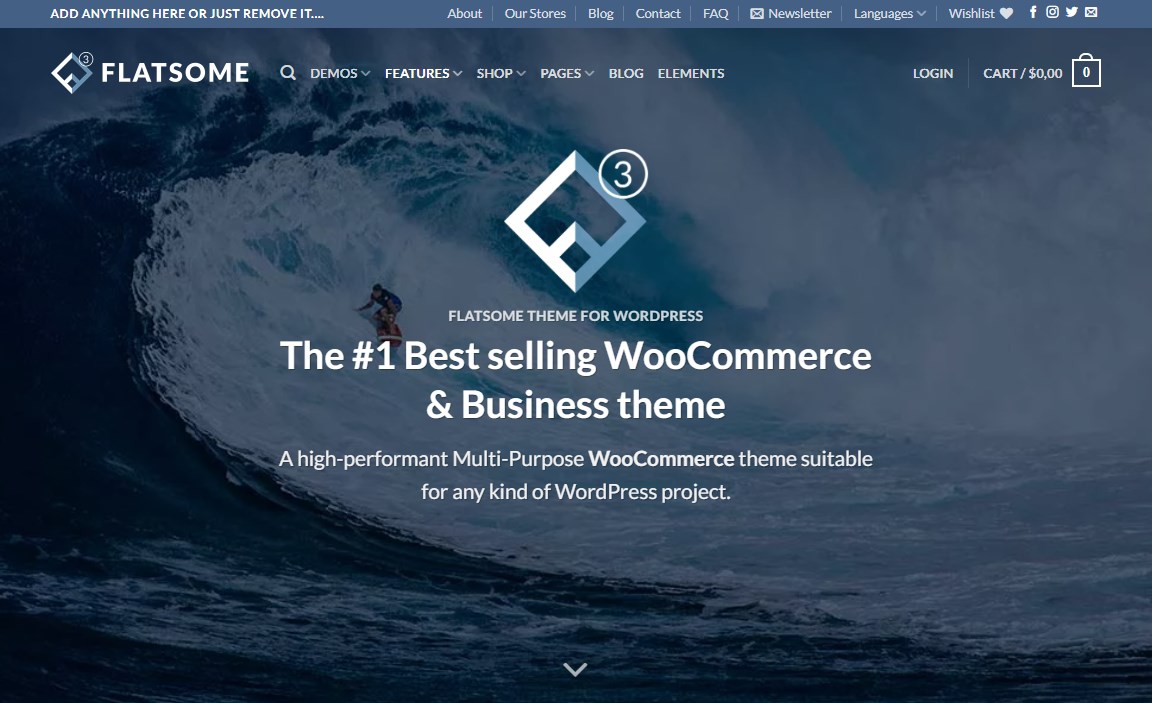 Flatsome is, without doubt, is at the top of the best-selling WordPress themes of all time. It has sold over 180,000 copies as of the time of writing this. It's one of the most popular WooCommerce themes on the market.
It comes with a flat design that is highly customizable to suit your branding needs. It's neatly put together with a clean layout and has several awesome features that can take your WooCommerce store to the next level.
Features
Excellent user experience.
Custom-built drag and drop page builder with an elements library.
Highly customizable with live theme options.
Easy to import ready-made demos.
SEO friendly.
Lightweight and extremely fast.
Header builder.
Mega menu.
WPML ready.
Regularly updated and new features added.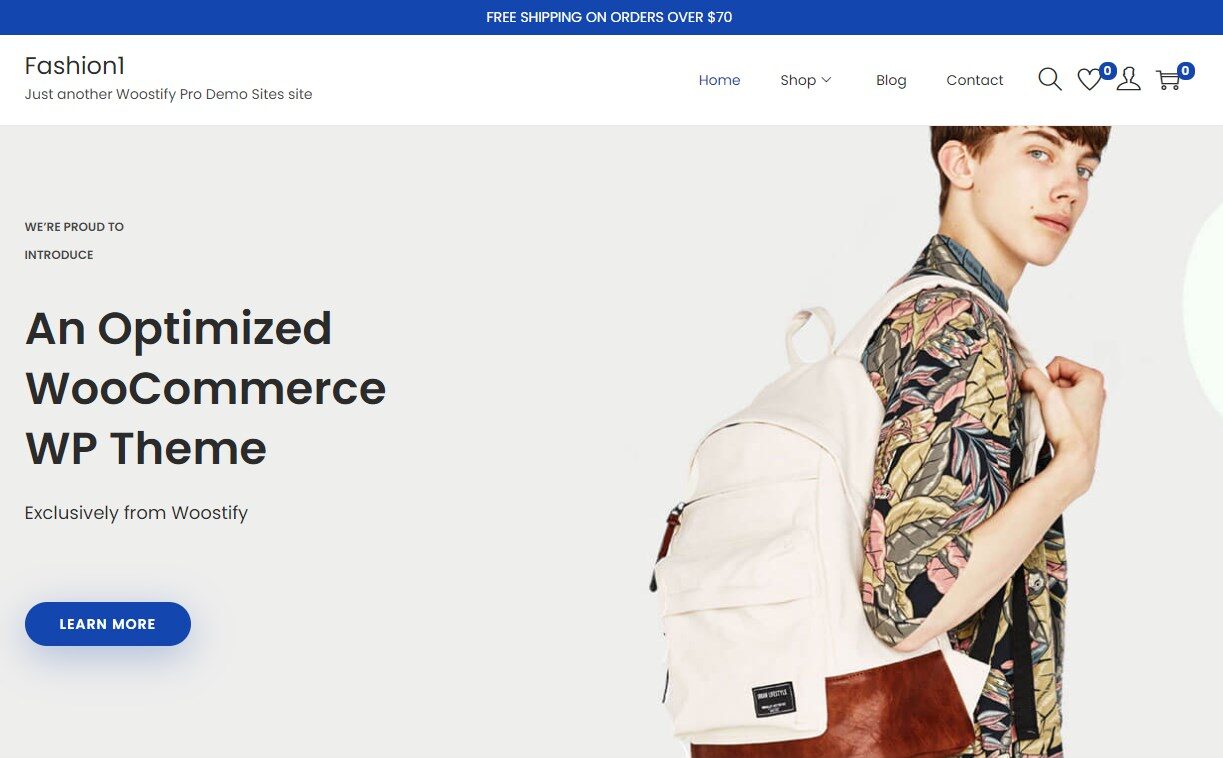 Woostify is a lightning-fast light-weight WooCommerce theme. It specializes in eCommerce stores for small businesses.
The theme comes with several pre-built demos that are suitable for building almost any kind of eCommerce store. They save you a lot of time by allowing you to skip building a store from scratch.
One of the reasons why the theme is extremely fast is that they only use Vanilla JavaScript and no JQuery at all. The theme comes with several product page styles, listing layouts, and multi-step checkout. The theme has a free version and a pro version that comes with many more robust features.
Features
Lightning-fast load times.
Live customizer – change the appearance and functionality of your website from one interface.
Elementor compatibility.
Product wishlist.
Hover styles – you can choose to move the "add to cart" button position, the wishlist style, or change the effect of the product image.
Multiple header layouts.
Multiple cart layouts.
Multiple product page layouts.
Multiple checkout layouts.
RTL support and translation ready.
Multi-vendor compatible.
Hooks and filters for complete control.
Excellent customer support.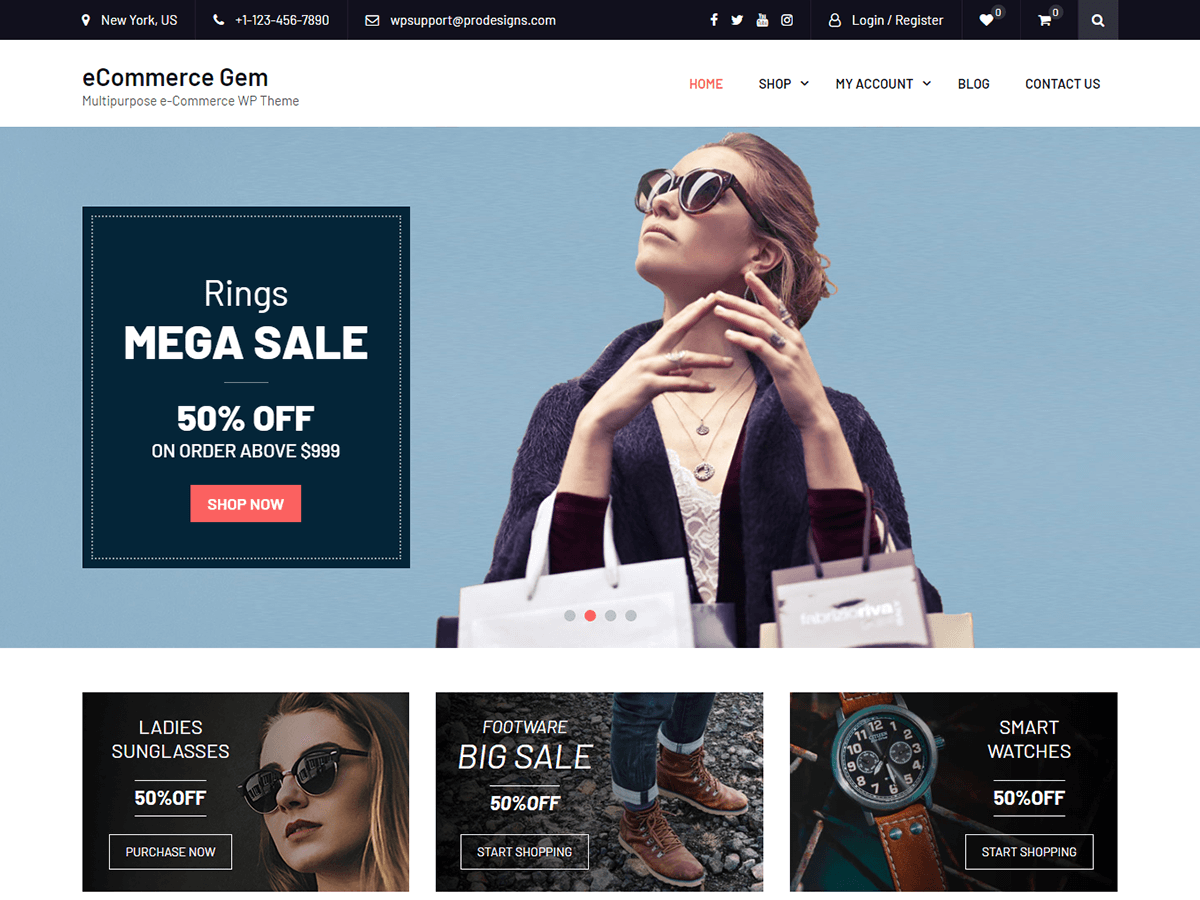 eCommerce Gem is a multi-purpose eCommerce WordPress theme by ProDesigns and it can be used to create any kind of eCommerce website. With its ability to seamlessly integrate with WooCommerce, creating an online store with this theme is just a breeze. It can be used to create any type of eCommerce website whether it's a fashion shop, electronics store, home decor shop, sports store, etc.
Features
Responsive across various screen sizes.
Easy to customize – you can easily add, edit or remove any element.
Stunning design that grabs the attention of your visitors.
Search engine optimization friendly.
WooCommerce ready.
Latest and featured product carousel.
30+ social icons.
Translation ready to support various languages.
8+ widget areas.
One-click demo import.
3 custom menu areas.
Image and text logos.
Multi-level submenu.
Left and right sidebars.
Widgetized footer.
Forum support.
Additional Pro Features
100+ Google fonts.
Advanced slider support.
Callout widget with parallax background.
Ability to hide or override footer credit.
Pricing
There is a free version and a pro version. The free version is available for download at the WordPress.org theme directory or the ProDesigns website. The pro version is $53 and can be purchased from the ProDesigns website.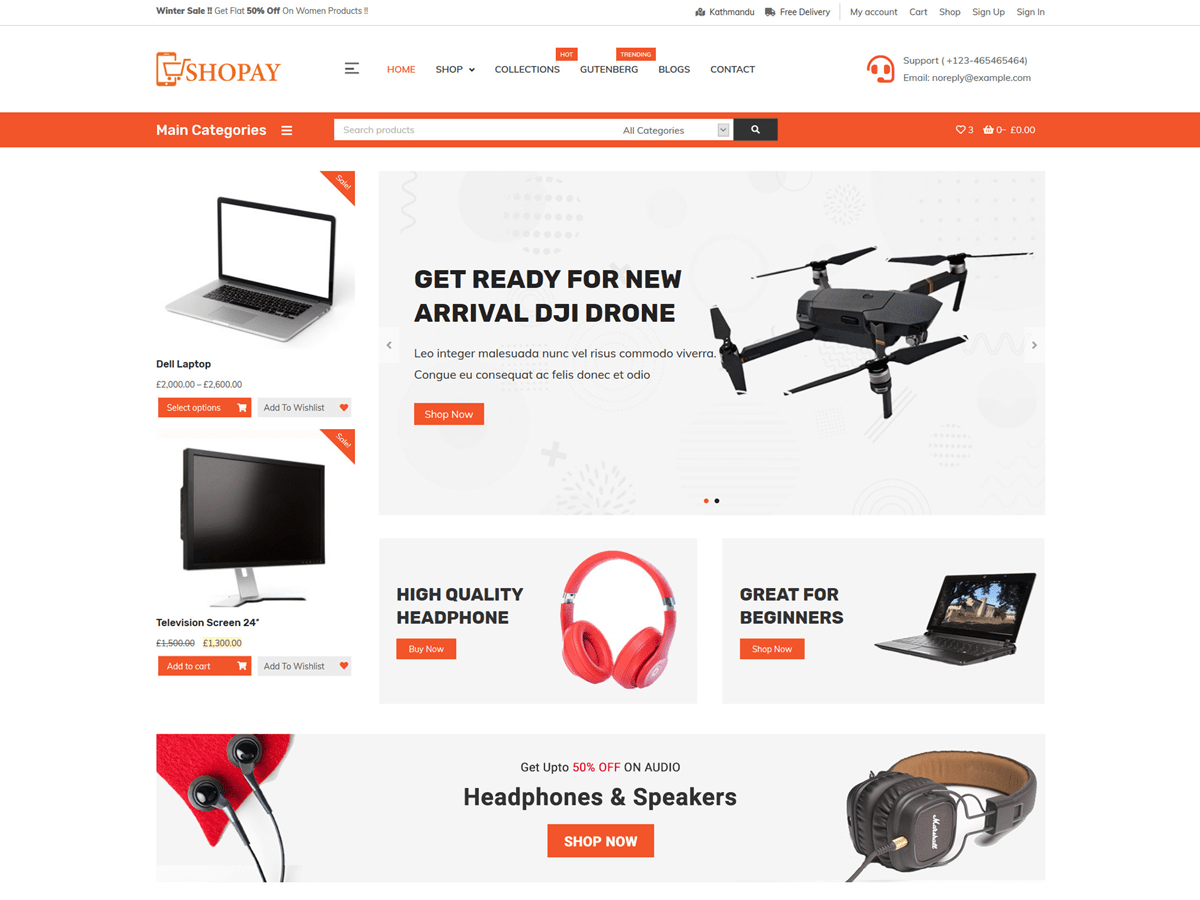 Shopay is a free, responsive, and highly customizable eCommerce WordPress theme that can help you start selling easily. It is fully compatible with WooCommerce and YITH WooCommerce plugins hence making it easier to set up your WooCommerce store.
While it's not as popular as other themes, all 5-star ratings and 2000+ downloads from the WordPress theme directory alone show how this theme is trusted and can be worth trying.
Features
With the built-in customizer, you can easily edit your website design as you preview changes.
Responsive across all mobile devices, from iPhone, iPad, Android, and Windows mobile phone, etc.
Unlimited color options enable you to play with various colors to give your online store a better feel.
10+ eCommerce widgets with various layouts.
With the support of the one-click demo import plugin, you can easily create your eCommerce website using the available demos.
Compatible with Gutenberg and page builder.
Comprehensive documentation that guides you through the store creation process.
Support in case you need help setting up the theme or using any feature.
Retina ready – supports awesome graphics, razor-sharp text, sharp images, vibrant colors, and beautiful icons on HiDPI (retina) displays.
Additional Pro Features
Multiple header layouts.
Typography options that enable you to change font size and font weight of title tag and paragraphs.
Compliance with the General Data Protection Regulation (GDPR).
Optimized for search engines and fast loading.
Pricing
The theme is free. However, if you need additional features, there is a pro version that costs between $59 and $249 depending on the subscription option and the license you choose.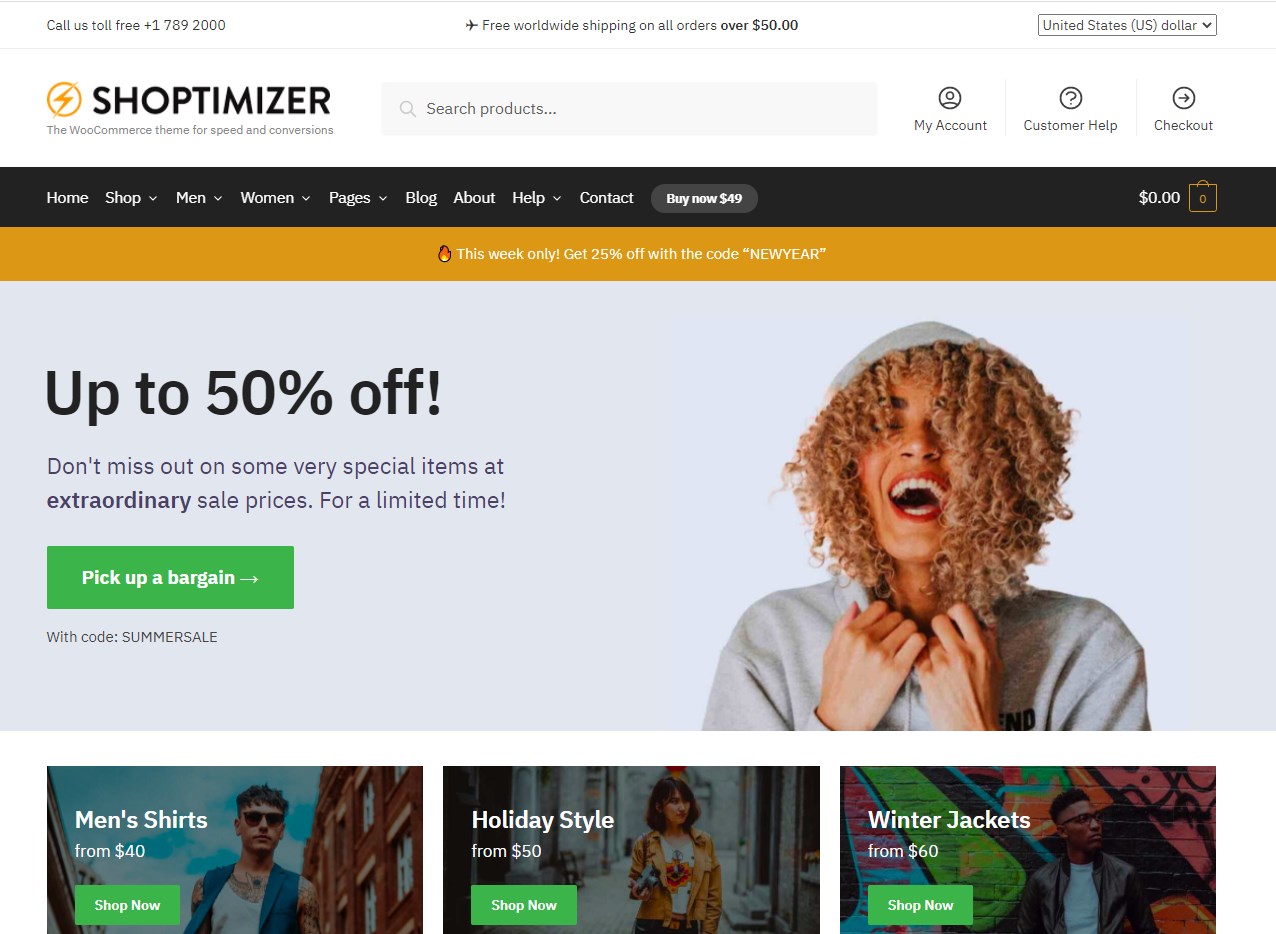 Shoptimizer is a theme built based on research and best practices to make sure it is optimized for conversion. The speed, design, and features are all combined in a perfect blend to convert visitors into paying customers.
When you are running an eCommerce store, your conversion rate is the single most important factor that can either sail your business or drown it.
Shoptimizer is highly optimized for boosting conversions. Trust badges, Fear of Missing Out (FOMO), and many more conversion-boosting features come pre-built in the theme.
We have some excellent guides for you to learn about boosting WooCommerce conversion. Do check out articles on How to Use Scarcity and Urgency in Your E-commerce Store, 5 ways to Boost WooCommerce Conversions, and Simple WooCommerce Tips to Increase Sales to learn more on how some of the Shoptimizer features help boost conversions.
Features
One of the fastest eCommerce themes.
Minified and critical CSS automatically created.
Distraction-free checkout to boost conversions.
Request a callback feature.
Additional product info after the buy/add to cart button.
Sticky product details on scroll.
Trust badges available at crucial checkout points.
Fear of missing out built-in.
Slide up sales notifications.
SEO enhancements.
Elementor compatibility.
Megamenu support.
Pricing
The theme doesn't have a free version, the pro version costs $49 but you're covered with a money-back guarantee if the theme doesn't work well for you.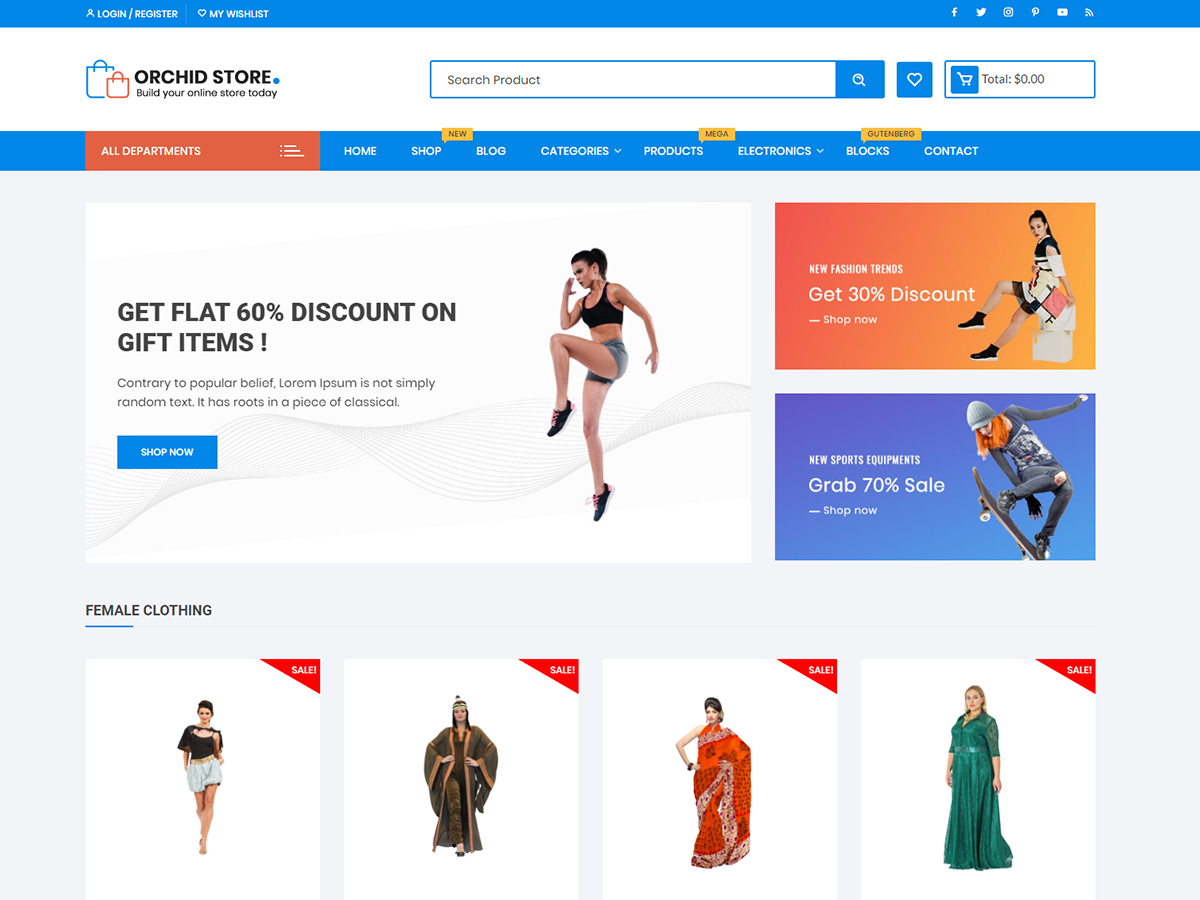 Orchid Store is a stylish and dynamic WordPress eCommerce theme created by Themebeez. It is based on WooCommerce and can be used to create various types of online stores from a fashion store, electronics shop, sports shop, furniture shop, home decor shop, jewelry store, etc.
It was built for eCommerce, with built-in features that make creating your online store a walk in the park. With the customizer, you can tweak various options to make your store amazing. The ability to easily add widgets to display elements on the front end makes it easier to design your website.
On the WordPress theme directory, this theme is rated 5-star and has been downloaded 10,000+ times.
Features
Compatible with WooCommerce plugin.
One-click demo import.
Compatible with Elementor page builder.
Quick view of the product.
Compatible with third-party WooCommerce plugins e.g. WooCommerce Memberships, WooCommerce Subscriptions, YITH WooCommerce Wishlist, YITH WooCommerce Quick View, etc.
RTL support for Arabic scripts.
Special header menu.
Icons at the menu item.
Primary and secondary color option.
WooCommerce featured categories widget.
Slider/banner widget.
Three variations of WooCommerce product widget.
Responsive across all media devices.
WordPress and WooCommerce default widgets.
"Call to action" widget.
Service widget.
Advertisement widget.
Blog post widget.
Footer columns.
Mobile view two column product listing.
Fast loading time.
Free support.
Regular updates.
Pricing
Free, and of course there is a paid version that can be purchased starting at $49.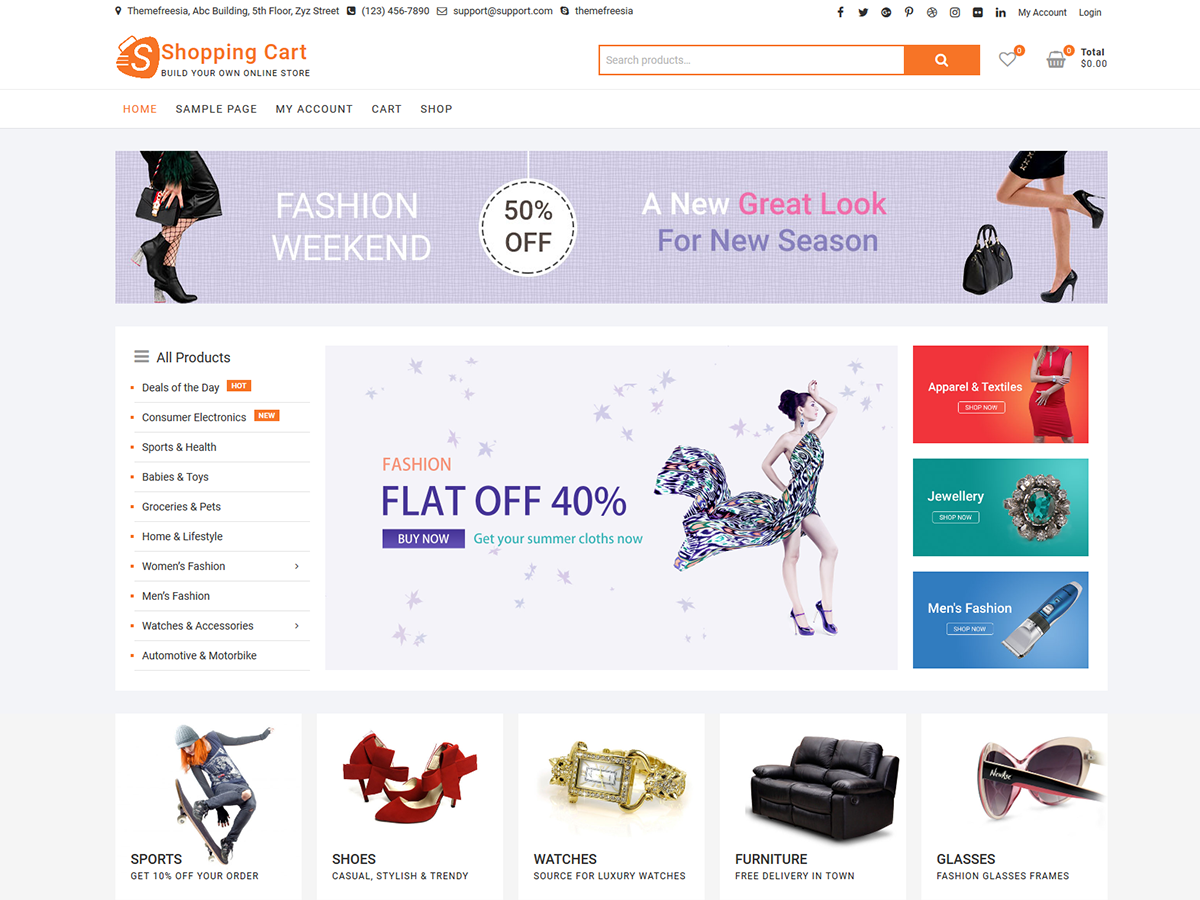 ShoppingCart is a modern eCommerce theme built by Theme Freesia. It is a stylish theme that was built specifically for eCommerce though it can also be used to create other types of websites.
The 5-star rating and 10,000+ downloads on the WordPress theme directory tell that it's a theme you can consider.
Features
Designed to be responsive on all media devices from iPad, iPhone, Android, and Windows phone.
You can import and use demo content to get started easily.
Multipage layout – you can select a default layout and also layout for each page and post.
Search engine optimization friendly for more traffic.
Ability to choose your preferred color scheme from the color options panel.
Social media icons integrated.
Fully compatible with third-party plugins e.g. WooCommerce, YITH WooCommerce Wishlist, bbPress, Max Mega Menu, Breadcrumb NavXT, etc.
Additional Features for Shopping Cart Plus
800+ Google fonts.
Font size options.
Advanced colour options.
Multiple footer layouts.
Footer editor.
Four sidebar layout options.
Slider widget.
Advanced grid widget.
Pricing
There are two versions: the ShoppingCart Free theme and ShoppingCart Plus. The ShoppingCart Free theme is freely available for download while the ShoppingCart Plus theme costs between $59 and $99 depending on the version you choose.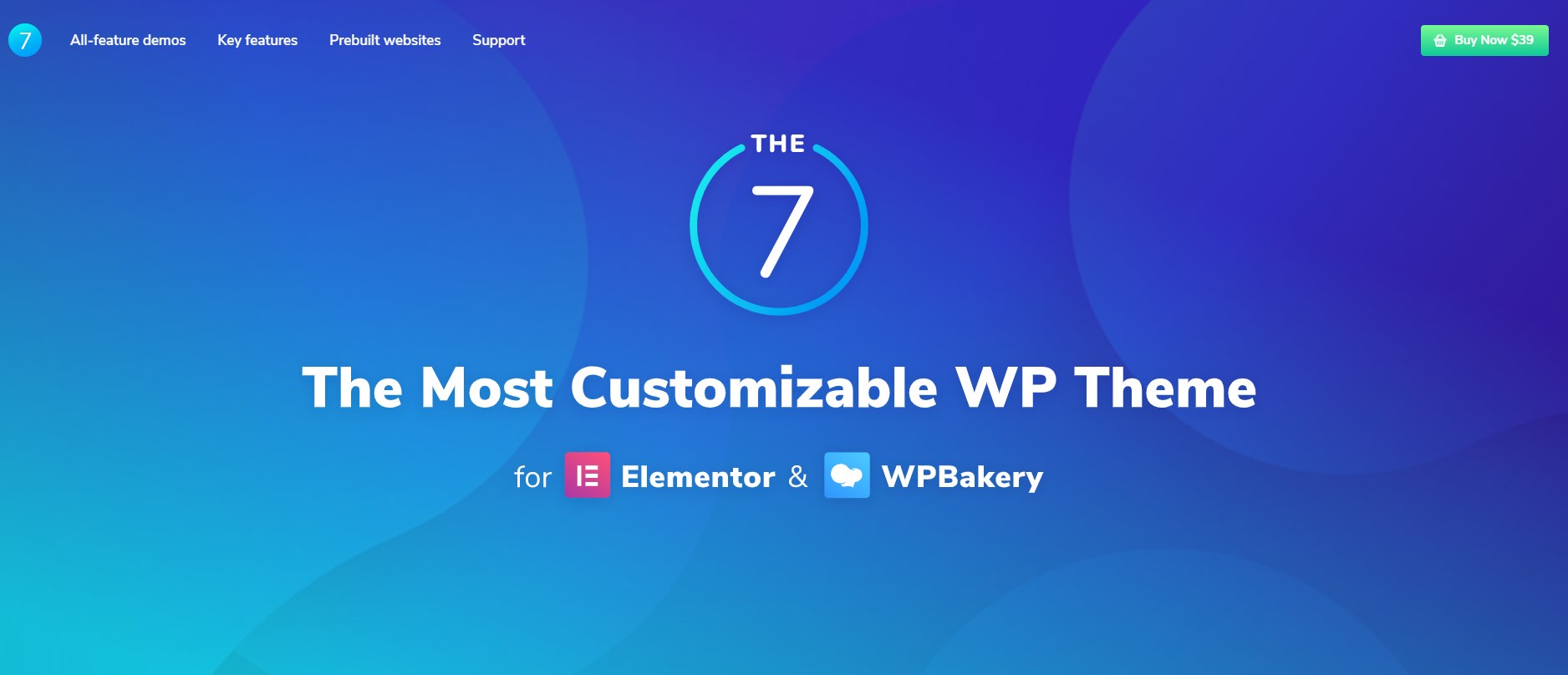 Out of all the themes that we have listed in this article, The7 is definitely the most customizable WordPress / WooCommerce theme. The stand-out feature of the theme is the thousands of customization options it offers. It allows you to customize every major and minor aspect of your store.
The creative freedom that comes with this theme is unmatchable. It's suitable for both beginners and pro users.
Features
Highly customizable theme builder.
Elementor compatibility.
WP Bakery page builder compatibility.
50+ The7 elements.
WooCommerce theme builder.
Easily customize, product, cart, and checkout pages.
One-click demo installer.
Pricing
The theme is priced extremely reasonable for $39 on ThemeForest, and it was sold more than 250,000 times so far!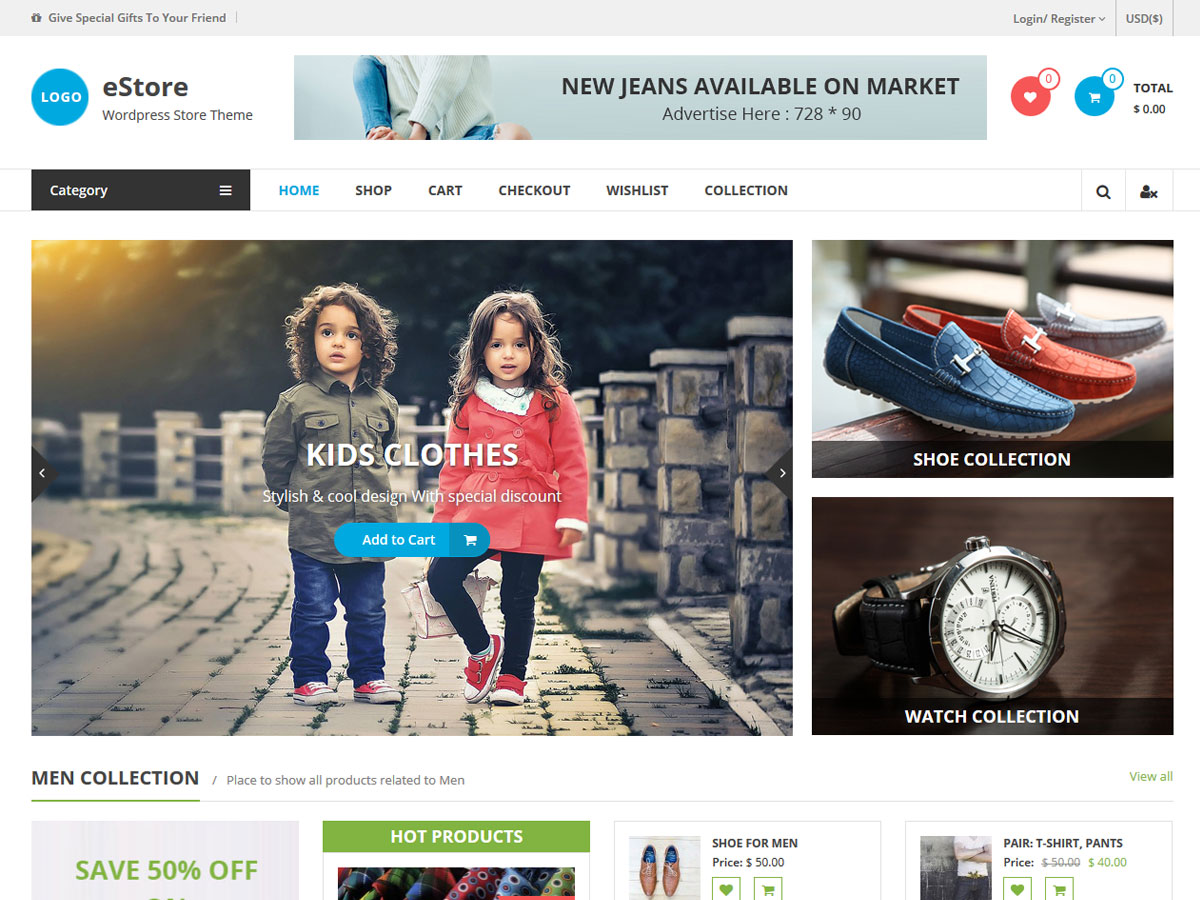 eStore is a beautiful and modern WooCommerce theme that comes with various custom premium features and widgets that make it easier to create your online store. Besides, it is compatible with WooCommerce and YITH WooCommerce Wishlist plugins. From the WordPress theme directory, it has been given a 5-star rating and downloaded 9000+ times.
Features
Fully compatible with WooCommerce.
Fast loading speed.
Optimized for search engines.
Compatible with major browsers.
Easy customization due to color options, advanced typography, and multiple widget areas.
One-click demo import enables you to import and use starter sites.
Compatible with various popular page builders e.g. Elementor, SiteOrigin, Brizy, Beaver Builder, and Gutenberg making it easy to design your website.
Ability to remove or change footer copyright text even in free version.
Support sticky menu for easy navigation.
Translation and RTL ready.
Comprehensive documentation.
Pricing
There are two versions: eStore and eStore Pro. The eStore is free and available for download while the eStore Pro cost starts at $59.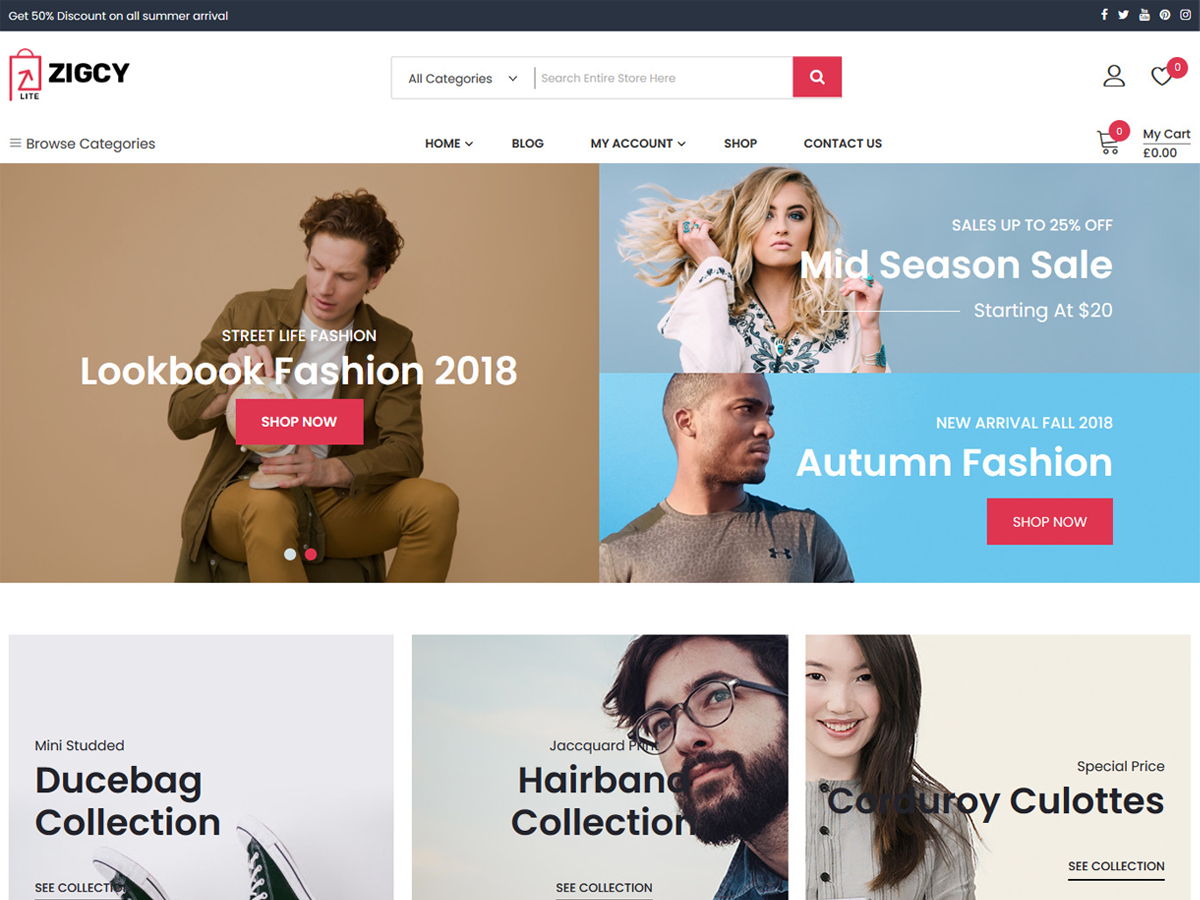 Zigcy Lite is a flexible and highly customizable WooCommerce theme with various features that enables you to create any type of online store. It comes with three inbuilt demos that make it easier to get started creating your dream WooCommerce website. It is a popular theme with 3000+ downloads and many 5-star ratings.
Features
Ability to make changes and view live on the customizer.
It comes with three pre-built demos you can use on your website.
Fully compatible with Elementor plugin.
Seamlessly integrates with WooCommerce making selling easier.
Ability to search products and website content.
Slider and promo section to promote your products.
Color configuration options to improve your website's appearance.
Various WooCommerce settings.
Fast loading speed.
Fully optimized for search engines.
A stunning call to action section featuring the latest product.
Ability to edit the page & post layout e.g. no sidebar, right-sidebar, left-sidebar, both sidebars.
Amazing product page to attract more customers.
Beautiful and more personalized checkout pages.
Additional Pro Features
Seven different header layouts you can easily switch to.
Live AJAX search for live product search.
Ability to translate to any language.
Unlimited theme colors.
Cross-browser compatibility.
Lazy loading images for faster speed.
Pricing
There is a free and a pro version. The pro version costs $50.
Conclusion
Those are the top 10 but not all WordPress WooCommerce themes that can help you easily start and run your online store. With the right theme, the process of creating your eCommerce website becomes easier. So feel free to check them out and pick one that is good for you and your customers. Good luck and happy selling.