Description
With Order Status Rules for WooCommerce plugin you can schedule automatic WooCommerce order status updates. For example: automatically change order status to cancelled, when 24 hours have passed since order status was set to pending.
Order Status Rules Options
Settings are located in "WooCommerce > Settings > Order Status Rules".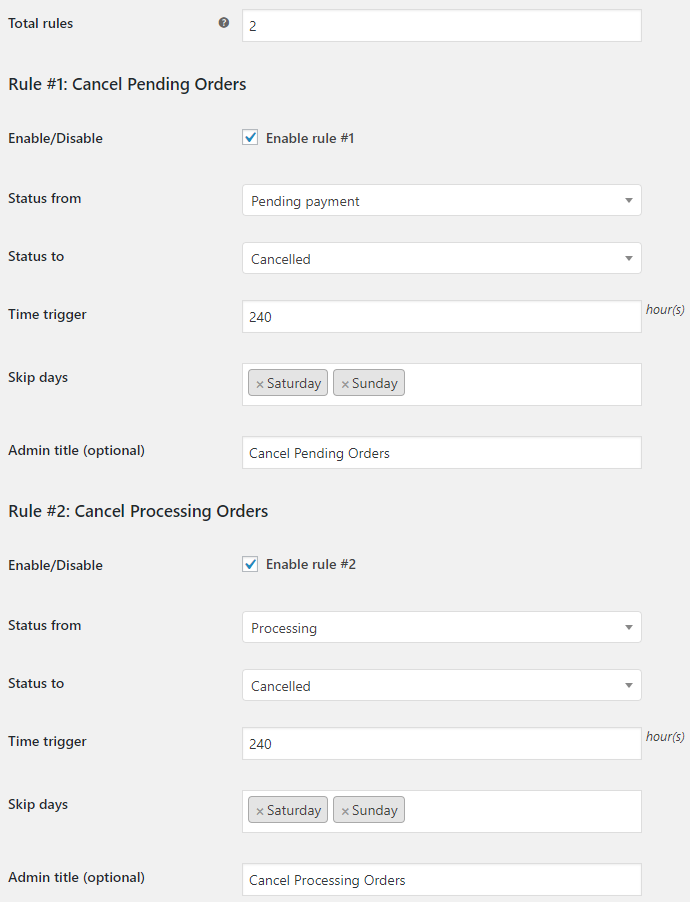 Total rules

Sets the number of total order status rules you want to add. Click "Save changes" to see new options.

Default: 1
Rule #X
Enable/Disable

Enables the order status rule.

Default: no

Status from

Order status to change from. Possible values: Pending payment; Processing; On hold; Completed; Cancelled; Refunded; Failed; and all other custom order statuses, if any exist.

Default: Pending payment

Status to

Order status to change to. Possible values: Pending payment; Processing; On hold; Completed; Cancelled; Refunded; Failed; and all other custom order statuses, if any exist.

Default: Cancelled

Time trigger

Time trigger in hours.

Default: 168

Skip days

Set this if you want to skip some week days, when calculating trigger time (optional).

Default: None

Admin title (optional)

Set this if you want add a title to the rule (visible to admin only).

Default: None
Please note that plugin must be enabled at the time order gets its initial status. If you open order's admin edit page, you should see "Order Status History" meta box:
Order Status History – Empty

Order Status History – Filled