Description
With Order Status Rules for WooCommerce plugin you can schedule automatic WooCommerce order status updates. For example: automatically change order status to cancelled, when 24 hours have passed since order status was set to pending.
Main Features
Set order status from.
Set order status to.
Set time trigger (in seconds, minutes, hours, days or weeks).
Optionally set minimum and maximum order amount.
Optionally set required payment gateways.
Optionally set required products, product categories or product tags.
Optionally set required users or user roles.
And more…
Order Status Rules Options
Settings are located in "WooCommerce > Settings > Order Status Rules".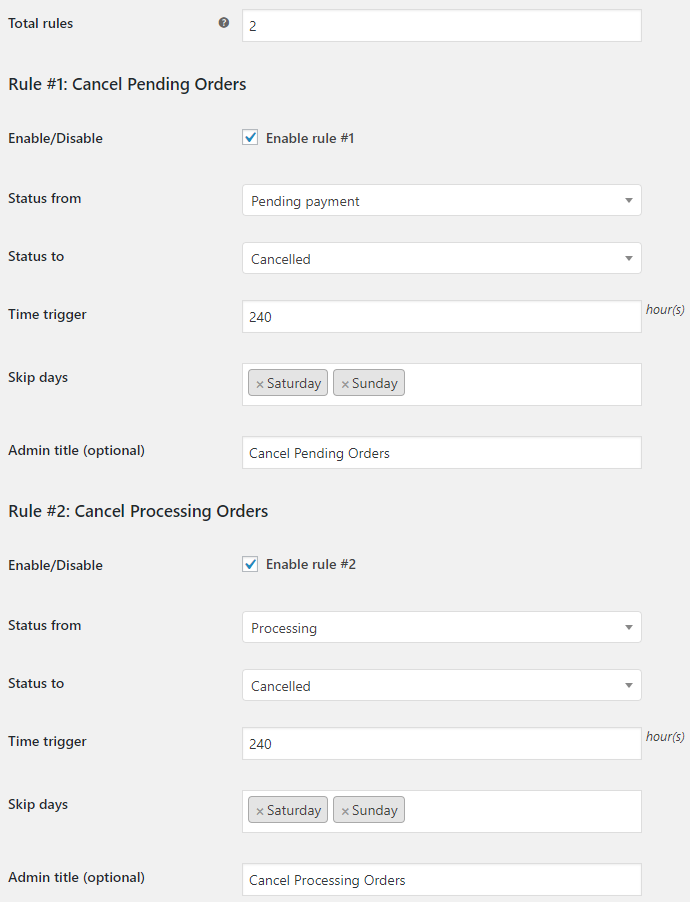 Total rules

Sets the number of total order status rules you want to add. Click "Save changes" to see new options.

Default: 1
Rule #X
Enable/Disable

Enables the order status rule.

Default: no

Status from

Order status to change from. Possible values: Pending payment; Processing; On hold; Completed; Cancelled; Refunded; Failed; and all other custom order statuses, if any exist.

Default: Pending payment

Status to

Order status to change to. Possible values: Pending payment; Processing; On hold; Completed; Cancelled; Refunded; Failed; and all other custom order statuses, if any exist.

Default: Cancelled

Time trigger

Time trigger.

Default: 1

Time trigger: Units

Possible values: second(s); minute(s); hour(s); day(s); week(s).

Default: hour(s)

Skip days

Set this if you want to skip some week days, when calculating trigger time (optional).

Default: None

Minimum order amount

Minimum order amount (subtotal). If you want the rule to be applied only for orders with subtotal equal or greater than some value, you can set it here. Ignored if empty.

Default: None

Maximum order amount

Maximum order amount (subtotal). If you want the rule to be applied only for orders with subtotal equal or less than some value, you can set it here. Ignored if empty.

Default: None

Payment gateways

Required payment gateways. If you want the rule to be applied only for orders with selected payment gateways (e.g. "Direct bank transfer" and/or "Check payments"), you can set them here. Ignored if empty.

Default: None

Products

Required products. If you want the rule to be applied only for orders with selected products, you can set them here. Ignored if empty.

Default: None

Product categories

Required product categories. If you want the rule to be applied only for orders with selected product categories, you can set them here. Ignored if empty.

Default: None

Product tags

Required product tags. If you want the rule to be applied only for orders with selected product tags, you can set them here. Ignored if empty.

Default: None

User roles

Required user roles. If you want the rule to be applied only for orders from selected user roles, you can set them here. Ignored if empty.

Default: None

Users

Required users. If you want the rule to be applied only for orders from selected users, you can set them here. Ignored if empty.

Default: None

Admin title (optional)

Set this if you want add a title to the rule (visible to admin only).

Default: None
Please note that plugin must be enabled at the time order gets its initial status. If you open order's admin edit page, you should see "Order Status History" meta box:
Order Status History – Empty

Order Status History – Filled

Advanced Options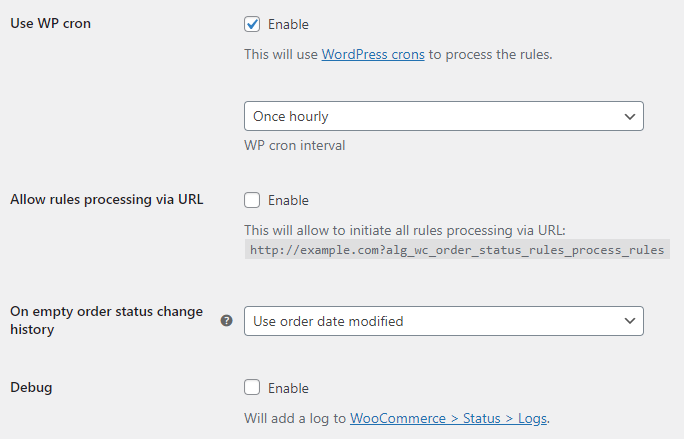 Use WP cron

This will use WordPress crons to process the rules. If you are going to disable this option, make sure you have enabled

Allow rules processing via URL

option and have set up "real" (i.e. server) cron job instead. Otherwise your only option is to

Run all rules now

tool manually.

Default: yes

Use WP cron: WP cron interval

Possible values: Once every minute; Once every 15 minutes; Once every 30 minutes; Once hourly; Twice daily; Once daily; Once weekly.

Default: Once hourly

Allow rules processing via URL

This will allow to initiate all rules processing via URL: http://example.com?alg_wc_order_status_rules_process_rules. For example, this could be useful if you are going to disable WP crons and use "real" (i.e. server) cron jobs instead.

Default: no

On empty order status change history

Plugin must be enabled at the time order status change occurs, so there is no order status change history on initial plugin install. This can be solved by using order creation (or modification) date instead (i.e. instead of real status change date). This is ignored for orders with available real status change history. Possible values: Do nothing; Use order date created; Use order date modified.

Default: Use order date modified

Debug

Will add a log to "WooCommerce > Status > Logs".

Default: no
Compatibility Options

"Doctreat" theme

For the "Doctreat – Doctors Directory WordPress Theme" by AmentoTech.

Default: no
Tools

Run all rules now

Check the box and save changes to run all rules now.

Default: no
"My Account" Options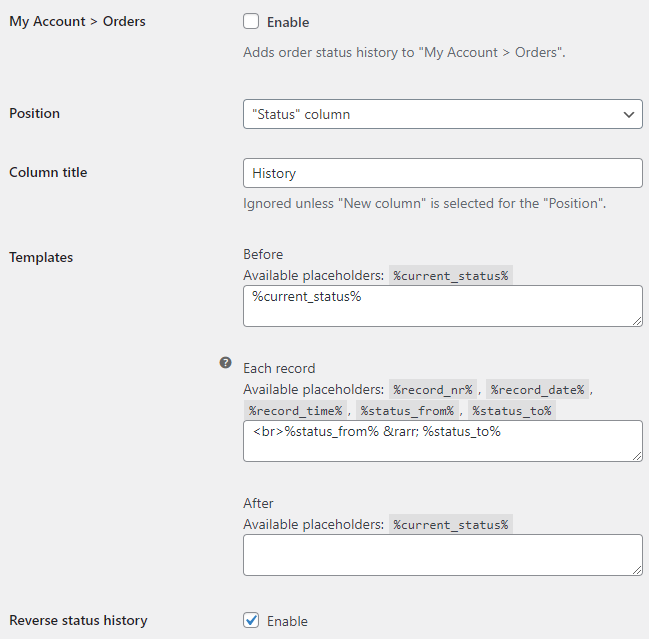 My Account > Orders

Adds order status history to "My Account > Orders".

Default: no

Position

Possible values: "Status" column; New column.

Default: "Status" column

Column title

Ignored unless "New column" is selected for the "Position".

Default: History

Template: Before

Available placeholders: %current_status%.

Default:

%current_status%

Template: Each record

Available placeholders: %record_nr%, %record_date%, %record_time%, %status_from%, %status_to%. → is a HTML code for the right arrow symbol.

Default:

<br>%status_from% &rarr; %status_to%

Template: After

Available placeholders: %current_status%.

Default: None

Reverse status history

Default: yes