Top 5 WooCommerce Booking Plugins in 2023 (Compared)
A WooCommerce website empowered with an efficient booking system makes the lives of business owners and customers much easier. Such systems help businesses organize their bookings, reservations, rentals, and appointments all in one place and manage them effectively. On the other hand, customers can make their bookings easily in the comfort of their homes and keep track of them easily without having endless calls or filling out forms.
In this article, we will review the top five WooCommerce Booking plugins available in the market.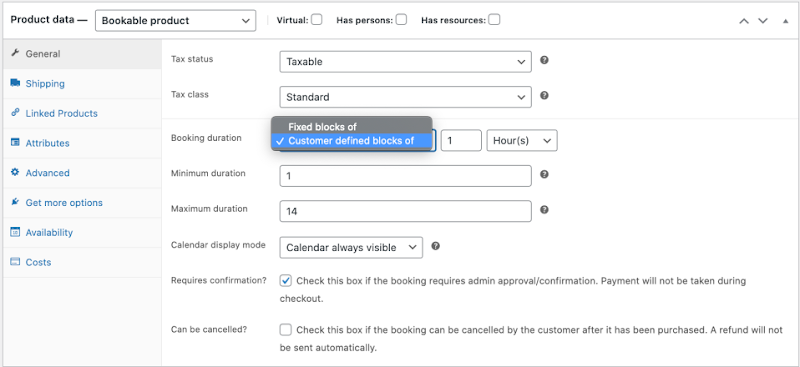 This is the official booking plugin introduced by WooCommerce. It is a robust yet simple plugin that allows you to accept and manage bookings through your eCommerce website. This plugin simplifies the booking process so that customers can make bookings easily through the front end of your website.
WooCommerce bookings plugin lets shop owners offer discounted prices for specific days, times, booking slots, groups, age groups, etc.
Key Features
Native support from Woocommerce
The ability to review bookings before confirm
The ability to decide whether customers should be able to cancel their bookings
Automated email reminders for customers who have made bookings
The ability to display the availability of bookable products/services in customer time zones
The ability to hide booked products/services
The ability to allow customers to select their preferred time for bookings
Block specific dates and times for booking
Admin approval for bookings before proceeding to payment
Booking cancellation facility for customers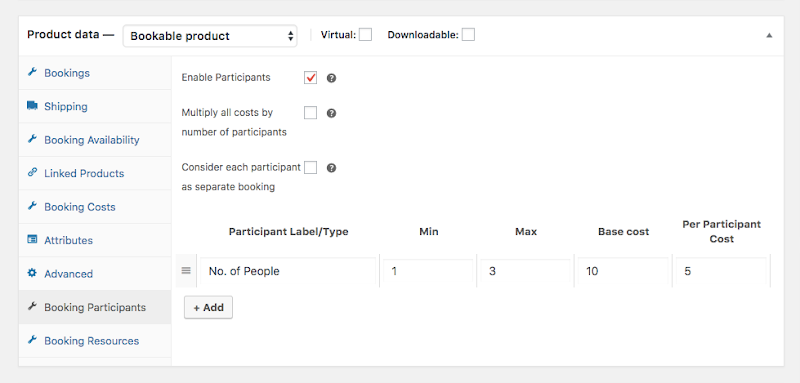 This is another excellent Booking and Appointment plugin for WooCommerce. It streamlines the entire booking process, allowing customers to check the availability, reserve, book, and make payments easily through the website.
This plugin comes with a pack of rich features to enhance your WooCommerce store. It facilitates sending automated emails to customers once their booking is confirmed. Furthermore, it features dynamic price calculations depending on the number of guests, number of booking units, extra services, special rates, discounts, etc.
This plugin also allows shop owners to offer discounts to their customers depending on the day, time, season, number of people, etc. You can also mark specific dates and times as unbookable if you are unable to provide services during that time.
Key Features
Booking search widget
The ability to accept multiple bookings for the same time slot
Sending email reminders to customers on their upcoming bookings
Admin approvals for bookings
Providing customers the option to cancel their bookings
Sync bookings with Google Calendar
Compatibility with various WooCommerce product addons
The ability to manage group bookings
Email reminders on new bookings, booking confirmation, and booking cancellations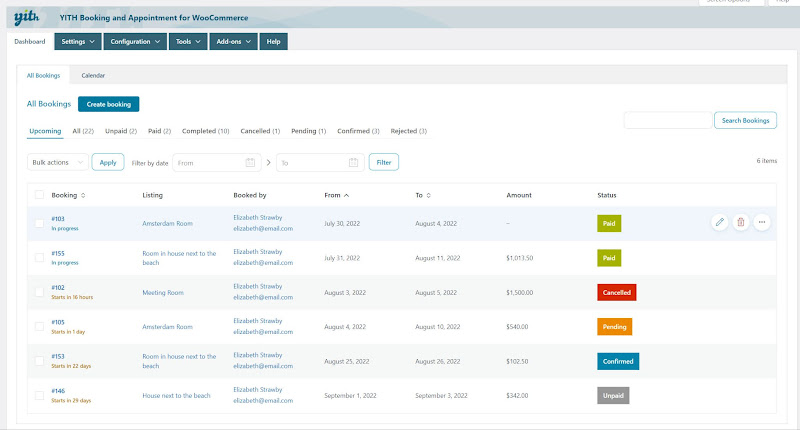 This is another well-known booking and appointment plugin for WooCommerce. It helps to implement a robust booking system in your WooCommerce store. This kind of plugin is perfect for professionals or businesses such as travel agencies, doctors, hairdressers, and business consultants.
YITH Booking plugin has seamless integration with Google Calendar. Thus, you can view all your bookings in the calendar and stay updated about them. This plugin allows shop owners to prioritize bookings according to various filters. Thus, it helps shop owners to handle bookings effectively.
Key Features
The ability to create fixed booking slots or let customers select the booking period
Define minimum and maximum time for booking
The ability to include additional options for bookings and charge for them
The ability to export bookings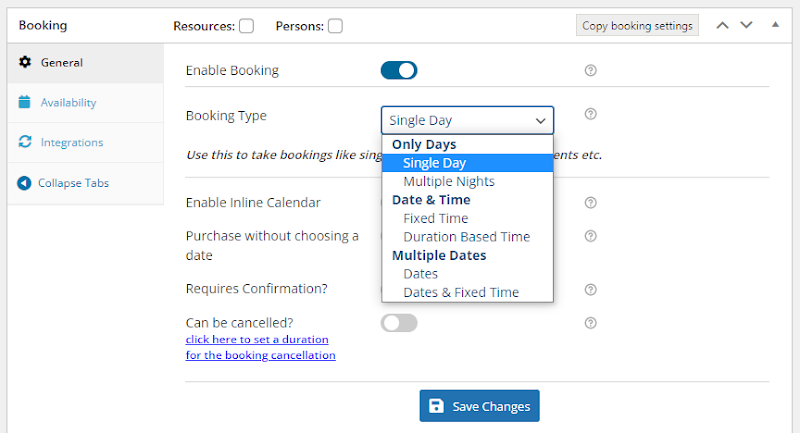 This WooCommerce-based booking plugin allows you to sell and manage a wide range of time-dependent products and services through your website. For instance, this plugin is a great choice for businesses that deal with appointments, rentals, hotel bookings, and consultations.
This plugin allows you to specify a booking date and time period for all the products on your website. The site admin can view all the accepted bookings through the dashboard of the website and even export them in various formats such as CSV, Excel, and PDF.
Key Features
Synchronization with Google calendar
The ability to schedule multiple days
Booking Calendar
The ability to set up flexible pricing rules
Support for custom post types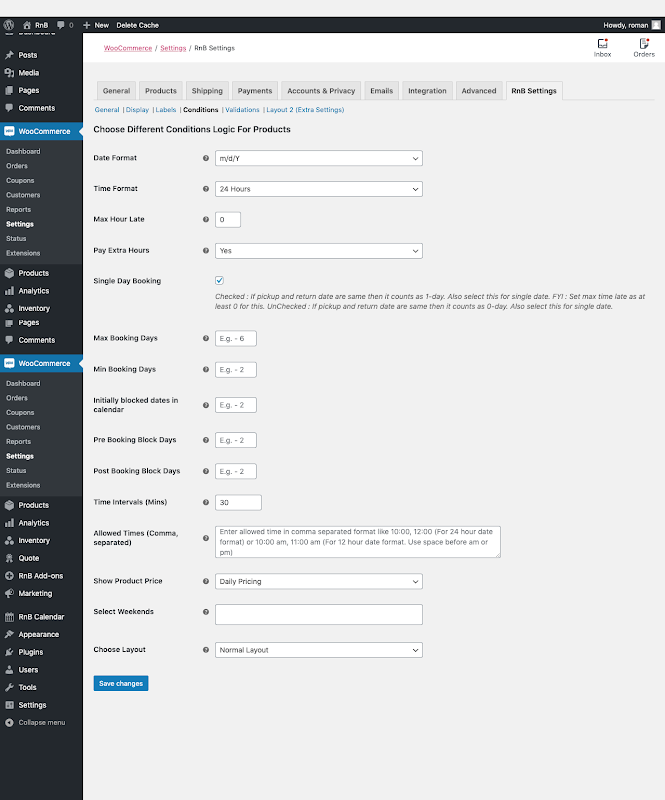 This is the ideal plugin for you if you run a business based on rentals. RnB booking and rental plugin enable you to rent any product such as vehicles, tools, equipment, and dresses through your online store.
This plugin is very easy to install and set up. It allows you to maintain unlimited rental products, define product prices, block renting for specific days and times, define minimum and maximum rental days and even add a maximum time penalty. This plugin also provides various customization options to build an outstanding rental booking system that meets all your needs.
Key Features
Multi-language support
Request a quote section for customers to negotiate the price
Inventory and availability management
Convenient order management options
Conclusion
WooCommerce booking plugins enable you to integrate a convenient booking system into your WooCommerce-based WordPress websites. So if your business is based on any kind of bookings or reservations, it's worth trying one of the excellent WooCommerce booking plugins discussed here. It will make your business more professional, efficient, and friendly to your customers, ultimately resulting in increased revenues.