The Best WooCommerce Marketplace Plugins in 2023 (Compared)
Currently, WooCommerce is an extremely popular e-commerce platform for building robust online stores. It's a great option for showcasing your products and starting to sell right away. However, one downside of using WooCommerce is that it lacks a built-in marketplace feature. That's where WooCommerce Marketplace plugins come in handy. They are designed to help you easily create and get your online marketplace up and running. In this article, let's walk through some of the best WooCommerce Marketplace plugins available on the market.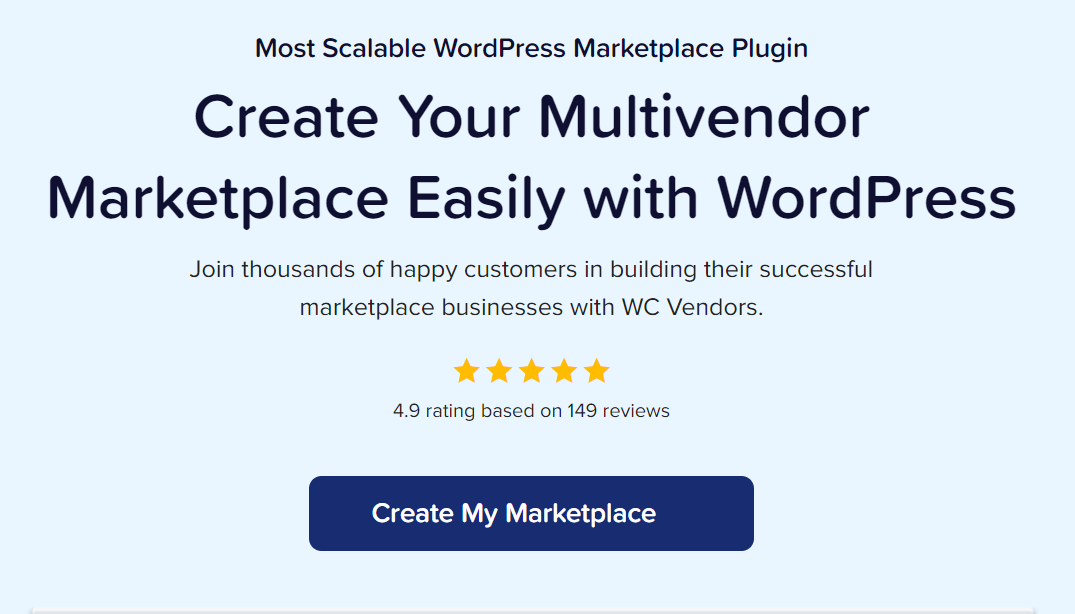 WC Vendors is one of the most popular WooCommerce Marketplace plugins. It has been there since 2013. This plugin allows vendors to register with your website using their own accounts and list their products with ease. In the meantime, site administrators can easily manage their orders and sales through the dashboard provided by WC Vendors. You can also set commission rates for each vendor so that they can earn money when someone buys from them via your store. It benefits both parties involved. Additionally, this plugin comes with many customization options to tailor it according to your needs without any coding knowledge!
Features of WC Vendors
Frontend dashboard for vendors to manage their store
The ability to use different commission systems (fixed, variable, fee, sales by vendor/product)
Sophisticated shipping system with support for various shipping methods
Support for many payment gateways
Compatibility with various WordPress themes and plugins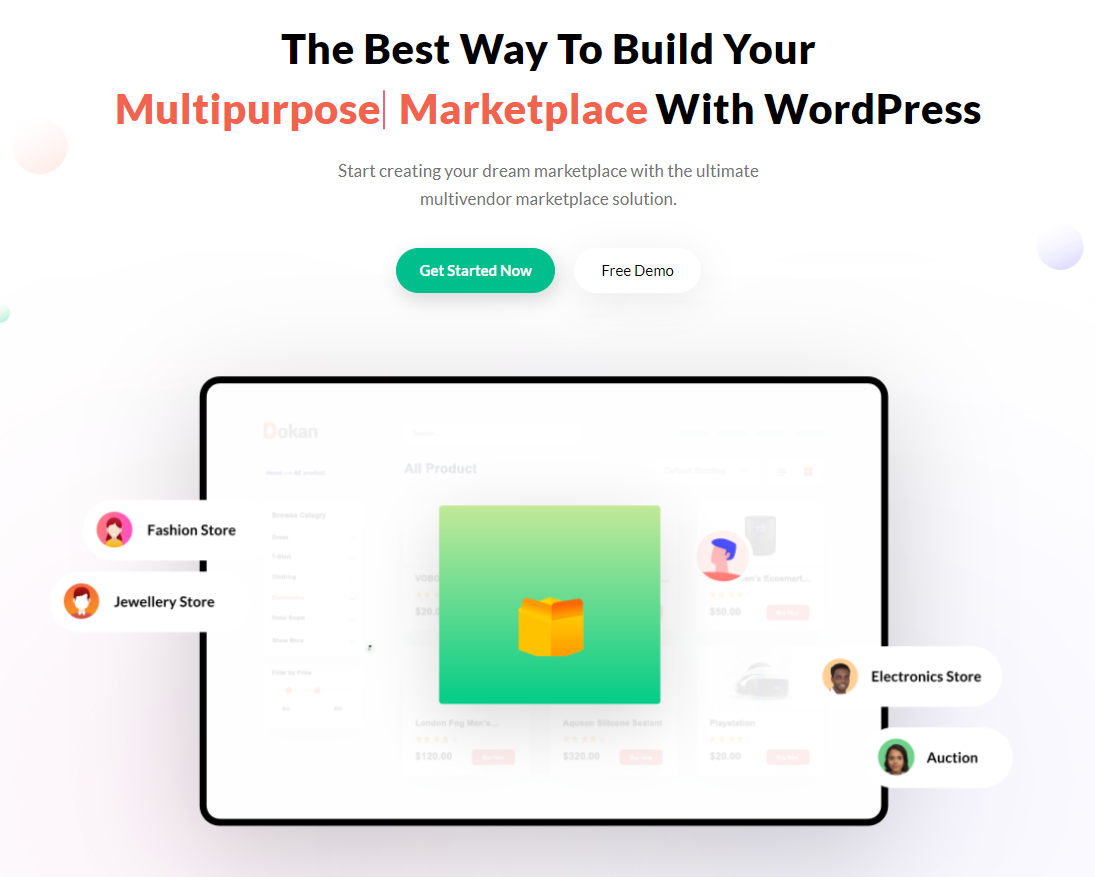 Dokan Multi-Vendor is another great option when it comes to setting up a WooCommerce-based marketplace. This plugin comes with many features, such as product management tools, an order tracking system, and shipping management tools. These features offer vendors on your site full control over their business operations while keeping all transactions secure with PayPal integration. Furthermore, this plugin comes with multi-language support. This makes it convenient for people around the world to shop in your store, no matter what language they speak!
Features of Dokan Multi-Vendor
Convenient frontend vendor dashboard
Order management system
The ability to register an unlimited number of vendors
System for withdrawing vendor payments
The ability to maintain a separate store for each vendor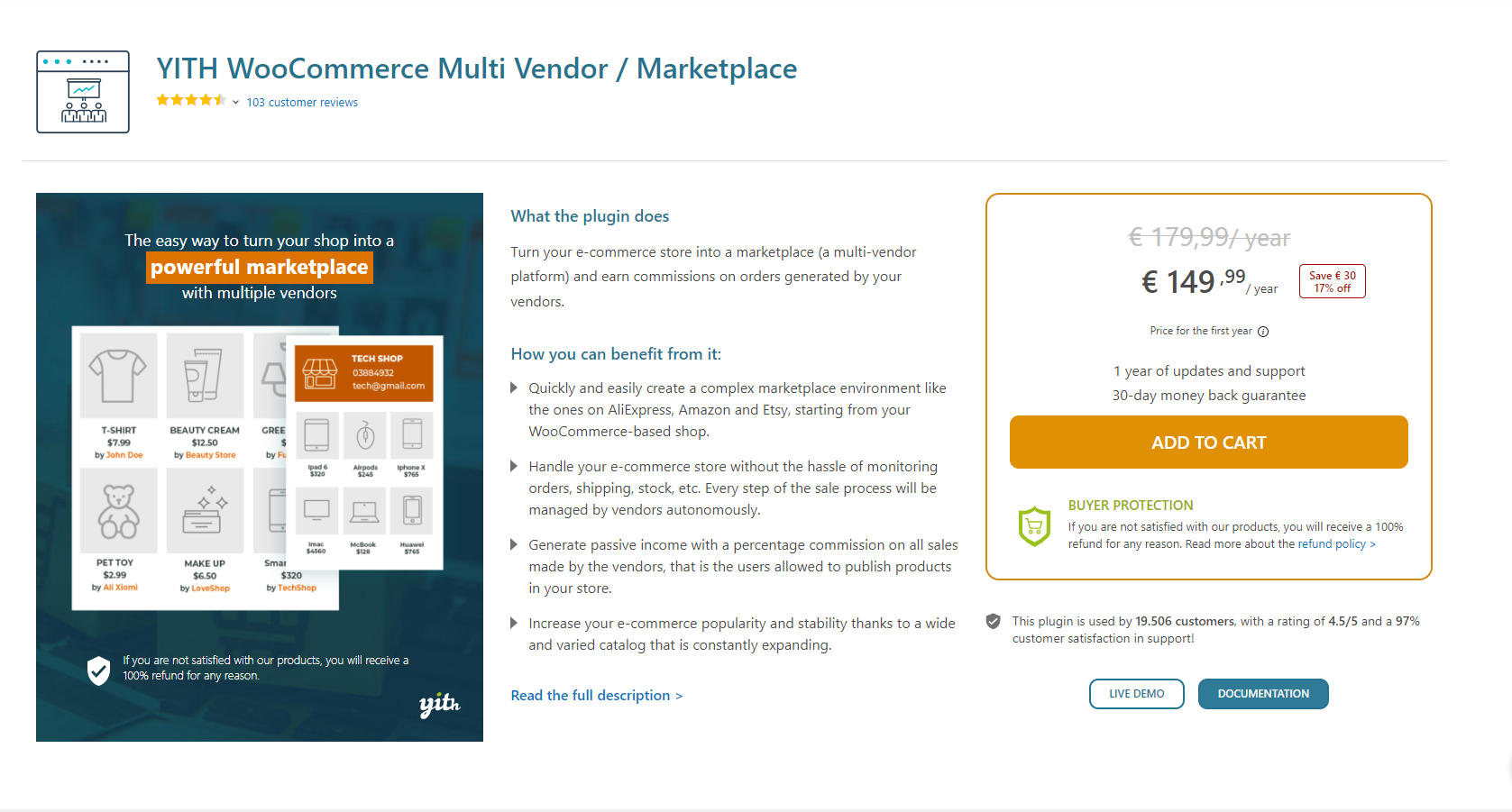 YITH Multi Vendor is an excellent option for entrepreneurs looking to launch their own multi-vendor marketplace in no time! In combination with WooCommerce, this plugin facilitates different services, such as product reviews and ratings by customers, vendors, and administrators. It also provides customization options like customizing product pages and seller profiles. Additionally, YITH offers users access to robust analytics tools that facilitate tracking performance and making decisions accordingly!
Features of YITH Multi Vendor
Flexible commission rates
The ability for vendors to manage orders
Simple vendor registration
Advanced reporting
WCFM Marketplace helps entrepreneurs create vibrant multi-vendor marketplaces in no time. This plugin has tons of features, such as integrated payment gateways, social media integration, and product search filters. It also comes with powerful analytics capabilities that enable site admins and vendors to monitor how well individual products are doing. Moreover, the user-friendly interface of WCFM allows for hassle-free management of everything from orders to inventory tracking.
Features of WCFM Marketplace
Shortcode support
Robust commissioning system
Advanced search and filtering for stores
User-friendly dashboard with vendor-specific functionalities

This is another great option for easily creating a multi-vendor marketplace. The MultiVendorX (formerly WC MarketPlace) Plugin has all the basic features, including various shipping methods, a vendor dashboard module, and customizable layout options. It also comes with sophisticated features like bulk import and export toolsets and an advanced reporting system. The best thing about this plugin is its ability to integrate with third-party apps, offering customers a smooth shopping experience!
Features of MultiVendorX
Personalized dashboard for vendors to run their store
Simple vendor registration process
Based on React JS which allows more flexibility in customizing it
Support for multiple payment methods
Auto save for everything you do
Coupon management capabilities
Flexible commission plans
Built-in order management system
Refund management capabilities
Coupon management system

Marketplace for WooCommerce allows registering multiple vendors who sell their products on your website, allowing you to earn a commission on each sale. This plugin comes with a range of features and tools to help you set up and manage your marketplace easily. Additionally, it offers some shortcodes and a vendor products filter widget to customize your store as you want. This plugin is designed to simplify creating a multi-vendor marketplace on your WordPress website with WooCommerce.
Features of Marketplace for WooCommerce
The admin can set up vendor capabilities like uploading files, automatically publishing products, and viewing orders
The ability to set commissions as percentages or fixed values
The ability for admins to block vendors at any time
The admin can create custom labels for vendors
Allowing users to apply to become vendors
Conclusion
Marketplaces allow customers to buy products from multiple vendors at the same time. They are a great place for customers to easily compare the prices of various products and find the best deals. On the other hand, these marketplaces provide website owners access to a larger customer base than selling through their own online stores.
eBay, Etsy, Alibaba, and Amazon are some great examples of large online marketplaces that made this multi-vendor marketplace concept more popular. As an enthusiastic entrepreneur, you can also build and maintain your own marketplace. Using one of the above-mentioned marketplace plugins is the simplest way to do so. However, you may be wondering which plugin to pick since there are numerous options out there. I hope this article will help you narrow down your selection and choose the best Marketplace plugin for your business.