Best Woo Points and Rewards Plugins in 2023 (Compared)
A majority of the sales that happen on your e-commerce website belong to existing customers who return to your online store. Thus, it is vital to serve the loyal customer base in the best possible way to retain them and thereby increase the repeat sales of your store. The WooCommerce Points and Rewards plugins provide a great mechanism to benefit your customers by offering them loyalty points and rewards.
In this article, let's explore the five best WooCommerce Points and Rewards plugins that you can use out-of-the-box with your WordPress-based eCommerce website.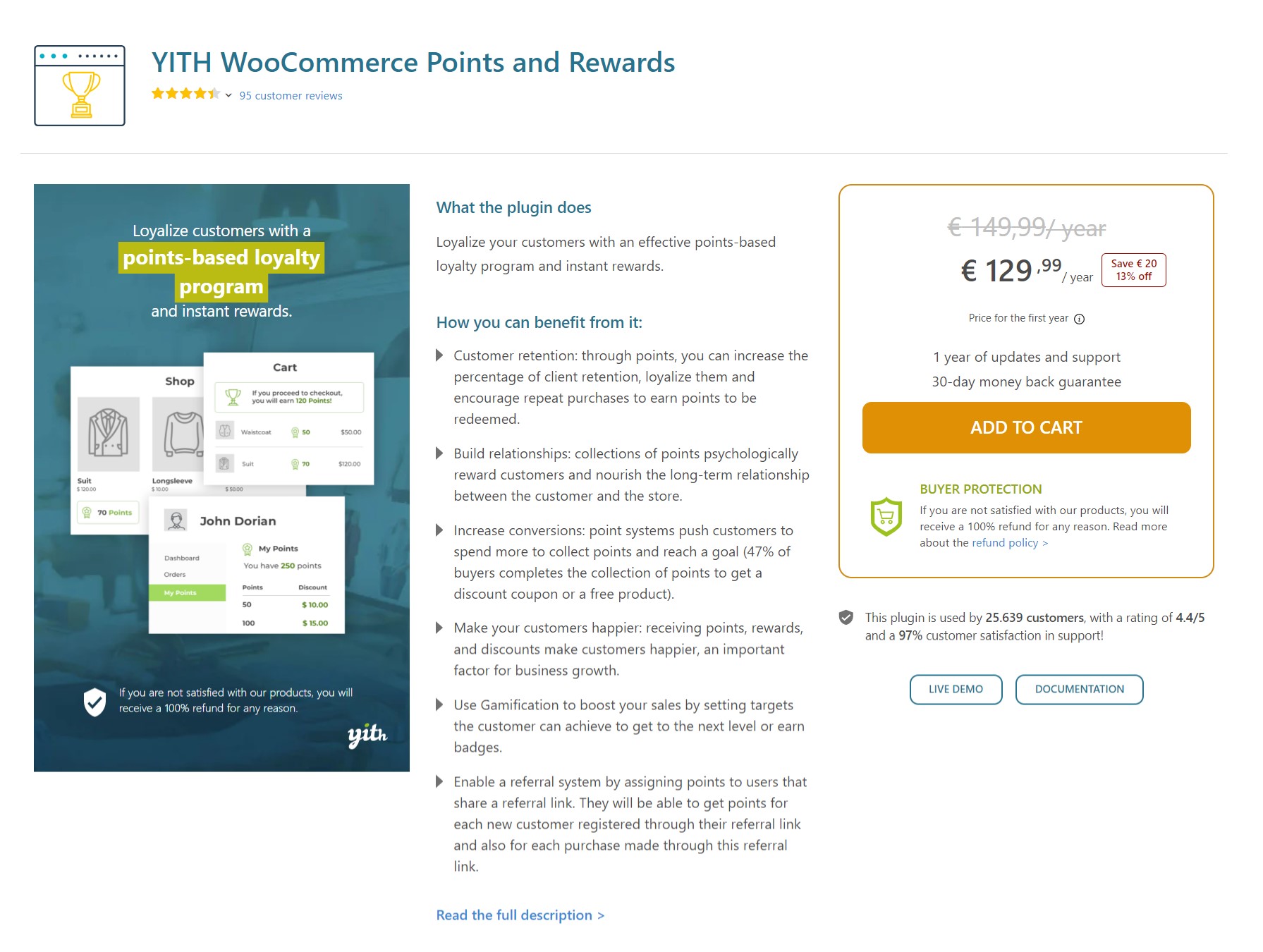 This plugin is at the top of the Woocommerce Points and Rewards plugins list with an abundance of great features. It enables site admins to set a global value for points and define the number of points customers will earn on their purchases. Additionally, it allows you to show how many points customers will get for each product on product pages. The My Account page will show the total points of a customer, and those points can be redeemed easily at the checkout.
This plugin effectively manages the loyalty points earned by customers. They can earn a specific number of points and redeem them as coupons or discounts for their future purchases. The plugin sends automatic notifications on the expiry date of newly earned points. It also encourages customers to earn more points by displaying their total number of points and the higher reward levels they can reach to gain additional points.
Main features of YITH WooCommerce Points and Rewards:
The ability to set rules to apply different numbers of points to various products
The ability to set point expiry dates for points
The ability to limit the reward system to a specific customer group
Display the remaining points of logged-in customers
Display the number of points offered for each product
Display the history of points
Intuitive interfaces for both customers and shop owners to view and manage points
The ability for site administrators to manually update customer points
Automatic deduction of points for refunded or canceled orders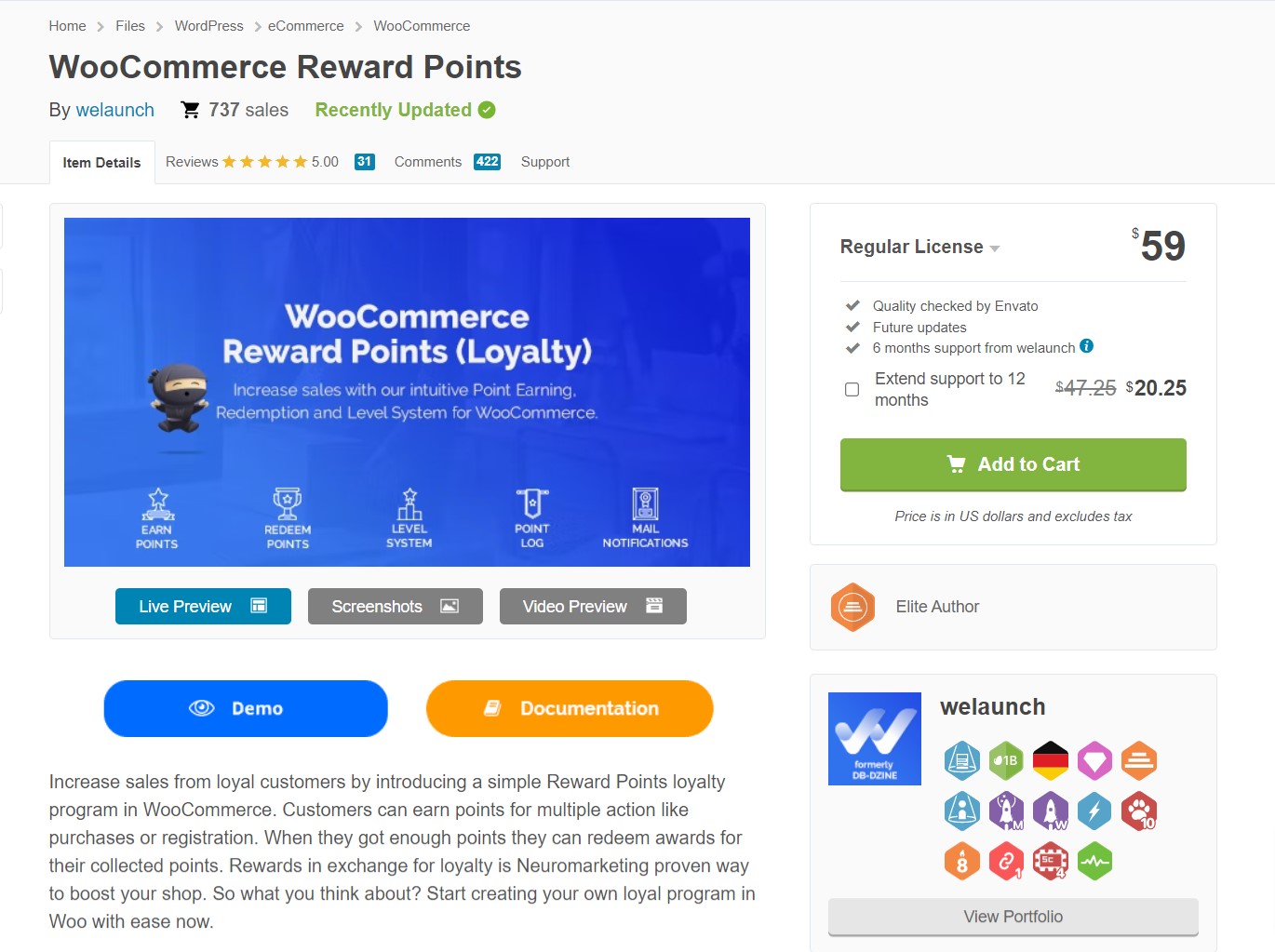 Another WooCommerce rewards plugin with a set of excellent features. This plugin allows site admins to specify how many points customers earn for each dollar they spend and the value of a point. Moreover, it offers users complete control over the rewards system by allowing them to set limits on point allocation and discounts for various products, categories, and cart levels.
This plugin facilitates a multi-level rewards system with different ways to earn points. It encourages customers to earn more points by offering them badges and special rewards depending on their level.
Customers can earn points by performing various actions on the website, such as purchases, registration, first order, first review, and their birthday. They can view and manage their remaining points from the My Account page. You can even add a progress bar on my account page which shows customers the number of points they need to reach the next level of the loyalty system. Furthermore, these points can easily be granted and spent on the checkout. Customers can check out entirely using points or make a partial payment using them.
Main features of WooCommerce Reward Points:
High flexibility
Convenient and different point-earning options
Built-in level system
Automatic email notifications on new point earnings, point balances, etc.
Customizable "My Points" section under My Account
The ability to analyze, report, and update points manually from the backend
The ability to create and conduct point promotions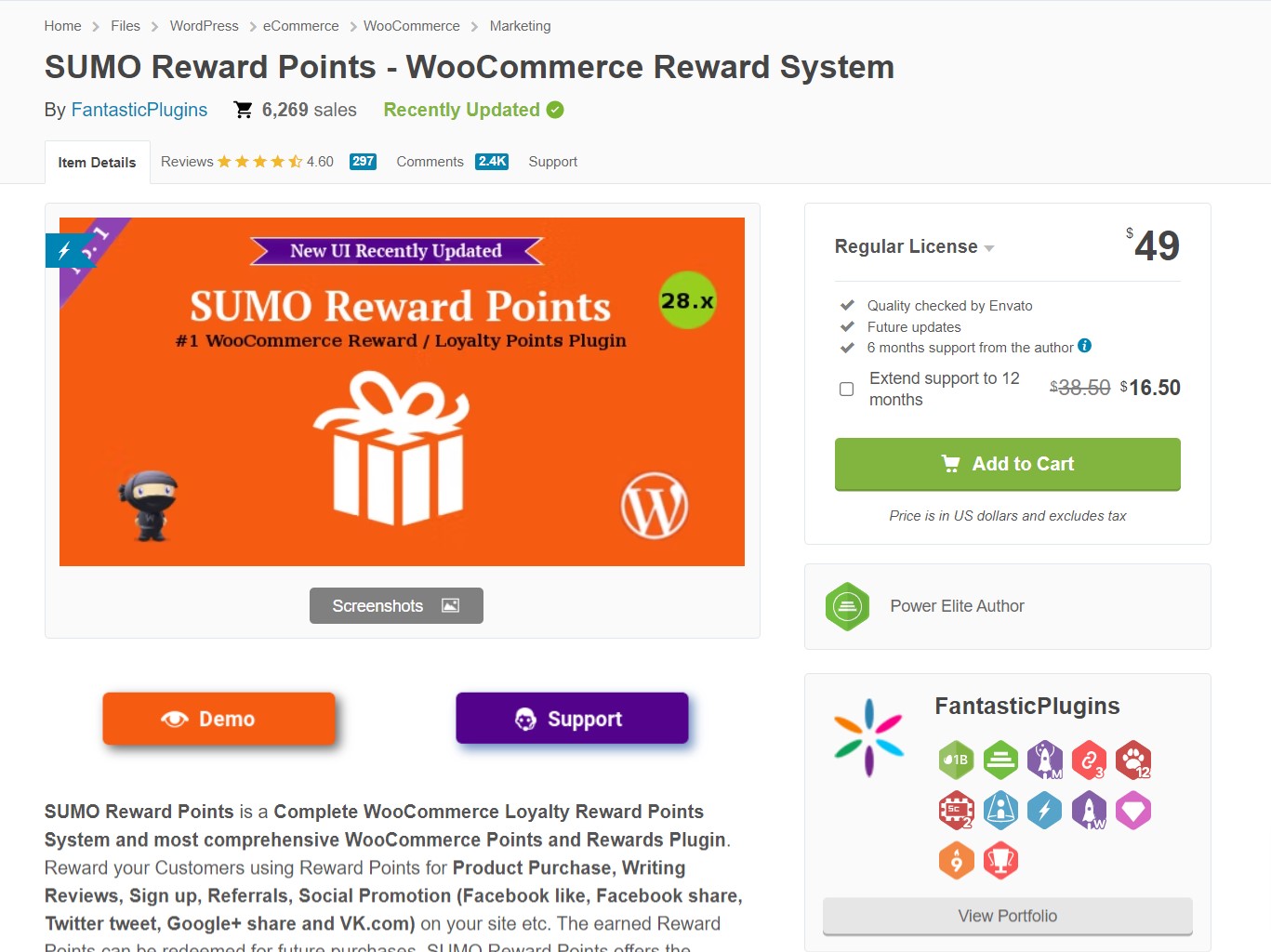 SUMO Reward Points is a popular rewards and points plugin that offers customers reward points for a wide range of activities. For instance, they can earn points on product purchases, signups, writing reviews, sending referral links, coupon codes, social media promotion, etc. Thus, Sumo helps to keep your customers more active and engaged with the website.
Using this plugin, site owners can set the point value, expiration date, and other point redemption options easily. You can also integrate and use this plugin with other SUMO plugins, such as SUMO subscriptions, SUMO coupons, etc.
Main features of SUMO Reward Points:
The ability to share points between members
The ability to purchase reward points
Sending email/SMS notifications to customers on reward points
Separate dashboard for managing loyalty points/rewards
Many customization options and shortcodes
Assign reward points for all the products in the store or only for specific products or categories
The ability to set minimum and maximum amount of points that can be redeemed
This is another excellent plugin for integrating a loyalty points system into your WooCommerce store. It allows you to offer customers points on their purchases and redeem them as discounts or coupons. This plugin also facilitates creating a multi-level loyalty membership system where customers can gain different discount rates when redeeming points.
Main features of WooCommerce Ultimate Points and Rewards:
The ability to set expiry dates for points and the ability to send notifications to customers when their points are about to expire soon
The ability for customers to share points with others
Easy configuration options for point conversion and redemption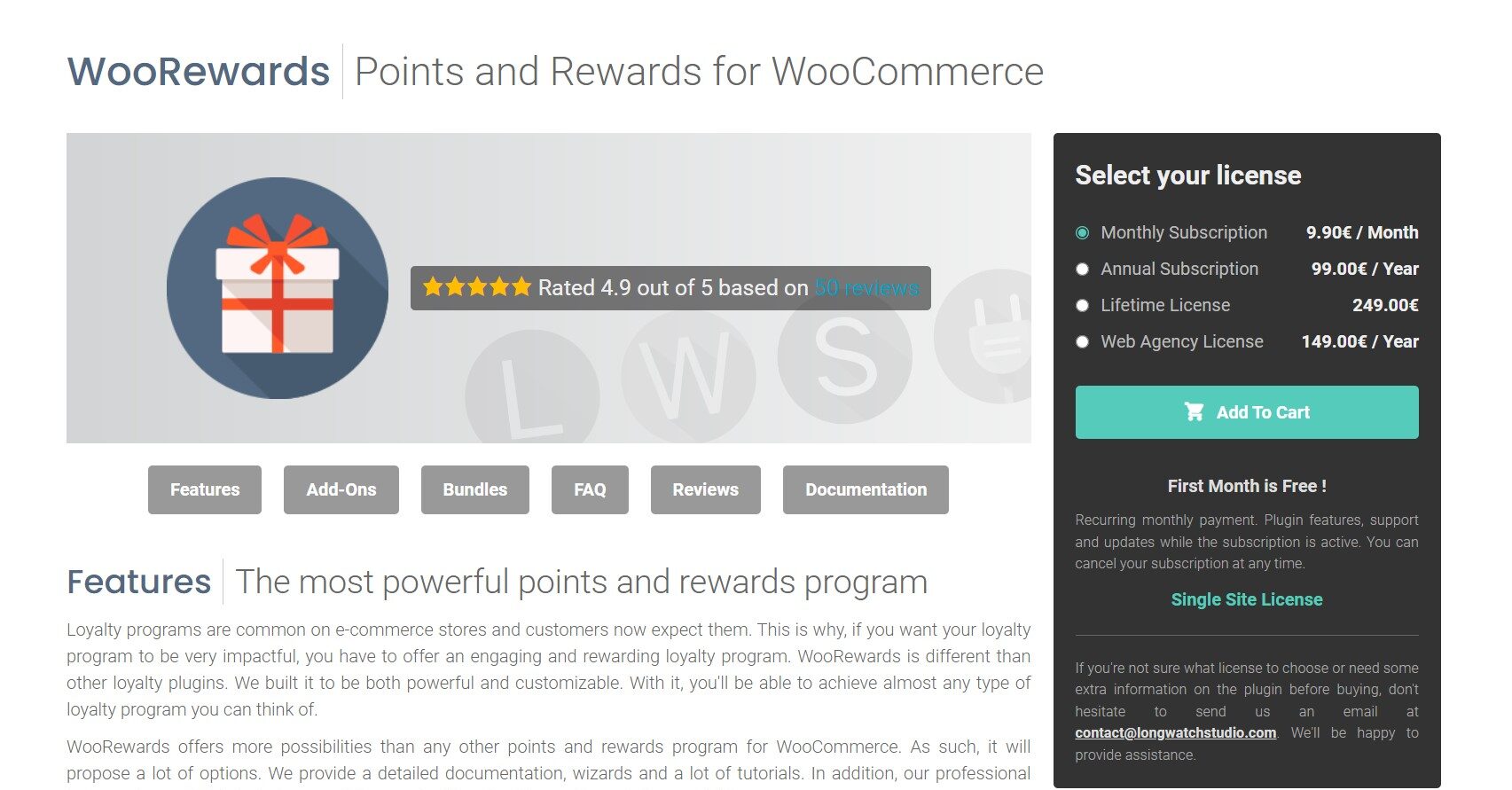 This is another robust and feature-rich WooCommerce rewards plugin with great flexibility for customization. It comes with a user-friendly interface that helps you create a sophisticated loyalty system on your web store easily.
This plugin allows customers to perform various online activities and earn points through them. Apart from placing orders, they can earn points by interacting with the website, social media, etc.
This plugin also comes with different widgets and shortcodes to easily customize your loyalty system. It provides constant feature updates, offering its users the benefits of the latest marketing trends.
Main features of WooRewards:
A wide range of methods to earn loyalty points
The ability to create multi-tiered loyalty programs which offer customers more rewards as they advance
The ability to create temporary rewards systems for special occasions such as holidays or customer birthdays
Numerous customization options
Conclusion
Offering loyalty points and rewards is an ideal strategy to attract customers and build long-term relationships with them. Using one of the top WooCommerce Points and Rewards plugins discussed above is the easiest way to achieve it. However, you should carefully compare their features before going for a specific rewards plugin. That way, you can ensure that the selected plugin meets all the requirements of your loyalty program and will help your business grow.