Top 10 MUST-have WordPress Plugins in 2023
As the most popular Content Management System (CMS), WordPress is a great choice for building your website. It could be a simple informative website, an online eCommerce solution, a blog, a company portfolio, or any other website you need.
Being an open-source platform, WordPress offers numerous built-in features, the ability to customize those features as you wish, and the flexibility of extending its core functionalities through small software packages called Plugins.
There are more than 50000 plugins in the official WordPress repository. There are also many third-party repositories (both free and paid), which can make it difficult for you to choose the right plugins.
You must consider several facts before choosing a plugin,
Impact on your website security
Compatibility with your WordPress installation and the theme used
Support provided by the author(s)
Being an up-to-date plugin
Impact on website speed
User-friendliness
Existing user base, how many have used it, and how many good reviews are there
In this article, we will discuss some best and most essential plugins for any website. We have considered all the above facts and more in our research to find only the best.
These plugins will differ from each other in their functionality, security, user-friendliness, SEO, engagement with website visitors, analytics, and more.
UpdraftPlus
It's often a good idea to take regular backups of your website as it's impossible to guarantee the continuous availability of a website hosted on the internet. An attack, a misconfiguration, an update, or a change you make can take your website down instantly. The solution is to implement a straightforward backup system.
UpdraftPlus is one of the best WordPress backup solutions, with more than 3 million users.
It allows you to create manual backups anytime you want, along with the option to set up automated backups. You can choose to store the backups in your hosting server itself or directly in the cloud using Google Drive, Dropbox, Amazon S3 bucket, or other services such as OpenStack Swift, DreamObjects, UpdraftVault, Microsoft OneDrive, Microsoft Azure, Google Cloud Storage, and Backblaze B2. You can also use FTP/SFTP to save the backups in a custom location.
It's super easy to restore a backup with UpdraftPlus using a few simple steps.
UpdraftPlus has a basic free version alongside the paid version. Following are some of the features of the paid version:
Priority support
Additional backup locations
An easy website migration/duplication tool
The ability to save the same backup to multiple locations
Get the plugin: WordPress repository | Updraftplus Premium
Wordfence Security
Wordfence Security – Firewall, Malware Scan, and Login Security
Now we know that WordPress is very popular, and that popularity may come with a compromise in security. WordPress has its own built-in security mechanisms, even though they are not powerful enough. This is where Wordfence comes to the rescue.
Wordfence Security is a full-featured security suite deeply integrated with the WordPress ecosystem. It has many features, such as the following:
A file scanner
An extensive reporting system
Advanced Web Application Firewall
Rate limiter
Login protection
2FA
IP blocking
User management
Protection against brute force attacks
Protection against core file changes
The ability to repair
Setting up the plugin is very easy, and you must provide an email address to get alerts on your website. It'll scan your website, request your attention on the weak spots (if any), and help you tighten up your security with guides. Wordfence also has excellent documentation, which is quite helpful for new users.
Get the plugin: WordPress repository | Wordfence Security Premium
OptinMonster
Popup Builder by OptinMonster – WordPress Popups for Optins, Email Newsletters and Lead Generation
OptinMonster is a lead generation tool for WordPress. It allows you to create attractive popups to grab the attention of your visitors, leading to higher conversations and sales.
This plugin allows you to easily create beautiful popup campaigns, email subscription forms, sticky announcement bars, interactive lead generation tools such as spin-wheels, and many more types of interactive popups.
OptinMonster is well optimized to improve your SEO score, along with the ability to implement lead generation options without annoying your visitors. Furthermore, it is mobile optimized and provides excellent support and many templates to choose from.
Get the plugin: WordPress repository | OptinMonster Premium
WPForms
Contact Form by WPForms – Drag & Drop Form Builder for WordPress
WPForms is an easy-to-use, drag-and-drop contact form builder plugin with more than 5 million installations.
It lets you create attractive forms, including but not limited to general contact forms, feedback forms, subscription forms, payment forms, and newsletter forms.
Forms built using WPForms are optimized for speed and any resolution (mobile friendly).
The convenient drag and drop builder allows you to use multiple input types, text, radio buttons, checkboxes, file uploads, and even create multi-page contact forms without writing a single line of code. Furthermore, this plugin comes with many built-in templates. The created forms can be easily integrated anywhere on your website using a shortcode or a widget. Advanced users can integrate these forms inside a page template.
Get the plugin: WordPress repository | WPForms Pro
Tawk.To Live Chat
Imagine how it would be if your website visitors could directly talk with you for no cost. Moreover, this service would be available for your visitors/customers 24/7.
Tawk.to is an absolutely free chat service that allows you to have real-time conversations with your website visitors. Furthermore, it can monitor user activities in real-time.
You can message the visitors, greet them, ask them how you can help, and engage them in any productive way to increase sales or conversion rates.
As the website owner, you can reply to your visitors through the web interface, mobile app, or desktop computer software.
Get the plugin: WordPress Repository
WooCommerce
Similar to WordPress, WooCommerce is an open-source eCommerce solution built for WordPress. You can sell anything from physical goods and services to virtual items using WooCommerce.
WooCommerce seamlessly integrates with WordPress. You can choose from a number of WooCommerce themes to get the preferred look and feel for your online store.
This plugin comes with many integrated payment methods, the ability to configure shipping methods, connect with well-known delivery services, manage tax, and everything you need to carry out business on your webshop.
WooCommerce features a customizable built-in transactional email service. It allows you to offer discounts via coupons and provides many third-party extensions to extend/add new features to the core WooCommerce plugin from the official WooCommerce Marketplace.
WooCommerce has a massive dedicated community to help users. Thus, you can easily find the best way to learn/fix/change something with WooCommerce.
Get the plugin: WordPress repository
MemberPress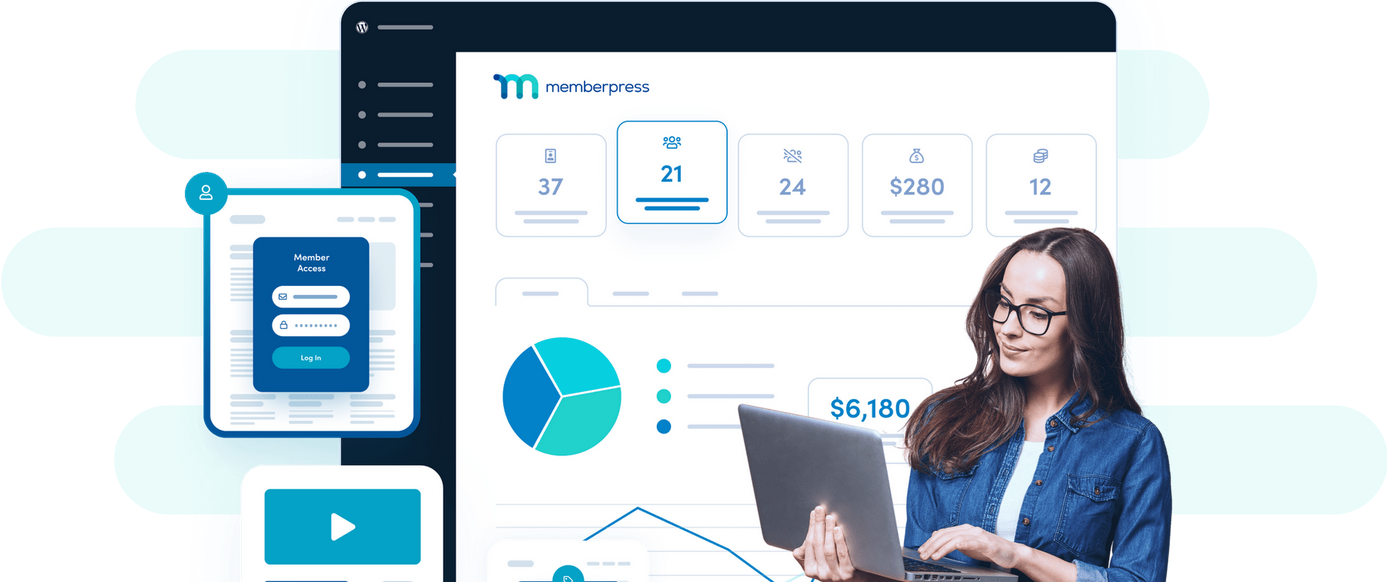 MemberPress is a paid-only plugin that lets you manage membership subscriptions within your WordPress website. It enables you to manage membership subscriptions, content, and user access.
MemberPress does not have a free version like the other plugins discussed above. However, its feature-rich integration with WordPress is worth the price.
This plugin enables you to create customized membership levels, restrict content on your website to users, maintain group-centric memberships, and many more. It has built-in payment integrations, flexible payment plans for site members, a coupon system, and numerous integrations with services like Zapier and bbPress.
You can use MemberPress for online course management websites, exclusive dating websites, membership-only clubs, eCommerce websites for content distributions (magazine subscription, comic publisher, etc.), and many more.
MemberPress allows you to connect and communicate with users through popular email marketing services such as Mailchimp and Activecampaign while offering easy integrations with many useful services.
Get the plugin: MemberPress Premium
Elementor Website Builder
Traditionally, you had to hire a developer to build a website for you. However, page builders like Elementor prevent the need for a third party and enable you to design and build your own website easily.
Elementor presents your workflow with a drag-and-drop interface and customizable blocks which you can use freely. It comes with many pre-built blocks and even allows you to use Elementor blocks built by third-party developers to extend the core functionality.
You can customize the look and feel of your website with the building blocks provided by Elementor. You can also customize each block used. For instance, you can change many properties with the builder GUI interface without touching the code. Some of these customizable properties are listed below,
Positioning
Size
Spacing
Margins and paddings
Background effects
Borders
Box shadows
Drop shadows
Font styles
Colors
Overlays
Hover effects
Transform effects
CSS animations
To get started with Elementor, you can use a starter theme kit, which comes with all the basics, and customize it as you need. These starter kits include everything you need, including header and footer sections, homepage, and inner page templates.
Elementor has a built-in library with many pre-designed blocks you can import anywhere in your design. These blocks include About sections, FAQ sections, headers, footers, carousels/sliders, video blocks, and more.
Elementor supports responsive designs out of the box. For instance, you can customize the look and feel for multiple devices on the editor screen. It ensures the best user experience on multiple devices, such as mobile phones, tablets, and small-screen laptops.
Elementor has a basic free version as well as a paid version. While the basic version comes with 40+ built-in blocks, you will find many more blocks in the premium version. Moreover, the premium version offers a large number of features, such as the following:
The ability to edit the header and footer sections
Premium templates and blocks
Advanced motion effects
A Woocommerce builder
A popup builder
Marketing tools and CRM integrations
Custom font libraries
User role manager
Custom coding inside Elementor
Get the plugin: WordPress repository | Elementor Pro
Rank Math SEO
SEO is the most crucial source for gaining traffic to your website. Simply said, better SEO can attract more visitors, resulting in better revenue.
Rankmath is considered a complete set of tools you will ever need to properly manage SEO for your website.
The developers call Rankmath the "Swiss army knife of WordPress SEO," which is pretty accurate.
Rankmath comes with tons of useful tools. Its convenient setup wizard is the first thing that will impress you. The following is a list of some other great features of Rankmath.
The advanced SEO analysis tool
SEO tests, a page redirection manager
Breadcrumbs optimization
404-page monitoring tool
Content Analysis Tests
Internal Linking Suggestions
Supports local business SEO
Sitemaps
Settings importer and exporter
Page builder SEO tool
Image SEO tool
Rankmath is multisite-ready, written with well-optimized code, performance-oriented, and comes with a simple yet powerful user interface. While it's somewhat new to the trade, Rankmath is a definite "must try" SEO plugin which will earn its place soon.
Get the plugin: WordPress repository | Rankmath Pro
WP Rocket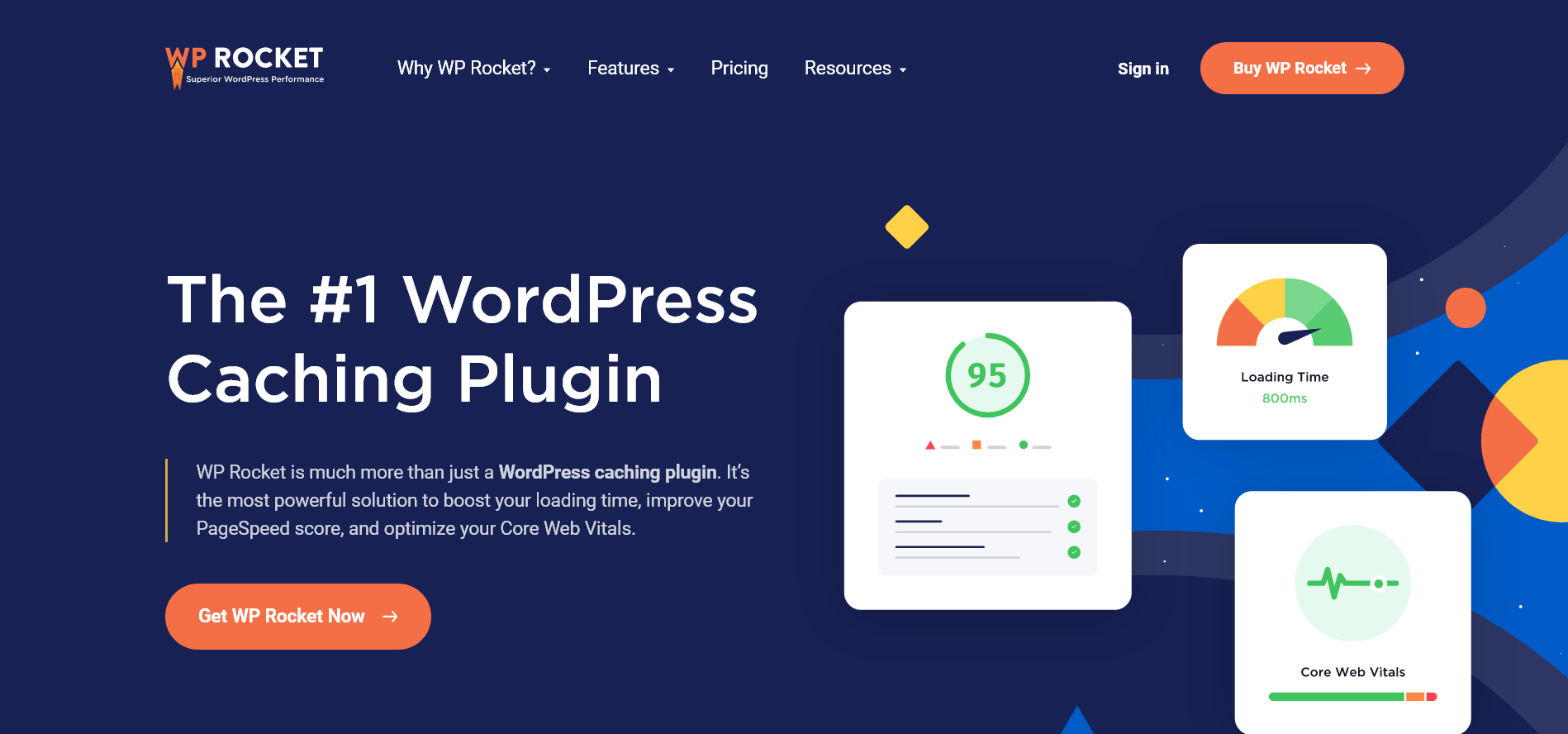 Once you're done with your beautiful WordPress website, you are ready to show it to the world. Yet, there's one more recommended step before the grand opening of your website.
A general rule for a website is that it should be well-optimized, fast loading, and perform better on user devices. Optimizing your website is the solution to meeting these needs. That's where the WPRocket plugin comes in.
WP Rocket is a premium WordPress website optimization plugin. On the initial run, it'll automatically apply a recommended optimization layer to your website, which will contain object caching, preloading, minifying resources, and GZIP compression.
You can customize everything as you wish using this plugin. For instance, you can minify static resources of multiple file types (CSS, JS), set the caching level and caching options, page cache, DNS prefetching, support CDNs, and image compression.
You can easily integrate WP Rocket with Cloudflare and security tools to efficiently serve your website's content.
Get the plugin: WP Rocket
Worth Mentioning
That's all for our collection of the 10 must-have WordPress plugins. Here are a few others that are absolutely rocking it.
ELEX WordPress HelpDesk & Customer Ticketing System
An eCommerce business can end up losing a lot of revenue if visitors lose interest or get distracted because there isn't quick, trackable customer support available.
You may quickly and effectively respond to your customers' inquiries and problems by using a specialized help desk like WSDesk – the ELEX WordPress Helpdesk & Customer Support Ticket System Plugin.
It will assist you in organizing customer complaints and inquiries, converting them into tickets automatically, and finally directing them to the appropriate department for assistance. This plugin will enable you to create and manage unlimited tickets and support agents with the help of powerful triggers and automation.
You can also convert emails into tickets, create and save canned responses for FAQs, generate detailed customer support reports, and a lot more. Additionally, creating tickets will enable you to search up customer inquiries so you may update them on the status of their inquiries.
In addition to the premium version, WSDesk also offers a basic free version. Here are a few highlights of the premium version's features:
There is no restriction on the number of tickets or agents.
Triggers are used to send email notifications to agents.
Email filtering and blocking.
Smooth ticket management with an AJAX-based interface.
Rules and triggers for automating tasks.
Create views for the status, assignee, and other information of tickets.
Convert emails to tickets with ease with email piping.
Canned answers for faster replies.
Attachment-supporting flexible support form.
Comprehensive customer support reports and analysis.
Get the plugin: WordPress repository | WSDesk – ELEX WordPress Helpdesk & Customer Support Ticket System
WordPress Quiz
The best decision for you to create the quizzes, exams and tests of your dream. The WordPress Quiz plugin is the most trusted quiz plugin in WordPress. It has a responsive design, which makes the plugin available to everyone. The plugin includes all the functionalities needed for creating engaging and informative quizzes. Quiz Maker provides perfect options for creating Personality quizzes, Trivia Buzzfeed Style Quizzes, Scored Exams, Mandela Effect quizzes, Product Recommendation Quizzes and many more for fun and lead generation.
WordPress Survey
WordPress Survey plugin allows you to create amazing online surveys and get real-time feedback quickly and easily.
Conclusion
While you can have a WordPress website without plugins, getting the required features will be difficult. However, selecting the optimal plugin(s) for your needs would be even more overwhelming than having a website without plugins. Whether you want a simple blog, an eCommerce shop, an informative website, or a booking system, WordPress covers almost everything you need through plugins.
We believe this guide has shed some light on your path to redemption. The plugins we discussed here are widely used, proven effective over time, and come with excellent support and a massive community. Thus, they will definitely deliver what they've promised.