The Best WordPress LMS Themes for Dynamic eLearning Experience
Ready to take your passion for teaching and knowledge-sharing online?
Several factors such as Accessibility and convenience, Global Reach, Tech Advancements, Cost-effectiveness, and Self-Paced learning have skyrocketed the demand for online learning.
WordPress LMS themes are a wonderful addition to the overall WordPress ecosystem, whether you're a teacher, a tutor, or an entrepreneur with a brilliant course idea, WordPress LMS themes are here to help you build a professional and engaging online learning website without pulling your hair out over technicalities.
In this article, we will look at some of the best WordPress LMS themes, their top features, and some of their limitations. We will also cover the factors that you should consider when choosing a WordPress LMS theme. 
Factors to Consider When Choosing a WordPress LMS Theme
Keep the following factors in mind when selecting a WordPress LMS theme. Your choice will not only impact the user experience for your students but also influence your ease of managing the platform as an instructor.
User-friendly interface and navigation

-Look for a theme that has a simple and straightforward layout that is easy to navigate. The layout should be intuitive, user-friendly, and easy to navigate so that your students can find and access course materials without confusion.
Compatibility with popular LMS plugins – Check if the theme is compatible with widely-used Learning Management System (LMS) WordPress plugins like LearnPress, LearnDash, or LifterLMS. These plugins provide essential e-learning functionalities, such as course creation, progress tracking, and assessments. 
Responsive design for mobile and tablet devices

– Rarely will you find a WordPress theme that is not mobile responsive. However, some might not be up to the mark and may respond better or worse depending on the device. Make sure you extensively test your theme before purchasing. 
Customization options and flexibility

– Each e-learning website has its own unique brand and style. Whatever theme you choose you should be able to match your brand identity. Fonts, color schemes layout variations, all should be customizable. 
Integration with payment gateways and e-commerce features

– If you plan to offer paid courses or sell educational content, ensure that the theme integrates seamlessly with popular payment gateways. This enables secure and smooth transactions for your students, giving them confidence in your platform.

Support and updates from the theme developer

– Opt for a theme that comes from a reputable developer or theme marketplace with a track record of providing excellent customer support and regular updates. This ensures that your theme stays compatible with the latest versions of WordPress and LMS plugins.
The 5 themes that we have picked all support the essential features listed above. Without further ado, let's look at the top 5 WordPress LMS themes. 
1. LearnPress – Education WordPress Theme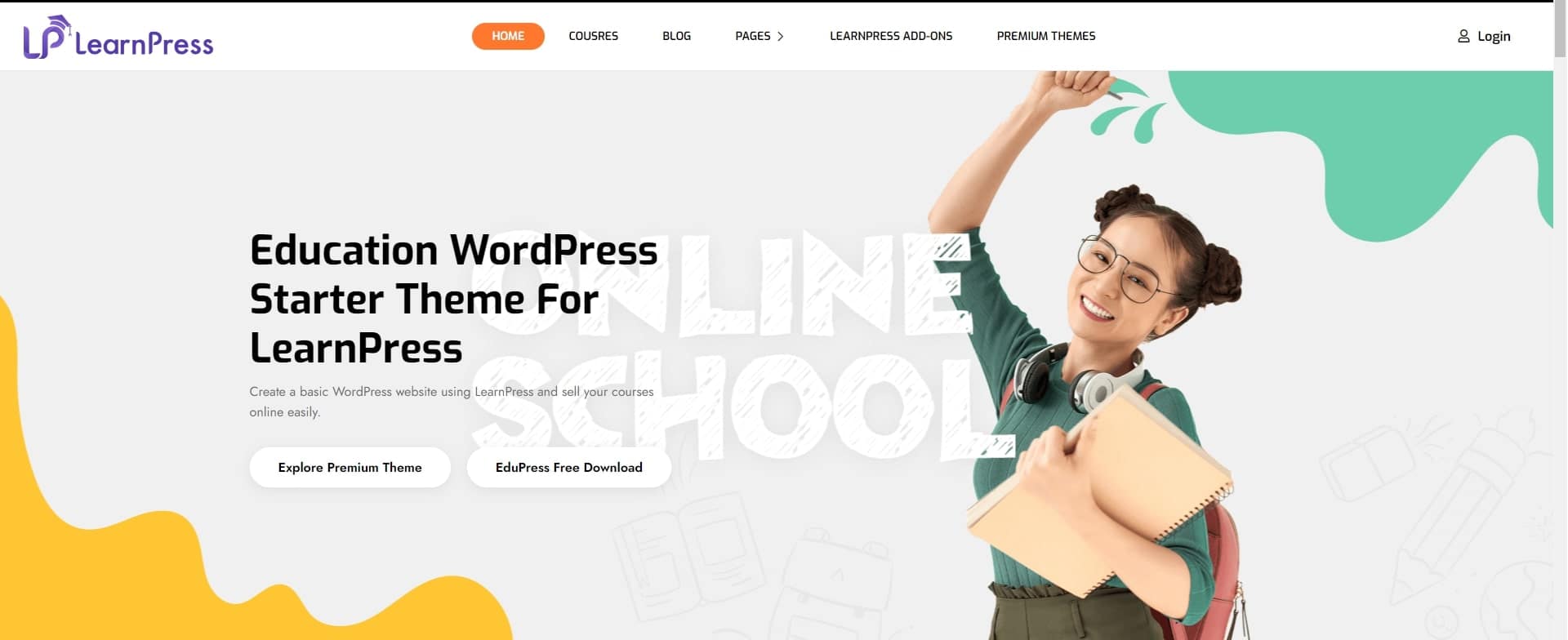 LearnPress is a feature-rich and versatile LMS theme that integrates seamlessly with the LearnPress plugin. It offers various demo designs, customizable layouts, and comprehensive course management tools.
Top Features
Course Creation and Management:

Easily create and organize courses with a user-friendly interface, allowing you to add multimedia content and set prerequisites.
Drag-and-Drop Course Builder:

Arrange course content and lessons seamlessly using the intuitive drag-and-drop builder, simplifying the course creation process.
Quizzes and Assessments:

Assess student progress effectively with built-in quiz systems, supporting various question types and providing instant feedback to learners.
Student Management and Progress Tracking:

Efficiently enroll, monitor, and manage students within courses while tracking their progress and quiz results.
Integration with WooCommerce:

Seamlessly sell courses as products through WooCommerce integration, enabling secure payment processing and monetization options.
Whilst LearnPress is a great theme there are a number of limitations, especially with the design customizations and integration. 
LearnPress has limited built-in design customization options compared to some other LMS themes, which could require additional CSS customization for more advanced design changes.
LearnPress integrates well with many popular plugins, however, it has fewer integrations compared to some other LMS solutions, which could limit certain functionalities depending on your specific needs.
2. Education WP (Eduma)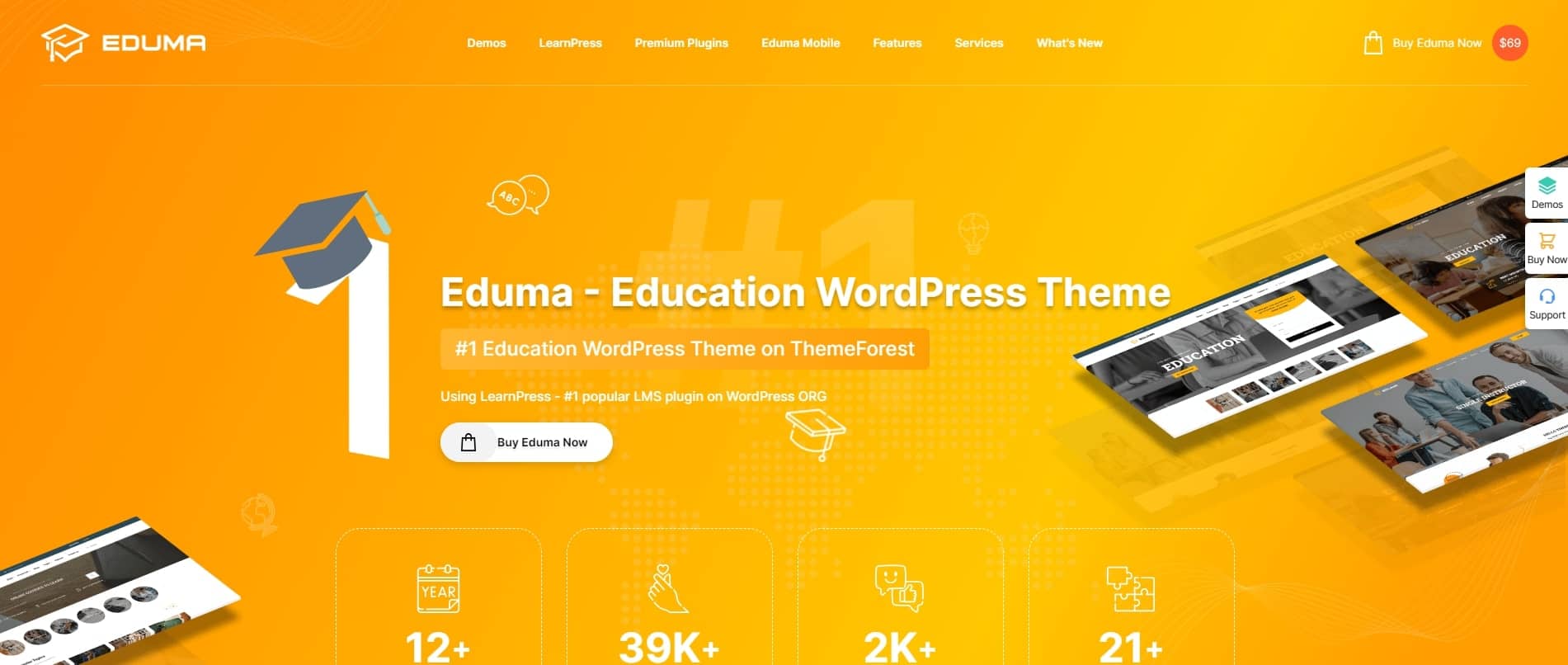 Eduma is specifically designed theme for educational institutions, online course providers, and LMS websites. It includes a drag-and-drop page builder and numerous pre-designed templates.
Top Features
LearnPress LMS Integration:

Education WP is fully integrated with the LearnPress LMS plugin, offering robust course management, progress tracking, and quiz functionalities, making it an all-in-one solution for online learning.
Drag-and-Drop Course Builder: 

 Easily create and customize course layouts with the intuitive drag-and-drop course builder, allowing instructors to arrange and present their content with flexibility.
Multiple Demo Designs:

With demo designs, it's easy to get your website up and running quickly while ensuring it still looks professional. LearnPress comes with multiple demo designs that are tailored to various education sectors. 
Gamification and Social Features:

Engage and motivate learners with gamification elements like badges, certificates, and social learning features, encouraging a sense of achievement and collaboration among students.
One of the downsides of Education WP is the overwhelming customization options. For beginners, the wide array of customization options and demos in Education WP might be overwhelming, potentially requiring more time to set up and configure the theme to your liking.
Due to its feature-rich nature, Education WP has a larger file size and higher resource requirements, which could impact website performance if not optimized correctly.

3. CourseMaker Pro

Built on the Genesis Framework, CourseMaker Pro is a modern and professional LMS theme suitable for educational content creators. It offers clean aesthetics, easy customization options, and seamless integration with the LearnDash plugin.
Top Features
Genesis Framework:

CourseMaker Pro is built on the solid foundation of the Genesis Framework, providing a fast, secure, and SEO-friendly base for your e-learning website, ensuring better search engine visibility and performance.
E-learning Homepage Widget Areas:

Customize your homepage effortlessly with multiple widget areas specifically designed for e-learning content, allowing you to showcase courses, testimonials, and featured content prominently.
Course Landing Page Template:

CourseMaker Pro includes a dedicated course landing page template, enabling you to present your courses in an organized and attractive manner, helping potential students find and enroll in courses easily.
One-Click Theme Setup:

The theme offers a one-click setup feature that saves you a massive amount of time and effort during your initial setup. 
CourseMaker Pro is a versatile theme, however, it lacks some advanced e-learning features that are often found in dedicated LMS plugins, for example, Course progress tracking and reporting, Content dripping, Certifications, and badges. This could be a limitation for educators looking for specific functionalities. 
The theme also requires the Genesis Framework, which adds an extra cost if you don't already have it, and could also require some learning curve if you are not familiar with the framework.
4. WPLMS – Learning Management System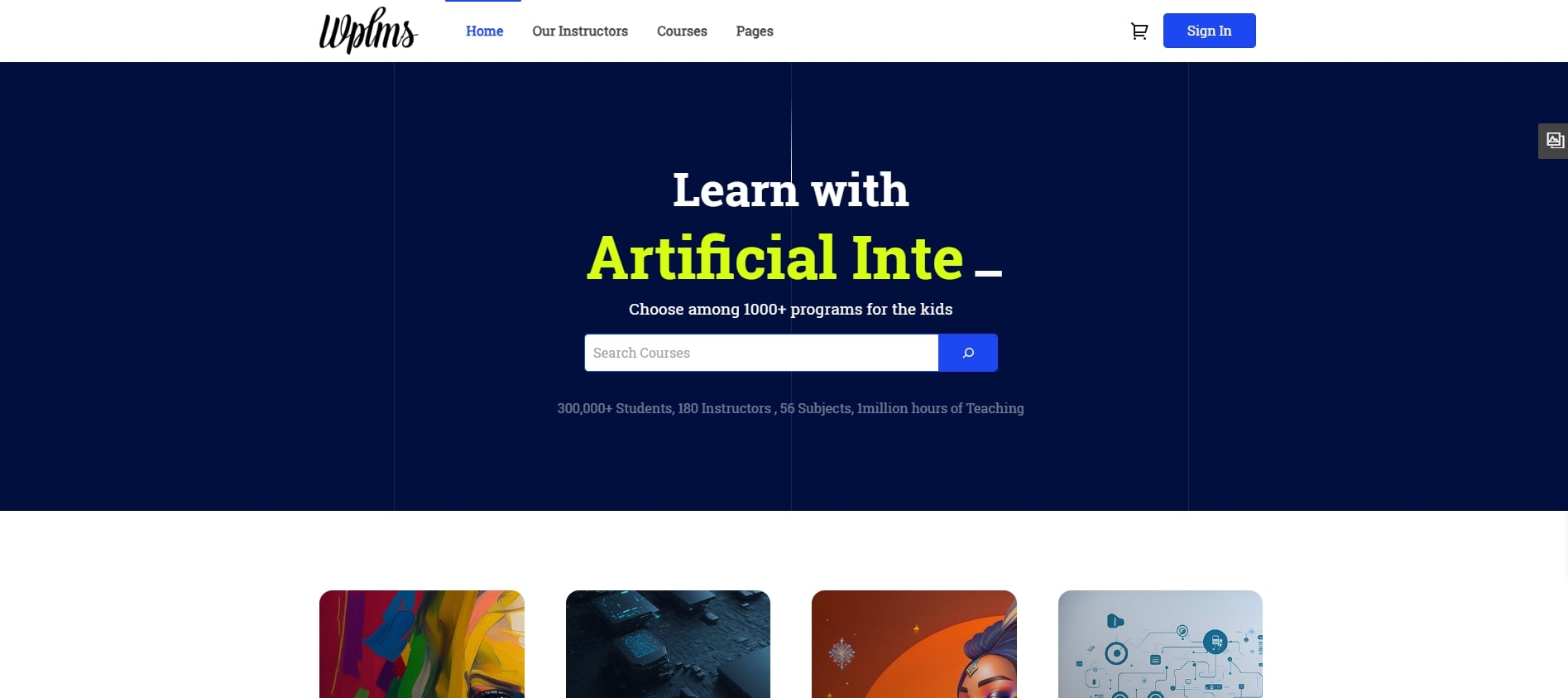 WPMLS is A fully functional LMS theme that combines eLearning features with social networking elements. It supports various media types, has interactive course modules, and offers user badges and certificates.
Top Features
Robust LMS Functionality:

WPLMS is a comprehensive Learning Management System (LMS) theme that provides all the essential tools for creating and managing online courses, quizzes, and assignments, making it an all-in-one solution for e-learning websites.
Social Learning and Community Building:

WPLMS incorporates social learning features, including BuddyPress integration, allowing students to interact, collaborate, and form study groups, fostering a sense of community within your e-learning platform.
Gamification Elements:

Engage and motivate learners with gamification elements like badges, points, and certificates, encouraging healthy competition and rewarding student progress throughout the learning journey.
Mobile App Support:

WPLMS offers dedicated mobile applications for iOS and Android devices, providing students with a seamless mobile learning experience and enabling them to access courses on-the-go.
Powerful Analytics and Reports:

Gain valuable insights into student performance and course effectiveness with WPLMS's comprehensive analytics and reporting tools, helping you fine-tune your courses for better outcomes.
WPLMS offers a wide range of features, but its extensive functionality might result in a steeper learning curve during the initial setup and configuration for some users.
WPLMS is a powerful theme however, some users have reported that the support and frequency of updates from the theme developer could be improved.
5. Masterstudy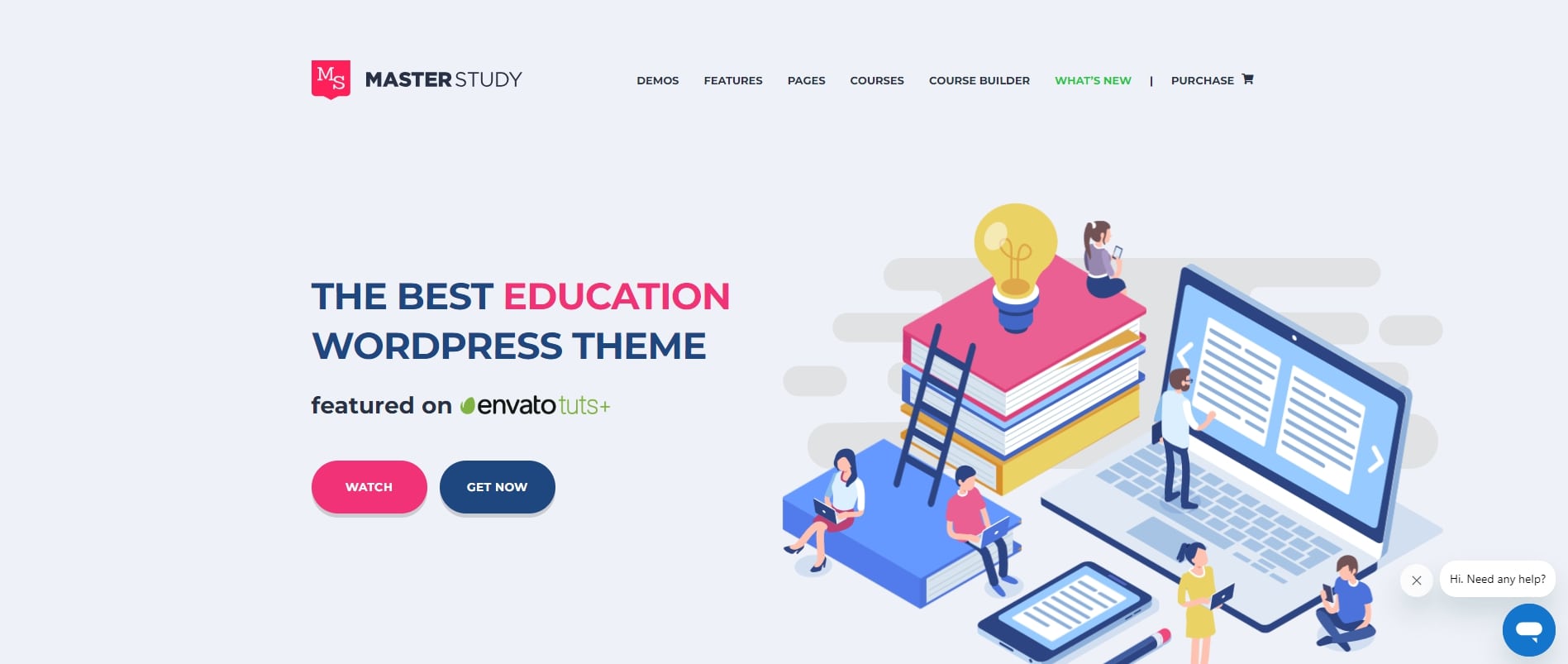 MasterStudy, a flexible and user-friendly LMS theme that allows you to create and sell online courses with ease. It comes with a built-in course search feature, and quiz functionality, and supports various payment gateways for easy monetization.
Top Features
Advanced Course Search:

Masterstudy offers a powerful course search feature, allowing students to find relevant courses quickly based on keywords, categories, or other custom filters, enhancing the user experience.
Front-End Course Builder:

Instructors can create and manage courses directly from the front-end of the website, it's a great WYSIWYG builder. 
Quizzes and Assessments:

Masterstudy comes with a built-in quiz system that enables instructors to add interactive quizzes and assessments to their courses, helping to evaluate students' progress effectively.
WooCommerce Integration:

Seamlessly integrates with WooCommerce, enabling instructors to monetize their courses and manage payments securely using WooCommerce's robust e-commerce features.
Student Dashboard and Progress Tracking:

Students get access to a personalized dashboard where they can track their course progress, view completed assignments, and review quiz results, keeping them engaged and informed.
Compared to some other LMS themes, Masterstudy might have relatively fewer built-in gamification elements, which could be a limitation for those seeking extensive gamification options for student engagement.
Conclusion
There you have it. We have gone through some of the best WordPress LMS themes, their top features, and some of their limitations.
Selecting the right WordPress LMS theme is a critical step in building a successful and engaging online learning platform. Each theme we explored offers unique features and advantages that cater to diverse e-learning needs.