Top 5 WooCommerce Subscription Plugins in 2023 (Compared)
The subscription model is a proven and widely popular method for increasing and maintaining sales while keeping stellar sales figures for the eCommerce business model.
Subscriptions help build concurrent and repeat sales while establishing a good relationship with your customer. Moreover, subscriptions offer you an enhanced scope of your business and a firm base for improving and expanding the business.
Using Subscriptions with WooCommerce
You should be aware of a few things when choosing a subscription model plugin for your WooCommerce store.
The plugin you choose should manage subscriptions automatically without requiring the manual intervention of the administrator/site owner.
The plugin should allow customers to change/expand their subscription plans quickly.
The plugin should come with support for popular payment gateways. It'll be good to check if the plugin supports the payment gateways you already use.
Send automatic notifications for customers (and admins) when a subscription is about to expire. It will be better if it sends multiple automated prompts from time to time when the subscription is about to expire.
The plugin should facilitate both automatic and manual billing options.
The plugin should be able to manage (end, temporarily pause, cancel or start) subscriptions based on predefined conditional logic.
Now let's explore a few subscription plugins that you can use in your WooCommerce-powered eCommerce website.
1. WooCommerce Subscriptions, by WooCommerce

WooCommerce Subscriptions plugin is from the same people who develop and manage the WooCommerce eCommerce system for WordPress.
It'll add new functionalities like front-end subscription management, invoice generator, recurring billing scheduling, etc.
Features
Even though WooCommerce Subscriptions is a paid plugin, it certainly offers more value over time.
2. YITH WooCommerce Subscription

YITH WooCommerce Subscription is from one of the popular WordPress plugin developers. It enables using a subscription model for any type of product you'd have. This plugin is widely used for offering media content, online courses, podcasts, etc.
It has both free and premium versions and provides built-in support for PayPal, Stripe, and many other payment gateways.
Features
Displays subscription information under the My Account page of the customer.
Can be used for both physical and virtual products and supports variable products.
Comes with an automatic renewal feature.
Allows customers to have multiple subscriptions for a single product.
Sends automatic notifications and allows customers to select the "Pause Notifications" option if they want.
3. SUMO Subscriptions

SUMO Subscriptions allows setting up subscription models for simple, grouped, and variable products. It also enables creating subscription models for existing products in your WooCommerce-powered eCommerce website.
This plugin has four built-in payment gateways for automated renewals, including Stripe, PayPal, and its own SUMO payment methods. Your customers will be able to set the renewal duration and manage the renewal cycle on their own, providing better user-friendly services for your customers.
Features
Easy to set up and configure.
Automatic subscription renewal email notifications.
It keeps a master log to keep track of everything.
Excellent compatibility with WordPress and WooCommerce core updates.
It provides signup fees and trial options for customers, allowing them to try out your products for a limited time.
Customers can have multiple subscriptions in a single checkout operation.
Translation compatibility with WPML.
4. Subscriptions for WooCommerce by WebToffee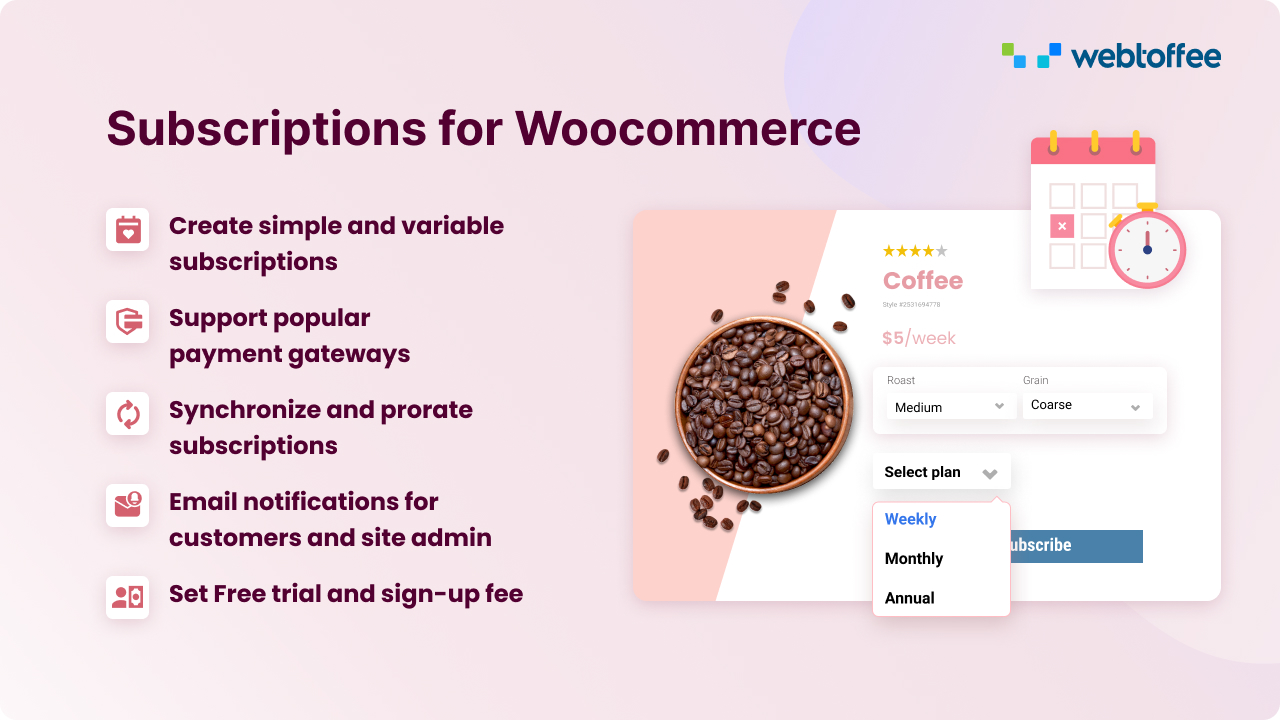 Subscriptions for WooCommerce by WebToffee is another great solution for facilitating subscriptions in your eCommerce shop.
You have the freedom to define subscription duration as weekly, monthly, or annually. Furthermore, it comes with a great feature that your recurring customers would love, a subscription discount.
Features
It supports synchronized renewal with a prorate option.
Offers multiple billing scheduling for customers.
Multilingual.
Offers a free trial and signup fee for customers to try out your items.
Automated email notifications.
Support for multiple payment gateways.
5. Subscriptions for WooCommerce Pro

Subscriptions for WooCommerce Pro come in both free and paid versions. It has more features that you'd love to have in your online shop. Besides, it can be used with any product type with a super-easy setup and configuration process.
Features
Customers can set start and end dates for their subscription plan (admin can enable this option for customers).
Customers can pause, end, or downgrade anytime.
Customers can adjust prorate payments to wallet credits.
Admin can set the start date for subscription plans.
Comes with an automatic failed recurring payment retry system.
Conclusion
Selecting the right subscription plugin for your shop will be a delicate and challenging process. In this article, I tried to list the best five plugins I could find with my research and hope it helped you make your decision. Yet, your exact requirement may be different and unique despite my research. So it's recommended to give each of these five plugins a try, check out their demos, talk to a representative, and read what the community (other users) is saying. Finally, go through the reviews and knowledge base articles for each plugin.
Ultimately you'll be able to choose the best plugin for your requirements. Then, you'll enjoy the benefits the subscription model will bring to your business and also the success it'll bring to you.