Best Abandoned Cart Plugins WooCommerce in 2023 (Compared)
For every eCommerce shop owner, an abandoned cart can be a huge struggle. Many online merchants from worldwide face cart abandonment. Proper abandoned cart recovery plugins are a must.
Fortunately, in our innovative world, there is a solution to this problem. Forget about the abandoned carts and failed purchases. On the WordPress dashboard, you can find tons of WooCommerce abandoned cart recovery plugins. And in this article, you will find the list of the 6 best WooCommerce cart recovery plugins.
So, let's get started…
What is the WooComerce Abandoned Cart?
Firstly, let's find out what is a WooCommerce Abandoned Cart.
As I have already noted, abandoned carts are a serious concern for every eCommerce store owner. It is very important for every online store owner to identify the main reasons why the purchasers are abandoning their store carts. Henceforth, they will be able to create a proper plan in order to make a cart recovery.
As I have noted, in order to build a proper business strategy, firstly, you will need to find out the reasons for the cart abandonment. Actually, there are so many reasons that could affect a client's decision to abandon their cart. Here, I will list the top reasons consumers abandon their carts on the WooCommerce store.
Too high additional costs (shipping, fees)
Complicated checkout process
Lack of guest checkout or required account creation
Sluggish delivery
Unavailable upfront cost calculation
Not satisfactory returns policy
Limited choices of the payment method
Why Do You Need a Cart Recovery Plugin?
Surprisingly, it is a fact that 7 out of 10 shoppers tend to dump their online carts. Hence, 70% of your potential sales are being lost due to cart abandonment.
Cart abandonment has become a normal but aggravating part of the online business process. Fortunately, there are various WordPress tools that will help online store owners to find out all of the reasons for cart abandonment and boost more and more sales. There are tons of must-have plugins for your WooCommerce Store.
What if you are able to recover even 10% of all of the WooCommerce customer's abandoned carts? Let's visualize how much income you will make in this case. Obviously, a cart recovery plugin for your WooCommerce is a must-have. These plugins will help you to track your clients' behavior, send them automatically generated reminder messages, analyze what exactly makes them abandon the carts, decrease the number of lost sales, and most importantly, boost your WooCommerce store sales revenue.
That is why in this article, you will discover the best of the abandoned cart recovery plugins rounded up.
List of the Best Abandonment Cart Recovery Plugins to Choose
It is time to find out about the finest abandonment cart recovery tools. Henceforth, the subsequent list of the best WooCommerce abandoned cart plugins will help you to recover all of your failed sales.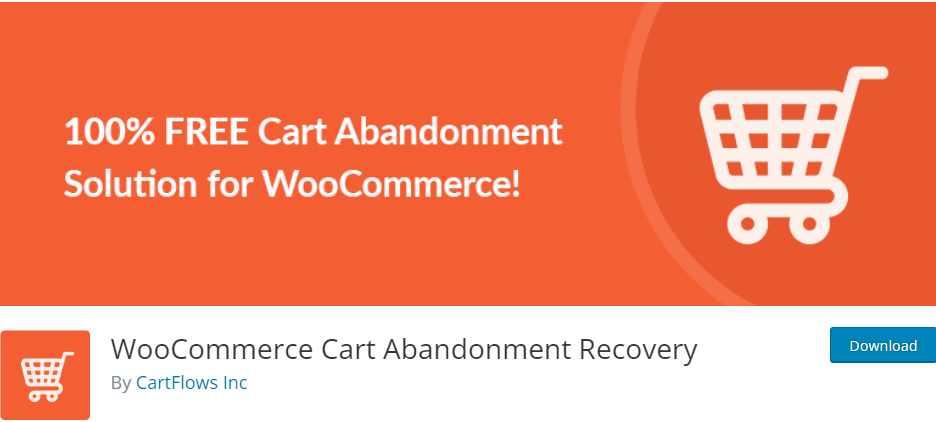 The WooCommerce Cart Abandonment Recovery plugin will help its users to recover all of the abandoned carts and forget about the failed sales and revenue. This is an easy-to-use and user-friendly WordPress plugin, that helps to generate leads for your online store. Install the plugin and it will automatically recover the lost carts and revenues of your WooCommerce store. The CartFlows plugin catches the email address of visitors directly from the checkout point. If the purchase is not concluded within 15 minutes, the plugin starts to send automatically generated follow-up emails that remind the clients to make the purchases.
The Best Functionalities of the Plugin
Checkout Editor – This tool helps to increase modifications. Furthermore, via full control of the checkout page and form fields, you can decrease cart abandonment.
Insights – With this feature, you can boost conversions. Get real-time data based on accurate insights on funnel performance.
Conversion Templates – Via the fully customizable converting sales funnel templates, save time and effort and always match your brand.
Additional Features of the Plugin
One Click Upsells
Dynamic Offers
A/B Split Testing
Order Bumps
Ready Templates for Follow up Emails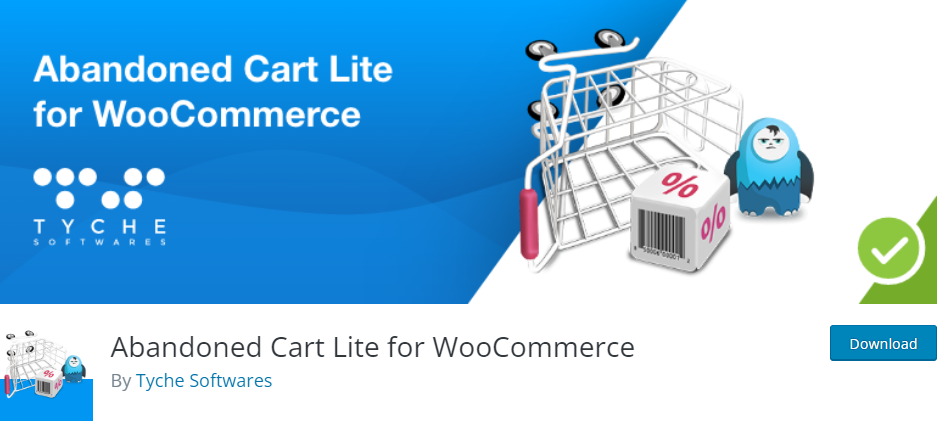 Retrieve lost sales with WooCommerce Abandoned Cart plugin. This WordPress tool allows you to set up automated reminder emails, texts, and even Facebook messages for clients who have abandoned their shopping carts. Easily and quickly recover customers' abandoned carts. Moreover, with this plugin, users can effortlessly send automated abandoned cart messages via Messenger, SMS, and email. Also, for a better result, set time intervals. Additionally, with this plugin, you can check whether the cart is abandoned by the guest customer or the logged-in user. Thus, this WordPress plugin provides all of the essential functionalities to recover customers and boost sales and bring more revenue.
The Best Functionalities of the Plugin
Statistics – Via the proper insights, find out which WooCommerce products are being abandoned. Hence, build a strategy to lessen cart abandonment.
Recovery Incentives – This tool offers various deals that encourage the clients to finish a WooCommerce checkout process.
Customized Messages – Customize messages and provide each buyer with a personalized experience.
Additional Features of the Plugin
Exit Intent and Add to cart Popup
Custom Field Integration
Automated Messaging
Capture Emails
Seven Merge Codes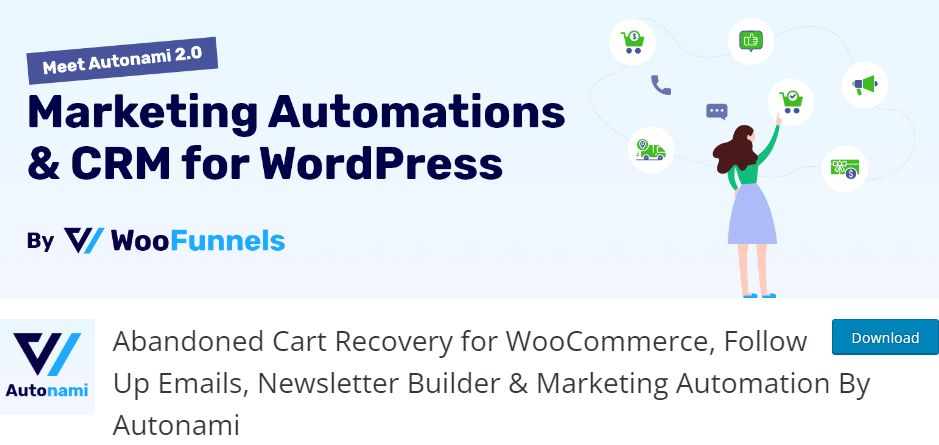 Abandoned Cart Recovery for WooCommerce WP plugin is an effective marketing plugin that allows its users to easily and quickly automate their marketing workflows. This WordPress tool helps to build WooCommerce abandoned cart campaigns that recover all of the lost revenue. Furthermore, create post-purchase follow-up strategies to educate and upsell consumers.
Henceforth, boost your online store's profit by generating high-converting checkouts,  one-click upsells, order bumps, and automation.
The Best Functionalities of the Plugin
Profitable One-Click Upsells – This tool allows the creation of rule-based dynamic post purchases with one-click upsell offers. Moreover, the buyers accept the offers with a single click as well.
Easy-to-Understand Analytics – With this plugin's analytics, the users can track the conversions, view counts, and earned revenues for every page in the funnel. Henceforth improve their revenue.
Frictionless Checkouts – The plugin allows you to easily create Shopify-styled checkouts. Moreover, generate two-step order forms with high-speed pay choices. Thus, minimizing cart abandonment.
Additional Features of the Plugin
Rule-Based Order Bumps
Intuitive A/B Testing
Stunning Opt-In Pages
Live-capture the Cart
By Using Twilio Setup SMS-based Campaigns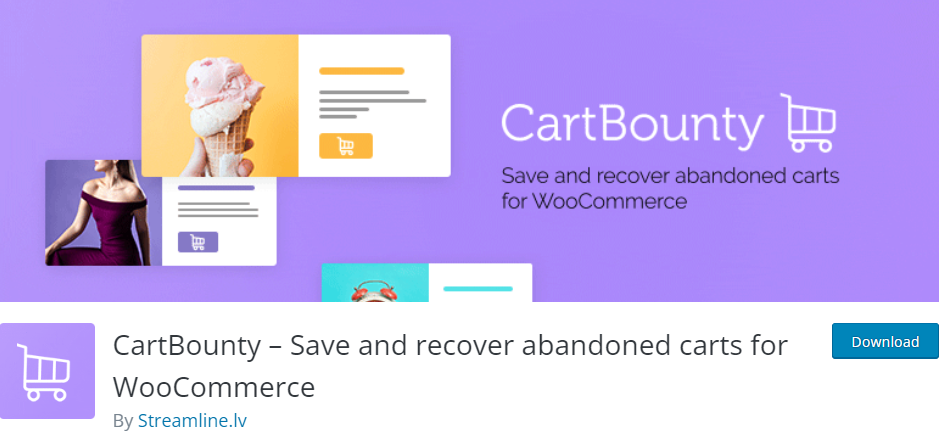 The CartBounty Abandoned Carts Recovery helps to protect and keep abandoned carts in WooCommerce and sends effectively abandoned cart reminder notifications to retrieve lost sales. Accordingly, the CartBounty WP tool saves and depicts all shopping cart activities right from the exact moment when a product is added to the user's cart. Hence, this WP tool gives an opportunity to properly analyze and find out the most popular and unpopular items in your WooCommerce store.
The Best Functionalities of the Plugin
Remember Checkout Fields – This feature will save customers' checkout page information as soon as it's entered.
Exit Intent Popup – The Exit Intent Popups will effectively help to decrease cart abandonment revenues and increase the store's sales.
Early Capture – The CartBounty functionalities allow quickly gathering the user's provided contact details once they have clicked the "Add to Cart" button.
Additional Features of the Plugin
Save Dumped Online Store Carts
Completely Compliant with GDPR
Automate Abandoned Cart Recovery
Get More Leads and Reduce Cart Abandonment
Actions and Filters for Advanced Configuration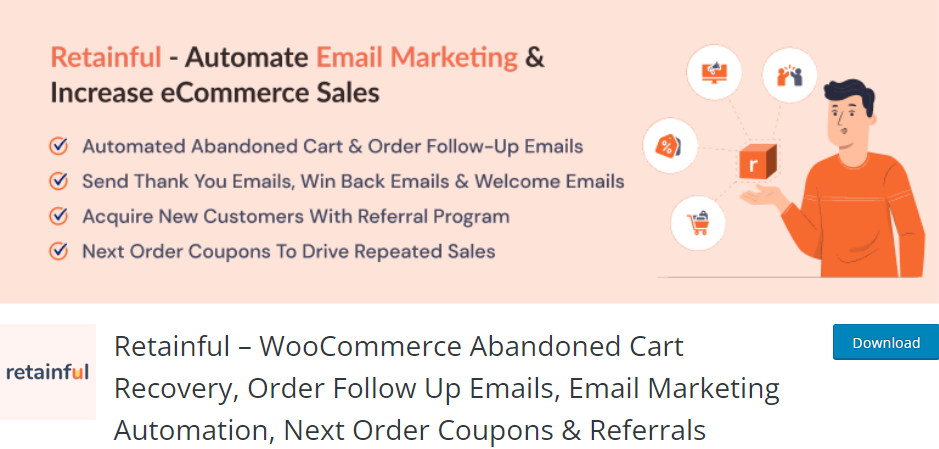 Retainful Abandoned Cart Recovery is a very effective Email Marketing plugin for WooCommerce. This plugin effortlessly automates the store owner's email campaigns and increases sales. Hence, grow your WooCommerce business. With the WordPress Retainful tool, in a few minutes, generate and set in motion Email Campaigns via the pre-built email workflow templates.
The Best Functionalities of the Plugin
Send Cart Recovery Emails Automatically – Collect customers' email addresses before the checkout process using a pop-up. The Retainful plugin will automatically define the customers who abandoned their carts. Hence, automatically send abandoned cart recovery emails.
Track Abandoned Carts – This plugin is great for its abandoned cart functionality. The Retainful plugin helps to detect abandoned cart users. On a plugin's dashboard, find out what is happening with the online shopping carts.
Automated Cart Recovery Email Campaigns – Just a few minutes and you will have a cart recovery automation workflow. Just use the consumer journey builder and set it to live function. Afterward, the plugin will start to send email messages to the clients with abandoned carts until they return and recover them.
Additional Features of the Plugin
Dynamic Coupon Codes
Win Back Emails
Set Minimum Pay-Up Value to Earn Discount
Inspect Abandoned Carts in Your Store in Real-Time
Refer a Friend Campaign

This powerful plugin takes care of all of it, including keeping track of abandoned carts, setting up and automatically triggering follow-up emails, adding discounts to abandoned cart emails, and even creating thorough order reports.
You can also check email logs and order reports with the ELEX WooCommerce Abandoned Cart Recovery plugin. In case your consumers decide they do not want to be notified about the products abandoned in their cart, the plugin also has an unsubscribe option.
The Best Functionalities of the Plugin
Rule-based triggers for abandoned cart emails – Create and combine various rules based on user roles, the total amount spent, the number of products, product IDs, and more, and set them up to send emails if all or any of the requirements are met.
Time-based cart abandonment – Set a time limit after which a cart will be regarded abandoned.
Send automated abandoned cart emails – Automatically send users a number of emails with attractive discount codes or promotional offers at specified intervals.
Graph-based order reports – Examine a detailed graph-based report to view the total amount recovered, the amount abandoned, the rate of conversion, the most frequently used templates, total emails sent, total carts recovered via email, most frequently used coupons, and any bonus recoveries made by the plugin during a specified timeframe.
Smart Coupons – The plugin gives you the option to add WooCommerce Coupons or dynamically generate and add smart coupons to your recovery emails to persuade customers further to complete their abandoned purchases.
Additional Features of the Plugin
Custom recovery email templates
Email logs
Dynamically Generated Smart Coupons or WooCommerce Coupons can be attached
Option to unsubscribe
Remove carts from the mailing list after a set period of time
Guest users can recover their carts as well
The Bottomline…
To conclude all the above-mentioned information, I hope you have learned the importance of having an abandoned cart recovery plugin. From the formerly listed plugins, you can find your perfect plugin that will ideally run with your WooCommerce online store.
Wish you a great online store journey with the finest plugins.
Thanks for your time!