Upselling and Cross-selling in Online Stores
Ecommerce stores are always looking for new customers. But successful ones have a certain trait in common. Other than looking for new customers, they also focus on their existing customers.
How can you sell more to your existing customers? Two old-age techniques are upselling and cross-selling.
Marketing experts say that the probability of selling a product to a new customer is between 5-20%, while if you want to sell to an existing customer, that probability goes insanely to 60-70%.

You might have heard both terms interchangeably, which might be a bit confusing, while the truth is that upselling is totally different from cross-selling, whether in concept or implementing it on your online store.
In this post, we will go over both of these terms, see examples (a lot of them) for upselling and cross-selling, and also we will learn how to use these two techniques in your WooCommerce store to boost sales!
What is Upselling in Online Stores?
Upselling is a strategy of offering a more superior version of the product that the customer already owns or is buying. This product could be more customized, with more features, or higher quality than the one in question.
Here, you're not offering another product that goes along with the one selected, neither a "you might also like" item! Upselling is giving a higher version of the product.
Let's see some examples on upselling:
Upselling Examples
When say a client is looking for standard earbuds in an electronic store and the salesperson suggests the model with noise-cancelling.
A customer needs a standard camera to take pictures and the salesperson suggests the a model with a high-resolution lens.
A user needs to book a room for vacation and the hotel management suggests a spacious room with luxurious features.
Web hosting websites offering various packages with various features. The package with the most features being the most expensive.
A user on a website adds a pair of sneakers into the cart and is offered a classier and more expensive version of the sneakers.
Below is an example of upselling on a web host. The customer is interested in buying hosting for a website. But the website is trying to increase the amount spent on hosting by offering packages with better features.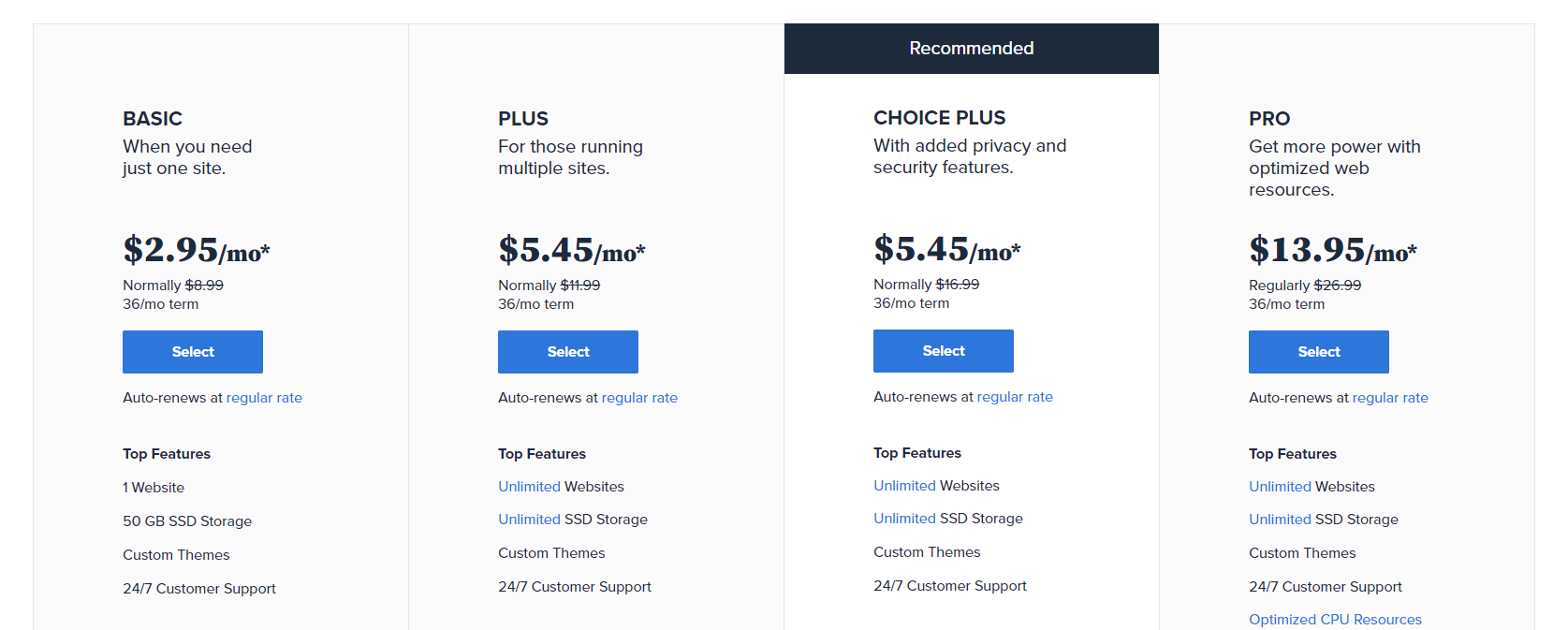 On a side note, if you're interested in getting a new hosting for your WooCommerce store, we have a dedicated post for you to review popular web hosting companies.
So, this is upselling, convincing the user to get a premium version of the product they are considering right now, or actually you want them to upgrade after they complete the purchase, if product isn't shipped, or was a digital product, you can still upsell your customers a higher version of these products.
Let's now move to the other side, and see what cross-selling is about.
What is Cross-selling?
We know by now what is upselling, on the other hand, cross-selling is the practice of offering customers related product that compliment or supplement the product they have bought or they want to buy.
The most obvious example for cross-selling that we see everywhere is cellphones, when you're about to buy a new one, you will see some accessories offerings with it, like a cover, power bank, or screen protector, all these are cross-selling items for a cellphone.
Keep in mind, if you were about to buy a specific model of that cellphone, and the store offered a higher version (more recent, higher storage, more features), then this is an upselling not cross-selling, not to mix here.
Examples of Cross-selling
A customer needs to buy a phone and the phone seller suggests that the customer purchases a memory card as well since a memory card can boost the phone experience.
A customer searching for lipstick on a beauty retailer's website and gets recommendations for lip primer as well.
A fitness enthusiast in need of workout vests and gets suggestions to buy sweatpants and sports shoes.
A customer buys a vehicle and is offered vehicle tracking services.
Amazon is considered one of the online stores with largest cross-selling options you can imagine in a single product page. In the screenshot below, the customer might be interested in the main product on the page (keyboard), however, there are suggestions of other related products as well, and the more you scroll, you will get more suggestions.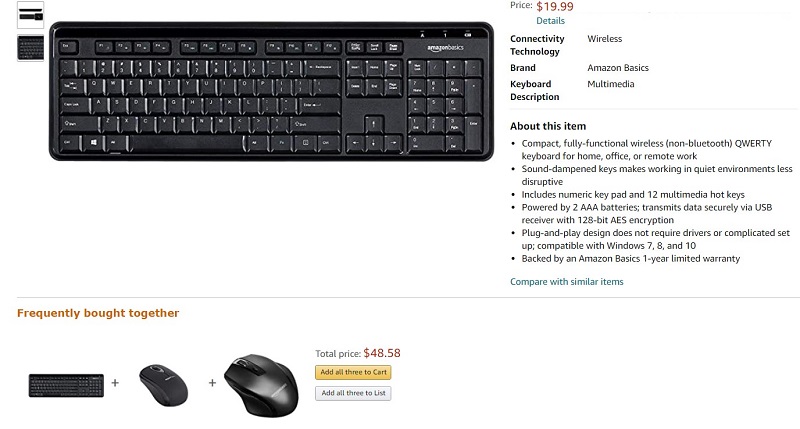 Benefits of Upselling and Cross-selling
Increased profits: The more orders your customers make, the more profits you get.
Improved customers' shopping experience: As they can easily find personalized products they might be looking for.
Increased Return on Investment: Finding new customers can be a costly process due to marketing costs incurred. Upselling and cross-selling enable you to get more profits from the existing customers without having to incur any marketing costs.
Increase in customer lifetime value: The amount of profits you get from the customer over time will be greater.
Increased customer loyalty: When customers enjoy the shopping experience in your store and feel that you are addressing their needs, they will stay loyal and even refer more friends.
How to Implement Upselling and Cross-selling on Your eCommerce Store
By now, we have built a good understanding of what these techniques are, let's see how you can use upselling and cross-selling on your eCommerce website, regardless of the technology you use, whether it's a WooCommerce, Shopify, OpenCart, or any other eCommerce solutions, all these methods are applicable:
1) Upselling
Upselling is the easiest thing to implement, you can think of endless ideas for this on your eCommerce website, for example: Product upgrades to a better & more superior version, product customization, extended warranty for a product, extended license for software products, etc.
You can even use comparison tables to compare various products or services. In each table, you can show the features of each product or service and price. This way, your customers can compare and choose their preferred version (similar to Bluehost screenshot we saw above).
2) Cross-selling
Just like upselling, there are various ways you can cross-sell on your website. However, let's look at the following popular, commonly used ways:
Related products: These are the products relating to the product the customer is going to purchase. For example, if a customer is interested in a digital camera, they can get suggestions for a memory card. You can (actually should) add a related products section in a product or cart page to display related products.
Complementary goods: These are the goods used in conjunction with the product a customer is interested in. For example, if a customer is interested in a mobile phone, a sim card can be a good suggestion.
In case you have ever seen 'Frequently bought together' below the product page on eCommerce websites those are complementary goods. If you have complementary goods, you can create a section for displaying them on the product page.
Services: In case you have services relating to what the customer is purchasing, then you suggest them to add that to their purchase (e.g. installation, audit, etc.).
Where to Use Upsells and Cross-sells?
You need to ensure you place your upsell and cross-sell products in a place that customers can easily see. Without customers noticing your offers, all your efforts will be in vain. You can try the following places on the website as they can offer great product visibility:
1) Homepage
This is the main page of your website that the visitor first lands. However, most of the visitors arrive at your website without having a specific aim. So you have to let them know about your offers, deals, and promotions.
Also if you're targeting returning users, your homepage can be a treasure to show them related items to products they have already showed interest in, or actually bought!
2) Product Page
A customer visiting a product page is probably interested in that product, and therefore you can display related or complementary products on this page below the product details.
You can upsell & cross-sell in different ways & locations on the product page, don't make it more confusing. Amazon offers tons of options on every product page, but that's Amazon, and their visitors know how to navigate there, make it simple and clear on your product page.
3) Cart Page
A customer who has added a product to the cart must be a potential buyer. So on the cart page, consider showing suggestions of related or complementary products as the customers can also add them to the cart, and the cool thing here is to allow customers to add these products with a single click, without the need to visit that product page again.
There are also many other places where you can display your offers, like the checkout page, order confirmation page, and thank you page, or even in order confirmation email!
Tips on Implementing Upselling and Cross-selling
Before you get started, consider the following:
1. Understand your customers: You should understand your customers well to come up with relevant offers. You can't offer them some good deals if you're not sure who your customers are, what are their backgrounds, motive to buy, etc.
Before getting started, try to know your audience's age, preferences, gender, location, browsing, history, spending habits, etc. This will help you determine what might be related, or completely unrelated (specially in gender term).
2. Relevance: The offers you display should be relevant to the customer's purchase. It will be awkward recommending a lawn mower to a customer who purchased a t-shirt. Make sure there is a relationship between the products you are cross-selling and the one the customer is purchasing.
3. Value addition: Your offers should add value to the customer's experience. For example, if a customer buys a mobile phone, a phone protector could come in handy as it can protect the phone. Ensure the offers are useful to the customer and not just offers.
4. Make it simple: Don't suggest too many products to a customer. This can make them fail to make a decision or lose interest in the original product. Recommending two or three products can be okay.
5. Keep it easy: It should be easy for the customer to take action. Don't make the process complicated. For example, asking the customer to have a membership to grab the offer can turn them off.
Best Upsell / Cross-sell Plugins for WooCommerce Stores
If you're using WooCommerce, you might have already searched for a plugin that will help you add upsells and cross-sells on your store, they are a lot we know!
That's why we grouped the best plugins in our opinion, listed here without any preference order, most of these have a free version that you can try before making a decision.
This plugin enables you to customize the display of WooCommerce upsell products. With Upsells Manager for WooCommerce plugin, you can:
Set the total number of upsells products.
Set the number of upsells columns.
Set upsells sorting options. You can order them with title, ID, date, random, price, etc.
Hide upsells on the frontend.
Set global upsells (same upsells for all the products).
With this plugin, you can add a 'Related categories' section to the single product page and/or the archives page in WooCommerce. You can:
Add a related categories section to the single product page and the shop pages.
Set the number of categories.
Order the categories by ID, name, count, random, etc.
Set the position for the related categories section.
Set the number of columns.
Show the related categories using a widget and/or with a short code.
Relate the categories automatically by parents, children, siblings, etc.
Customize the header, footer, and item HTML templates.
Relate categories manually on per product, product tag, product category, product custom taxonomy, etc.
This plugin can help you to easily manage related products in WooCommerce, it will allow you to:
Change the number and columns of related WooCommerce products.
Relate the products by category, tag, attribute, manually, etc.
Change the title and/or position of the related products.
Completely hide related products.
This plugin lets you customize the display of your WooCommerce cross-sells products. Using this plugin, you can:
Set the total number of cross-sells products.
Set the number of cross-sells columns.
Set cross-sells sorting options. You can order them with title, ID, date, random, price, etc.
Hide cross-sells on the frontend.
Set global cross-sells (same cross-sells for all the products).
Set the order of cross-sells (ascending or descending).
Display cross-sells in product tab on single product page.
Display cross-sells anywhere on the site using short codes.
Boost Sales for WooCommerce – Set up Up-Sells & Cross-Sells Popups & Auto Apply Coupon
This plugin helps you to suggest upsells and cross-sells products to customers via popups. Using this plugin, you will be able to:
Display a popup of the related product when a customer adds a product to the cart.
Select the upsell products for each product on the backend.
In case you have so many products that you can't select an upsell product for each of them, you can utilize the upsell product in the same categories option. This way, the plugin can display product with the same categories as the product just added to the cart.
Offer the customers the option to buy a bundle product with a better price than buying single products.
Easily create product cross-sell bundles by selecting the products and setting a price.
Product Slider for WooCommerce
With this plugin, you can beautifully display upsell, cross-sell, and related products on your online store as a slider or a carousel. You can as well display your selected products on the homepage, the plugin also gives you options for:
Shortcode generator.
Dynamic slider title.
Product order system.
Slider per view settings.
Autoplay speed control.
Slider with specific products.
More than one slider per page.
Slider pagination with dynamic settings.
Slider navigation with dynamic icons.
Slider loop.
Related Products for WooCommerce
With this plugin, you can choose related products for a product. These related products can be your upsell or cross-sell products. The upsells are shown on the product page while the cross-sells are displayed on the cart page to complement the products added to the cart.
This high-rated plugin allows you to:
Associate the products of your choice with the selected products.
Disable the default related products section.
Relate products with the product tags and category.
Display related products using WooCommerce related products shortcode.
Upsell Order Bump Offer for WooCommerce – Increase Sales and AOV, Upsell & Cross-sell Offers on Checkout Page
This is an upselling plugin that enables store owners to display offers on the checkout page and makes it easy for customers to add the offer to their existing orders.
The plugin gives store admins a lot of options, like:
You can create special offers on the checkout page.
Schedule the bump offers for specific days.
Offer simple, variable, and subscription products as bump offers.
Customize your offer layouts according to your products.
Track the performance of the order bumps using Order Bump Sales Reports and Behavioural Analytics.
Edit your offers in sandbox mode.
The customer can easily add the bump offer to their order by checking a box.
Skip the bump offers if the product has already been added to the cart.
Trigger the WooCommerce checkout offers based on the target category of products.
The order bump offer can be displayed on various locations on the checkout page e.g. before order summary, before place order button, before payment gateways, after payment gateways, etc.
The order bump offers are responsive across all screen devices.
The sandbox mode enables you to customize and live preview your order bump offer.
Compatible with simple, variable, and subscription products.
Conclusion
Upselling and cross-selling, if properly done, can bring huge success to your eCommerce website. With the right strategies and understanding of your customers, you can easily grow your store. Work smart and turn your store into a success.
You don't need to use all plugins we listed above, take your time deciding which one is the best and most meeting your needs, test it on your store, and then let the cash roll in.